When in a stay-at-home order <COVID-19>, bake more cookies. I think that's how this works, right?! I've been wanting to make an almond butter chocolate bar cookie for awhile now, so here we are.
These guys were inspired by a family favorite, Oatmeal Carmelita cookies, that have an oatmeal cookie base, layered with caramel and a bag of chocolate chips, and topped with more crumbled oatmeal cookie dough. They call for 2 1/2 sticks of butter – SO. MUCH. LOVE. Don't you fear – there will always be room for Oatmeal Carmelitas. But, I thought we all might appreciate a more wholesome option too. Dropped the butter – cut the portions – used ingredients like whole wheat flour, almond butter, and dark chocolate. And, we are all pleasantly pleased by these bad boys.
You guys always tell me chocolate chips are better not measured – so I'm not gonna fight with that! Sprinkle to your hearts desire, but 1/2 cup worked great to cover these evenly. Aldis sells some great dark chocolate chips, but feel free to use semisweet or whatever chocolate chips you like the most. <For you non-chocolate people, drop some raspberry jam on top and make them PB&J bars!> 
And best of all – these guys can be made very quickly, so you can get outside for some sunshine ASAP. With your cookies of course…. <perk of physical distancing…. it's frowned upon to share with neighbors.>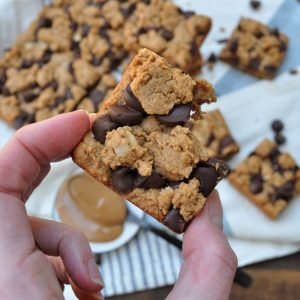 Dark Chocolate Almond Butter Bars
Ingredients
3/4

cup

almond butter

1/4

cup

maple syrup

1/4

cup

brown sugar

1

egg

1

tsp

vanilla extract

2/3

cup

white whole wheat flour

1/2

cup

oats

1

tsp

baking soda

1/4

tsp

salt

1/2

cup

dark chocolate chips
Instructions
Preheat oven to 350 degrees. Line 8x8 pan with parchment paper.

In a medium bowl, mix almond butter, maple syrup, brown sugar, egg, and vanilla extract.

In a small bowl, combine flour, oats, baking soda, and salt. Add this to the almond butter bowl. Mix well

Save 1/2 cup of dough for the topping. Press the remaining dough into the prepared 8x8 pan. Press evenly - it will be thin.

Top with chocolate chips.

Crumble remaining dough over the top. Press down slightly.

Bake for 16 - 18 minutes, or until slightly brown around the edges.
Notes
How-to-Use:
Athletes: Eat your heart out.
Healthy Eating: Again, eat your heart out.
Kids: Common, what kid doesn't like cookies?!
Other Thoughts:
If you can find it, I recommend almond butter with the only ingredient: almonds. The consistency is better for these cookies. If you have a Costco membership, get their almond butter. It's the best and way cheaper than others.
These store well on the counter. No need to refrigerate. Or, you can freeze them.
UPDATE: one of my amazing clients made these vegan and they worked GREAT.
Sub egg for 1 flax egg. + Add 1 Tbsp plant based milk.