If these look a little familiar, you're a regular around here. One of my stellar clients made the dark chocolate almond butter bars into brownies and here we are. Making over this fan favorite into a brownie version that we all need in our lives now.
If we're going to bake in our covid kitchen, we might as well make it chock full of solid nutrition AND have it taste delicious. These guys get their fat from almond butter, substance from whole grain flour + oats + cocoa powder, and some added sugar from maple syrup and brown sugar. <Because who wants to eat brownies without SOME sugar!?> 
Watch these as you bake them – if you like gooey brownies, cook on the lower end of time recommendations. But that leads to a serious question, are you team gooey center brownie? Or, team crunchy edge brownie?
If you and your people don't eat these in one sitting <or don't want to!> these freeze very, very well. They taste great straight out of the freezer or warmed up in the microwave. Also…. more than one of you have told me they're pretty fantastic with ice cream on them too. Enjoy!
---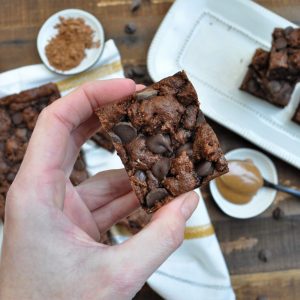 Almond Butter Brownies
Ingredients
3/4

cup

almond butter

1/4

cup

maple syrup

1/4

cup

brown sugar

1

egg

1

tsp

vanilla extract

1/3

cup

white whole wheat flour

1/3

cup

cocoa powder

1/3

cup

oats

1

tsp

baking soda

1/4

tsp

salt

1/2

cup

chocolate chips
Instructions
Preheat oven to 350 degrees. Line 8x8 pan with parchment paper.

In a medium bowl, mix almond butter, maple syrup, brown sugar, egg, and vanilla extract.

In a small bowl, combine flour, cocoa powder, oats, baking soda, and salt. Add this to the almond butter bowl. Mix well

Save 1/2 cup of dough for the topping. Press the remaining dough into the prepared 8x8 pan. Press evenly - it will be thin.

Top with chocolate chips.

Crumble remaining dough over the top. Press down slightly.

Bake for 16 - 18 minutes, or until slightly brown around the edges.
Notes
How-to-Use
Athletes: We all need more almond butter brownies in our training. Satisfying yet full of solid nutrition to support our toughest training.
Healthy Eating: A brownie with better nutrition stats than most granola bars!? Yep! With 150 calories, 9 gm of healthy fats, 16 gm of carbohydrates, 3 gm of fiber, and 4 gm of protein - rest assured your sweet treat is packing some serious nutrition too.
Kids: As I was taking this picture, kid #1 ate two and tried to steal a third before I stole it back so I'd have enough to take these pictures! So, needless to say, I think they'll pass as kid friendly as well.
Other Thoughts
I used quick oats in these but I also used old fashioned oats in the dark chocolate almond butter bars, so feel free to use whatever you have.
I'm told you can substitute oat flour for the whole wheat flour, if you need them to be gluten free. But, I have not tried it myself.
One of my amazing clients made these vegan and they worked GREAT.
Sub egg for 1 flax egg. + Add 1 Tbsp plant based milk.
Another one of my amazing clients was the inspiration for this recipe. She found dark chocolate almond butter and used that - double threat!