What's better than a good ol' PB&J?! An AB&J! There's something about the drippy, creamy, nutty natural almond butter that makes me smile.
As I was attempting to perfect this recipe, I had a batch on my counter when my dad came over to watch the kids. I rushed out and didn't even remember they were there, quite frankly. When I came home, my mom said 'what are these balls on your counter your dad is raving about?!' <comment of the week right here> But honestly, I was only about 90% sold on the final product – but if my cookie-loving, connoisseur-of-all-things-foodie Dad loved them – we've got a keeper!
The flavor inspiration came from my son's favorite meal at the moment – the 'Jam Sam.' Aka an almond butter and jelly sandwich. I figured I should mix it up and sub out my go-to addition of chocolate.
So get in there – get your hands dirty and enjoy a couple!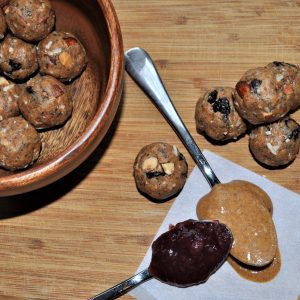 AB&J Bites (Almond Butter & Jelly)
Ingredients
½

cup

almond butter

natural - very drippy

½

cup

almond meal or almond flour

1

Tbsp

chia seeds

½

cup

Medjool dates

packed (This was 6 for me.)

1

tsp

vanilla

¼

cup

roasted

salted almonds, chopped

¼

cup

dried coconut

unsweetened

⅓

cup

dried tart cherries
Instructions
In a bowl, combine almond butter, almond meal, and chia seeds. Mix together with the back of a large metal spoon.

Remove pits for dates. Place in a food processor with vanilla. Combine until a paste is formed and the mixture rolls up into a ball.

Add date mixture to the almond mixture. Again, using the back of the spoon to combine.

Add remaining ingredients (almonds, coconut, and cherries.) Mix together with clean hands until well combined. Mixture will be stiff but should not be sticky.

Roll into small balls.
Notes
Other Thoughts:
Use the natural almond butter. Look at the ingredients for just almonds and salt. I made some with the more processed almond butter with added oil and sugar and they did NOT turn out well. They were very dry and crumbly. If this is all you can find, you may need to add a Tbsp of almond milk or even a little additional oil.
If you don't like coconut, try subbing in old fashioned oats.
The servings per recipe of 18 makes a legit one bite ball. If you like something you can sink your teeth into for two bites, plan on making more like a dozen.
How-to-Use Guide:
Athletes: Perfect portable snack for traveling. Sub old fashioned oats for the coconut to increase the carbohydrates and use during long bike rides, slow training runs, or moderate cardio days. (There's too much healthy fat it these for use during more vigorous training efforts - which may cause even slower gastric emptying.) 
Healthy Eating: A perfect sweet treat for after lunch, dinner or any time of day.
Kids: My 2 1/2 year old didn't think these were cool at all. But, I think most kids will - especially older ones. Get them in the kitchen to help you roll the balls - but wash those grubby hands first 😉