Now that we got it out in the open on insta that I eat almond butter out of the jar, I feel like we're all better friends and really just need to eat some cookies together. Almond butter cookies to be exact. And, I promise I didn't double dip outta the jar these cookies were made from. But even if someone were to do such a thing, cooking would certainly kill any germs, right?! Asking for a friend…
If you like good old fashioned peanut butter cookies, you know the ones with the crisscross on the tops, you're going to love these! That is, if you like almonds too.
As I was eating said almond butter out of the jar and staring at my two spare 32 oz jars in the pantry (thank you Costco!), it hit me. We all need some almond butter cookies in our lives. The crumbly, melt in your mouth, rich flavored kind. I also wanted to keep things pretty simple. So, these guys only have 7 ingredients (8 if your almond butter has no added salt, like mine). And, with the exception of the oat flour, they're all probably ingredients you have on hand once you buy your almond butter. Highly suggest the real deal almond butter – only ground almonds and maybe salt in the ingredients – as the other almond butters have stabilizers in them that effect the final product – aka the cookies aren't as yummy.
For those of you who already peeked ahead to the 7-8 ingredients…. about this oat flour – I put quick oats into my blender and tada! oat flour. You can also buy oat flour at the store. I also gave some possible substitutions in the 'other thoughts' section below. Because these are too delicious to let a little oat flour slow you down.
The goal was to create something good enough for people to try and gimme all the feedback at our Memorial Day picnic. Well, we might have eaten all but 2 cookies before the party… so I had to make another batch. (First sign these were a keeper) Then, everyone raved about them at the picnic. (Second sign these are a keeper and here we go!)
Hope you all enjoy them as much as we do/did/will …. off to make another batch! If I eat them all before the kids get up from their naps, did it really even happen?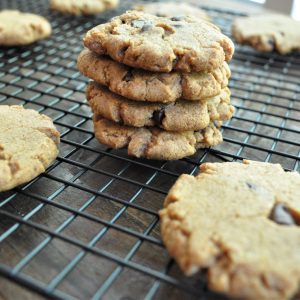 Almond Butter Cookies
Ingredients
1

cup

almond butter

natural

1/2

cup

brown sugar

1/2

cup

oat flour

1/2

tsp

vanilla

1

egg

1/2

tsp

baking soda

1/2

tsp

salt

omit if your almond butter has salt in the ingredients

1/3

cup

chocolate chips
Instructions
Preheat oven to to 350 degrees.

Combine all ingredients, except chocolate chips, in a large bowl. Mix well. Dough will be stiff like the consistency of play dough.

Mix or knead in the chocolate chips.

Roll into 16 balls - about 1 1/2 Tbsp of dough each. Place balls on baking sheet. Press down on the top of the balls to flatten. Cookies won't spread much so shape them as desired before baking.

Bake for 10-12 minutes.
Notes
How-to-Use:
Athletes: I cannot say it enough. The appetite of a training athlete can be insatiable! These high healthy fat cookies are a great way to get your sweet tooth fix while keeping that appetite in check. And a day without something sweet, ain't so sweet for the athletes in our house.
Healthy Eating: I often see people missing something super important in their healthy eating journey. Healthy fats. The unhealthy fats are much more plentiful in the typical American diet, and as people start to cut down on these unhealthy fats, they often forget to look for sources of healthy fats. Healthy fats keep our appetite in check and provide essential nutrients to our bodies. Why not get them in cookie form once and awhile!?
Kids: Not to point fingers, but.... my son was a major player in the first batch of these cookies disappearing. He also had a blast helping me make them. So, kid tested - mom approved.
Other Thoughts:
I made my own oat flour. Just throw quick oats in the blender until a flour forms. If you don't want to do that, you can buy oat flour in the store. Or, other flours such as almond, coconut, or garbanzo bean should work well. Although, I have not tried them. I also think just using 1/2 cup of whole quick oats would work - the texture will just be different.
Use gluten free oats, if needed.
Use dairy free chocolate chips or chop a 70% cocoa chocolate bar, if needed.