My first tofu recipe coming at ya. And, I promise it won't be my last. I know that tofu isn't everyone's jam, but if you haven't given it an honest shot recently, you have to try it this way.
Tofu is an inexpensive, plant based protein that imo is highly underutilized by most. When I ask clients why, the typical answer is something like 'it's gross' or 'the texture is creepy' or 'it tastes like nothing' or 'it will make me grow boobs.' Most of my clients are grown adults, so lets stop using the word 'gross' to describe food – and this recipe takes care of the texture and flavor issue. And, I can assure you… whether you want it to or not… that tofu will not add fat tissue to your chest.
Tofu is to soymilk what cheese is to milk. Tofu is the curd of soymilk. It can be made into different firmness – and for these bowls, I would always recommend firm or extra firm. There is a lot of water in tofu. In order to get tofu into a firmer texture and allow it to soak up the flavors of the sauce, you have to press some of this water out before hand and/or dry it out in the oven. This recipe does a little bit of both. Put your tofu between two dish towels and set a can on top. Leave it here for 10+ minutes… or as long as you remember ahead of time. (For me, that's typically like 15-30 minutes but if you're on your A game, you can press it for an hour or more.)
Then, you cube the tofu and bake it in the oven to further dry it out. I know, I know… for a tofu skeptic this sounds like a lot of work. But, give it a try… it's only an additional 40-45 minutes. You just need to plan ahead and I know you'll be hooked if you try!
Tofu is a great source of plant based protein. And we know that eating more plants and less animals is very good for our hearts. For those of you who follow along, we're always talking about getting enough protein at each meal to maintain (or build) muscle mass, recover from tough workouts, keep us full between meals, and hang onto muscle mass as we age. This is a great addition to your meal repertoire that is high in plant based protein to switch things up.
Now go get your tofu on….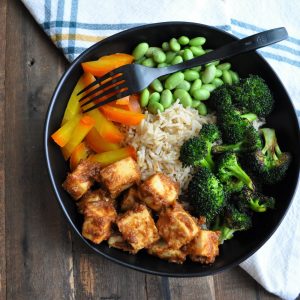 Almond Butter Tofu Bowls
Ingredients
1

block tofu

firm or extra firm

Avocado oil or spray oil

2

cups

brown rice

cooked

2-3

different vegetables and/or beans of choice

I used golden beets, edamame, and broccoli
Sauce
1/4

cup

almond butter

2

Tbsp

tamari

or soy sauce

juice of 1 lime

2

tsp

sesame oil

1/2

tsp

sriracha

or more to taste

1/2

tsp

ginger

freshly grated

1

Tbsp

brown sugar

1

clove

garlic

minced

1

Tbsp

water
Instructions
Press tofu to remove excess water. If you don't have a tofu press, place a towel down, then tofu, then another towel and top with a large can or something else heavy. Leave for how every long you have! (20 minutes to hours)

Preheat oven to 400 degrees.

Dice tofu into about 30 cubes. Toss is a small amount of oil, or spray with oil.

Spread tofu cubes out on a baking sheet.

Bake for 25-30 minutes- flip halfway.

Meanwhile, whisk all sauce ingredients together.

Once tofu is done, place in a skillet pan over medium heat. Add sauce and cook just until sauce thickens and sticks to tofu. Remove from heat.

Build bowls with brown rice, veggies, beans, and tofu.
Notes
How-to-Use:
Athletes: Can't stress enough how helpful meals like build-your-own-bowls are during training. They allow you to choose how much of each ingredient you need. Have a long run or ride in the morning? Pile up that rice and choose vegetables that agree with your GI tract the next day. Appetite in the toilet after a few days off training due to illness? Make sure to get lots of veggies and tofu and maybe not as much rice. You tweak it to your needs.
Healthy Eating: Half of the tofu in this recipe gives you the protein you need to power through until your next meal. But, feel free to play with the amounts of rice and veggies you add. More veggies and less rice kinda day? Great. Feeling extra hungry and need more rice AND more veggies? Get after it!
Kids: One time I thought I was a cool mom and deconstructed this bowl into a 'snowman scene.' Think: tofu snow man, broccoli trees, shredded carrot clouds, rice for the snow on the ground... I was so proud of myself. Then, kid #1 decided none of that looked nearly as cool as I did and refused to try it. Remember- our role as parents is to serve healthy, balanced meals most of the time. It's our kid's job to decide how much they want to eat. Which this particular night was NOTHING. Frustrating? Yup. But par for the course with toddlers, right? Hopefully your snowman scene goes over better than ours!
Other Thoughts:
Roasted vegetables are so good in these bowls. Just cut up whatever veggies you have/want. Preheat oven to 425 degrees. Toss veggies in a little oil - spread evenly on a baking sheet and roast for 10-30 minutes depending on the veggie and how big you cut them.
I almost always double the tofu. If you're spending the time to bake the tofu, I want leftovers!!! If you're like me and want some tofu for lunch tomorrow, two blocks of tofu will fit on one tray in the oven. Then, just double the sauce.
This recipe is vegan and gluten free.