Naturally sweetened, no added sugar, whole grain apple snack cake goodness coming your way!
For those of you following along and astute enough to notice, I hate to chop things and I love my blender and food processor. Any time I can cut down on steps by using either of these wazzy appliances, I will! (Anybody watch Jamie Oliver? Every time he uses his food processor he says 'wazz it up!' I had to throw some context in there so I don't sound so weird.)  If you don't have either of these, no worries – you'll just have to chop a lot more….. and add them to your next holiday list. Because they're life changing in the kitchen!
I contemplated holding onto this recipe until Fall when people are apple crazy – but then I looked at my toddler who was on his third apple of the day, which is not uncommon, and realized we're apple crazed on the daily over here so let's get this recipe out there! The thing I love about this snack cake is it's amazing slightly cooled out of the oven, but even more amazing the next couple days crumbled over greek yogurt with some chia seeds and maple syrup. One of the more satisfying and delish breakfast combos I've concocted lately.
Alright, let's get this recipe out there, my kid's screaming for another apple…..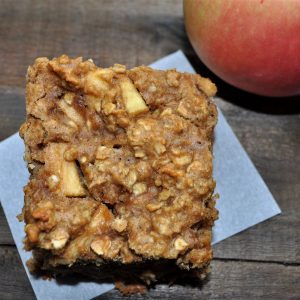 Apple Snack Cake
Ingredients
1 1/2

cups

apples

peeled and small diced - separated

4

Medjool dates, pitted

<sub 1/3 cup brown sugar, if needed>

1

cup

almond milk

unsweetened (or milk of choice)

1

tsp

vanilla

1/2

cup

almond butter

or nut butter of choice

2

eggs

1/2

cup

white whole wheat flour

1 1/2

cup

quick oats

1

tsp

baking soda

1

tsp

cinnamon
Instructions
Preheat oven to 375 degrees and grease or spray an 8x8 baking pan.

Add 1/2 cup apples, dates, milk, vanilla, almond butter, and eggs in a blender (or food processor.) Blend well.

In a medium bowl, combine flour, oats, soda, and cinnamon. Mix. Add blender mixture to the dry bowl and mix just until combined. Mix in 1 cup chopped apples.

Spread evenly into greased 8x8 pan.

Bake 25 minutes or until toothpick inserted into the center comes out clean. Allow to cool slightly before cutting.
Notes
Other Thoughts:
I made this with peanut butter once. Not my favorite- loved almond butter a LOT more. But, if pb is all you've got? It's still worth it.
If you don't have a blender no problem, chop the dates as fine as possible and really stir them into the milk. Then, chop 1/2 cup of apples much finer.
Stores great in the refrigerator for days.
UPDATE <10/21/2021>: if you don't have dates, substitute 1/3 cup brown sugar instead. It works great! 
How-to-Use:
Athletes: Crumble over a heaping cup of greek yogurt. Top with chia seeds and maple syrup. And poof! You've got your full dose of recovery carbs, protein, and anti-inflammatory Omega 3's. I can feel your muscles thanking me already.
Healthy Eating: See above. Perfect balance - just adjust your portion to your activity level.
Kids: Use this for a quick breakfast with a side of blueberries and a scoop of whole milk yogurt.