It's no secret I'm totally crushing on Wild Planet's canned albacore tuna as of late. Luckily my local Costco knows what's happening and stocks it in BULK. (Oh, they do that with all the items!? My mistake.) 
I haven't always been a canned tuna fan. In fact, I would only eat the chunk light flavored packs for the longest time. And by longest time, I mean until like 3 months ago. I still absolutely cannot eat it straight out of the can. And, I think a lot of you feel me here. So, I have been playing around with different ways to eat it – mix it – mash it – and combine it. Here's my latest obsession!
Because everything is more exciting when a boat is involved – I put the avocado tuna in a cucumber boat. It sounds a little fancy or labor intensive, but I promise you – one slice of the knife and one swoop of a spoon and TA-DA, you've got yourself a boat!
Recently, my Aldi started carrying a sustainably caught chunk light tuna in a can. It's about a 1/4 of the cost of the Wild Planet albacore, so I thought I'd give it a try. Check out the picture below to see the difference in the color and texture of albacore vs chunk light tuna. Keep in mind – all albacore tuna is about 3 times higher in mercury than skipjack chunk light tuna. So if you're pregnant or trying, limit the albacore! Here's a great resource on fish choices, servings/wk, and safety. 
Personally, I was reminded that I'm not a fan of the canned chunk light. So, back to the Wild Planet albacore or flavored chunk light tuna packs! These photos have the albacore tuna in them, if you wondered.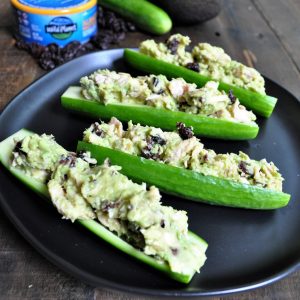 Avocado Tuna Boats
Ingredients
1/2

avocado

ripe

1

tsp

lemon juice

pinch

of salt and pepper

1/8

tsp

thyme leaves

1

Tbsp

pepitas

pumpkin seeds - or any other nut you like

1

Tbsp

dried cherries

chopped

5

oz

can tuna

drained

2

mini cucumbers

or 1 large seedless cucumber
Instructions
In a small bowl, mash avocado, lemon juice, salt/pepper, and thyme with a fork.

Add in pepitas, dried cherries, and tuna. Mix gently if you want your tuna to stay chunky.

Wash and cut the mini cucumbers in half length-wise. With a small spoon (I used my babies spoon - don't tell her!) scoop out a small amount of the middle of the cucumber so your tuna will nestle down inside. If using a larger seedless cucumber cut into 4-5 inch long segments. You will need 4 total.

Fill each cucumber boat with 1/4 of the salad. If you have some leftover, it's amazing on tortilla chips too.
Notes
Other thoughts:
To save time, you don't have to chop the cherries. But, I like them to be more dispersed throughout my boats rather than big chunks.
Use any nut you can find. Sometimes when I say pepitas, people look at me like I'm from Mars. They're just the inside of a pumpkin seed. Pecans would be delish in here too.
Naturally gluten free
Would also be great on a sandwich with your favorite bread all toasted up. I can attest it's amazeballs on tortilla chips too.
How-to-Use:
Athletes: This isn't the first time I've suggested eating an omega-3 rich meal post endurance workout to speed recovery. With the addition of tart cherries, you're getting two for the price of one on speedy recovery. Pair this with bread, tortilla, or crackers to increase your carbohydrate intake to speed recovery even faster.
Healthy Eating: I often have people coming to me a little afraid of carbohydrates. I'm hear to shout from the rooftops carbohydrates are your friend!!! But, it is nice to have a lighter meal option for when you aren't feeling the bread, crackers or tortillas. Plus, this gives a huge helping of veggies in the meantime.
Kids: Kids like anything that has to do with boats, right?! For those who are shy to the tuna salad idea, involve them in the process and deconstruct the salad and let them build their own boat.