These Baked Chicken Taquitos were a slight accident – from a craving for a local restaurant that was closed on Sundays. They were so easy and so delicious, we figured you might be interested in making them too.
True taquito fans may cringe at this statement…. but you can use flour or corn tortillas, whichever you prefer. I highly appreciate the corn tortillas as they get a little crispier than the flour tortillas. Plus, corn tortillas are a solid source of whole grains. We're 50 – 50 who prefers each in our house.
The first time I made these my corn tortillas completely cracked and fell apart. All my taco extraordinaire friends told me I needed fresh corn tortillas. My access to fresh corn tortillas is a newer bag from Aldi, so these still cracked a little – even warming them in the microwave for 10 seconds first. So, if you too, do not have access to fresh corn tortillas and cracked tortillas burn your britches – you might want to stick with flour! <flour is on the left and corn on the right in the below picture>
The filling for these is absolutely delicious! <I think it would make a great cold chicken salad sandwich or wrap too> Use leftover chicken, rotisserie chicken, or throw some chicken in the crockpot or instantpot and shred it after it cools. So many options! I put 3# chicken breasts in the slow cooker for 4 hours with some chili lime seasoning and chicken broth. Shreds like a dream after cooking it that long and saved some of the extra for another meal. Or, if you want to make these vegetarian – use black beans instead.
The avocado sauce is optional but might be the easiest step of this recipe, so if you have the ingredients, whip it up! Honestly, just throw all the ingredients in – don't bother chopping them first. Save time and let the blender do the work.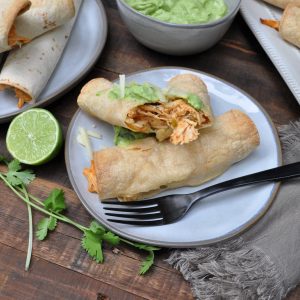 Baked Chicken Taquitos + Avocado Sauce
Ingredients
3

cups

cooked shredded chicken

1/2

cup

Greek yogurt

2

Tbsp

mayonnaise

3

Tbsp

adobo sauce

1/2

jalapeno diced

2

Tbsp

fresh cilantro chopped

1

Tbsp

lime juice

1/2

tsp

salt

1/2

tsp

cumin

4

oz

white cheddar cheese shredded

12

corn tortillas

Avocado Sauce

1

ride avocado

1

Tbsp

lime juice

1/2

jalapeno

1/2

cup

cilantro

2

Tbsp

Greek yogurt

2

Tbsp

water

1

clove

garlic

1/2

tsp

salt
Instructions
Preheat oven to 425 degrees. Pull out a baking sheet.

In a medium bowl, combine Greek yogurt, mayonnaise, adobo sauce, jalapeno, cilantro, lime juice, salt, cumin, and cheese. Stir well. Add chicken. Stir to combine.

Distribute the chicken into 12 tortilla shells down the center. Roll them up and put them seam side down on the baking sheet.

Bake for 12 - 16 minutes or until golden brown.

While your taquitos are baking, make the avocado sauce. Combine all ingredients in a blender or food processor. Blend until smooth.

Top taquitos with avocado sauce and, if you want, more shredded cheese, salsa, Greek yogurt or sour cream, lime juice and/or cilantro. Enjoy!

Store baked taquitos in the refrigerator for 2 - 3 days. You can also freeze them after baking and reheat in the oven, air fryer, or microwave.
Notes
How-to-Use
Athletes: Easily adaptable to your training - eat 3 - eat 10... no one is judging.
Healthy Eating: Healthy eating never tasted so good!!! Get your fried taquito fix from these guys. More flavor than the original and a balance of carbs, protein and healthy fats.
Kids: I purposely left out the spicy chipotle peppers so my daughter would try them. She said they were still too spicy... but man did she house that avocado sauce!!
Other Thoughts
These can definitely be frozen! I would recommend freezing after cooking and just rewarming.

They also make great leftovers.

If you like spicy food, chop up the chipotle peppers and use those with the adobo sauce.