I'm just about certain than anyone will like these salmon cakes….. even if you aren't sure about salmon. Or, if the thought of using canned salmon makes you shiver. Or, if you aren't even sold on fish. I double dog dare you to give these a try and just see if they open up your eyes to adding some healthy omega 3 fats into your life. <your body will thank you> And for my salmon lovers, here's another recipe to add to your salmon repertoire.
If you follow around here often, you know I'm always recommending ways to increase our omega-3 intake. Omega 3 fatty acids are anti-inflammatory and benefit just about every body system we've got. We have another type of fat in our diet that is pro-inflammatory, omega 6. The typical American diet consumes a ratio of 1:21, omega 3:omega 6. For optimal health, that ratio should be closer to 1:4. We got some work to do guys!!! So, don't write off canned salmon yet….
I played around with these guys until they had the right consistency to bake them. I know most fish cakes are pan fried, and if you want to do that – go for it! It will certainly work. Why did I want to bake them? One – I don't like the way I or the house smells after I pan fry fish. Two – you can throw them in the oven and walk away instead of standing over the skillet flipping cakes. I do recommend you spray the tray and the top of the cake with some oil to keep them from drying out. You can also drizzle a little oil over the top too.
Just for a refresher on omega 3 fatty acid benefits, they are pretty much superhero status. For athletes, they decrease muscle soreness with exhaustive training and may even aid in muscle protein synthesis. For everyone, they play a serious role in brain health. Omega 3 intake is linked with children's IQ and behavior. In aging adults, it is linked with slower cognitive decline. It has shown to decrease joint pain. Our hearts are also big fans of omega 3 – in fact, the only prescription medication that lowers triglycerides is actually just a large dose of omega 3. Eat fatty fish (salmon, tuna, sardines, trout) twice a week for the best benefits.
---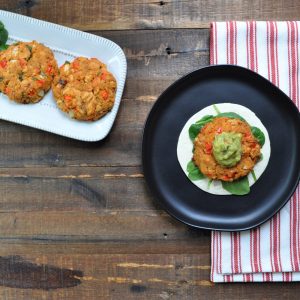 Baked Chipotle Salmon Cakes
Ingredients
14.75

oz

can of salmon

picked through and crumbled *see other thoughts

1

egg

beaten

1/2

onion

diced (heaping 1/3 cup)

1/2

red bell pepper

diced (heaping 1/3 cup)

1

Tbsp

chipotle pepper in adobo sauce

1 pepper diced + some sauce

juice of 1 lime

approx. 2 Tbsp

2

Tbsp

Greek yogurt

2

Tbsp

fresh cilantro

chopped

1/4

tsp

salt

1/2

cup

whole wheat panko bread crumbs

or unseasoned bread crumbs of your choice
Instructions
Preheat oven to 350 degrees. Line baking sheet with foil. Spray foil with avocado oil.

In a medium bowl, combine all ingredients. Note: a little warning - canned fish still has the bones. They are 100% edible but if that creeps you out (me too!) pick them out as you're flaking the fish into the bowl. Stir gently until combined evenly.

Form into 5 patties and place on your prepared baking sheet. Spray the top of each patty with avocado oil.

Bake for 15-20 minutes. Broil for a minute or two at the end to brown the tops. Use a metal spatula to remove from tray.
Notes
Other Thoughts:
More on canned fish - before you get scared and abort the salmon cake mission - most canned fish still have some bones and skin attached. You can absolutely eat this and if it doesn't bother you, throw it on in. More calcium! But, if you're a little leery of this, just pick off the skin and bones. It's easy and takes maybe a minute. <I would know because I'm in the creeped out camp>
If you can't get over the canned fish, make extra salmon and use the leftovers to make these cakes.
These save very well. Make them on sunday for 2-3 meals during the week.
How-to-Use:
Athletes: Eat a salmon cake + mixed greens salad + big old sweet potato for an anti-inflammatory recovery meal fit for a queen. <or king> As athletes, omega 3 may be a key factor to help you recover more quickly between workouts.
Healthy Eating: Make these 5 cakes. Eat one for dinner. Use two for lunches this week. Freeze two for lunch next week. And poof! You've got your omega 3's covered for 2 weeks! Pair with a veggie and complex carb for a balanced meal.
Kids: I made a couple mini salmon cakes for my daughter (22 months) and called them salmon nuggets. Worked like a charm. It did not however work like a charm for my son (3 1/2). He insisted he doesn't eat fish. You win some, you lose some. Just keep exposing them to new foods regardless of the outcome.