Portable, easy, and balanced – that was the method to the madness behind this recipe. Oatmeal is a staple for so many of us – but too much of even a good thing can get boring. Cue a slight change up!
These were made to resemble french toast but in true featherstone nutrition fashion – we balanced them out with some greek yogurt and extra eggs. With 10 grams of protein, 20 gm carbohydrates, and 4 grams of fat per cup these have some serious staying power to keep you full for hours. (See How-to-Use for ideas of things to add to make them a whole meal.) 
Eat them plain. Jazz them up. Whatever makes you smile during breakfast. Our meals should both satisfy our appetite and our mind. Find meals that can do both for you! Research shows that by 'front loading' our nutrition and providing more of our nutrition in the beginning of the day – we can provide our body with the fuel it needs, when it needs it. Think about it. Do we really need to eat our largest meal right before we sit on the couch and sleep all night?! Probably not. We need the energy when our body and mind are most active – throughout the day.
Breakfast never looked so fun!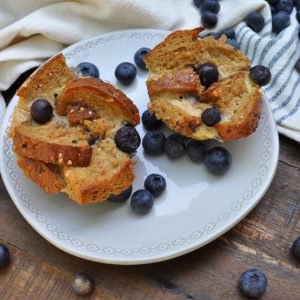 BAKED FRENCH TOAST CUPS
Ingredients
6

eggs

3

egg whites

3/4

cup

2% Greek yogurt

plain

1

cup

milk or milk alternative

2

tsp

vanilla

2

tsp

cinnamon

1/4

cup

maple syrup

12

12 oz pieces of a hearty, whole wheat bread (I used Dave's Killer Bread Thin-Sliced)

1

cup

blueberries
Instructions
Preheat oven to 350 degrees. Grease a 12 cup muffin tin pan.

Whisk together all ingredients down to the bread.

Slice each piece of bread into 9 pieces. (Stack 4 pieces to make it quicker)

Add the bread to the egg mixture and toss carefully. Let sit until most of the liquid is absorbed. Just 5-10 minutes. Add blueberries and stir carefully. Save a few for the tops if you want.

Scoop a heaping 1/3 cup bread and egg mixture into each muffin cup. Careful not to overfill like I did – it's a mess to clean up! You may have a small amount of liquid left depending on the size of your muffin tin. If so, just discard it. Don't overfill!

Bake for 30-35 minutes or until brown and firm.

Store extras in the refrigerator.
Notes
How-to-Use:
Athletes: Eat two + more berries + some nut butter to start that post morning exercise recovery ASAP. Each cup has 10 gm protein and 20 gm of carbs. Super adaptable to your energy needs - eat one or eat 3! Plus, you can top with maple syrup and berries for more carbs and/or greek yogurt for even more protein.
Healthy Eating: Smoother a french toast cup with 1/2 cup greek yogurt, berries, and a drizzle of nut butter. It'll shake breakfast up and give you all the whole grain carbs, protein, and healthy fats to fuel your morning.
Kids: Feel free to swap in your kids favorite toppings to encourage them to try these. Any fruit - dried, fresh, or frozen - or even some chocolate chips! Let them pile it on top to really up the anti of them engaging and trying them later.
Other Thoughts:
Dave's Killer Bread thin slices are fairly thin. If you are using a larger cut of bread, you may need less than 12 pieces. Look at how many ounces are in the loaf. You want to use 12 oz - so figure out how many slices you need of yours.
Store any extra in the refrigerator for 5 days. Warm in the microwave for 15-20 seconds before eating.
You can also freeze them!