DIY Baked Oatmeal Cups are naturally, lightly sweetened with banana and no added sugar and perfect for weekend meal prep. Keep these in the fridge for a fast breakfast all week long.
I knew this recipe needed to get on the blog, but I kept putting it on the back burner. But don't you fear, we're letting these gems shine today. Because they deserve it. Easy. Simple. Crazy Nutritious. And, customizable.
Step aside boring oatmeal – these personalize-able oatmeal cups are life changing. Top each cup with whatever your heart fancies and every morning it's like a brand new breakfast in no time.
Don't let plain old oatmeal fatigue you of the goodness of oats. High in complex carbohydrates and soluble fiber – these powerhouses help us stay full longer so we can power on with our morning.
Top with Greek yogurt, healthy fats (almond butter) and an extra shake of cinnamon to make this a balanced breakfast. Or just run out of the house juggling 3 muffins and I'd be prouder than ever.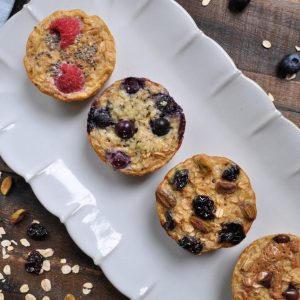 Baked Oatmeal Cups
Ingredients
2 1/4

cups

old fashioned oats

2 3/4

cup

milk

or milk alternative

1

ripe banana

2

eggs

1

tsp

cinnamon

1

tsp

vanilla

1/4

tsp

salt
Toppings
Blueberry + Hemp Seeds

Raspberry + Chia Seeds

Dried cherries + Pistachios

Chocolate chips + Almond butter drizzle

Anything you dream up!
Instructions
Preheat oven to 350 degrees. Grease muffin tins – well or they'll stick.

Mash ripe banana in a large mixing bowl. Add eggs and whisk until frothy. Add cinnamon, salt, and vanilla. Whisk.

Add oats and milk. Stir until well combined. Allow to sit for 5-10 minutes until the oats begin to absorb some of the milk.

Fill each muffin tin with 1/3 cup oat mixture making sure to also get some liquid too. The tins will be very full.

Top each one with desired toppings.

Bake for 25-30 minutes or until set and starting to brown. This takes the full 30 minutes for me.

Allow to cool before removing from the pan. Store in the fridge all week.
Notes
Other Thoughts:
You may have a small amount of extra oat mixture depending on the size of your muffin tins. Don't overflow them to use it all! You'll regret it.
Get creative and add different toppings. Let me know your favorite!
Use any milk you want - use cow's milk or pea protein milk for more protein.
How-to-Use:
Athletes: One muffin cup is a great preworkout snack - with 15 gm of carbohydrates (only 2 gm fiber), it's great fuel to help you sustain that hour workout. For a recovery breakfast, throw 2 muffins in a bowl - top with 1 cup greek yogurt - drizzle with almond butter & honey.
Healthy Eating: For the fastest breakfast ever, grab one oatmeal cup and a 5 oz container of greek yogurt and run out the door! Bonus points if you top with an extra handful of walnuts
Kids: Take one guess who in our family added the chocolate chips?! The kiddos of course. Involve them in choosing their favorite toppings and they will be much more likely to try them. Also great for older kids to grab out of the refrigerator and eat on the way to school.