Hands down – the most popular recipe around here is this Peanut Butter Baked Oatmeal. It's been dubbed oatmeal cake, the best breakfast ever, and the only-thing-that-keeps-me-full-until-lunch. So, I didn't hesitate to dig out and re-test my pumpkin baked oatmeal recipe from a few years back. Because if there's two things I know… you guys like pumpkin. And, you guys like baked oatmeal. So, here you go…. two-in-one!
Bake this over the weekend and have breakfast for the week. Just toss some Greek yogurt over the top to balance it out and keep you full until lunch. If you're a purist, you can eat it plain too.
I highly recommend you use milk or a milk alternative that is a good source of protein to balance things out. This includes regular cows milk, ultra filtered milk (like Fairlife), soy milk, or a pea protein milk (like Ripple.) If you use something like plain almond or cashew milk, there won't be much protein in the final product.
Store this in the fridge and grab a hunk for a delicious snack. As it sits in the fridge, it gets more dense and pound cake-like. Enjoy!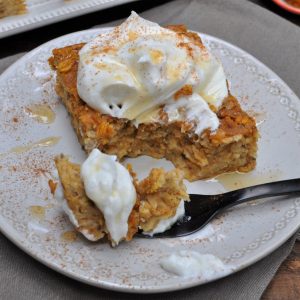 Baked Pumpkin Oatmeal
Ingredients
1

cup

canned pumpkin

2

eggs

1

tsp

vanilla

1/3

cup

maple syrup

1 1/2

tsp

pumpkin pie spice

3

cups

milk or milk alternative

2 1/2

cups

oats

I use old fashioned

1

Tbsp

chia seeds
Instructions
Preheat oven to 350 degrees. Grease an 8x8 pan.

In a medium bowl, combine first 5 ingredients (pumpkin, eggs, vanilla, maple syrup, and spice) and whisk well.

Add milk and stir gently to combine.

Add oats and chia seeds. Mix.

Pour into 8x8 pan.

Bake for 55-65 minutes or until center is firm. (In a metal pan, mine took 65 minutes.) Store in the refrigerator.
Notes
How-to-Use:
Athletes: A hunk of this oatmeal + Greek yogurt on top gives you all the protein and carbs you need to recover from your morning workout. Evening worker outers, still the best way to start your day and continue your recovery from the night before.
Healthy Eating: Full of complex carbohydrates, protein, and a little healthy fat this is a great breakfast to keep you full for the long haul. Add some protein to really balance it out - greek yogurt, eggs, cottage cheese, a glass of milk or high protein plant based milk.... whatever sounds good.
Kids: Call it cake and they will come. 
Other Thoughts:
No doubt this can be made vegan with a pea protein based milk <like Ripple> and flax eggs.
Keep it in the refrigerator - or freeze it if you don't think you'll crush it all within the week.
Get creative - top with whatever sounds good to you.
Play around with the amount of maple syrup if you need or want to do that. It's strictly there for the sweetness and flavor. If you don't want it very sweet, cut it back to 1/4 cup. If you like sweet oatmeal, increase to 1/2 cup.