Not too surprising, but happily, you guys showed me that meal prep ideas are highly welcomed – and ways to make it your own and adapt to your needs/foods in your pantry is even more highly welcomed! Last week, this Winter Salad fueled us up right around here. Once again, the goal here was quick, easy, and well balanced meals that keep well for a few days to get you through lunches for most of the week.
So here we are with round two of Fuelitup Meal Prep with this Balsamic Red Lentil Pasta Salad.
Twice a year, Aldi sells my favorite red lentil pasta around. It's out now – so stock up if you're an Aldi shopper! There are plenty of other brands that sell it now too including Barilla, Tolerant, Trader Joe's, Modern Table, etc. Why do I prefer red lentil pasta? For the amazing nutrition it packs – it also tastes great. One serving provides 50% of your daily iron needs, a hefty dose of protein, and not too much fiber (when compared to other bean based pastas.) 
There's a few things these meals need…. protein – complex carbs – veggies – healthy fats – and FLAVOR! And, they need to NOT get creepy in the refrigerator over a couple days. I highly encourage that you adapt this to your nutrition needs – sub the chicken for beans if you're vegetarian – sub the cheeses for nondairy if you avoid dairy – it's already gluten free for those who need it – you get the gist.
A hearty serving of this pasta salad is around 3 cups. I use the 4 cup glass containers to store portions for lunches all week. I recommend just eating this cold right outta the refrigerator or your lunch bag. One tip: make sure you cook your red lentil pasta right. If you under cook it, it is very not good cold, outta the fridge <think VERY chewy.> If you overcook it, it falls apart. Read the cooking instructions and test it at the lowest recommended cook time. It should be perfectly tender when you try it hot. <It will get harder once you rinse it with cold water. So, you don't want it still chewy.>
Always love to hear what you guys think – share your version on Instagram and tag @featherstonenutrition.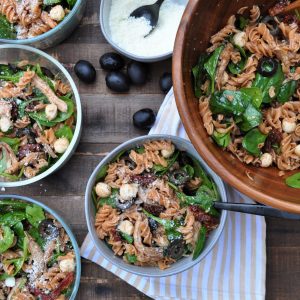 Balsamic Red Lentil Pasta Salad - Meal Prep
Ingredients
12

oz

box red lentil pasta

sub: any type of pasta

5

oz

fresh spinach

sub: kale

4 - 5

oz

jar sun-dried tomatoes

sub: nothing, can leave out if you want

small can black olives

sub: another type of olives, or leave out

1

rotisserie chicken

skin removed, meat shredded (sub: homemade chicken, or make vegetarian with a can of drained and rinsed beans)

8

oz

fresh mozzarella pearls

sub: dice large balls of mozzarella, or use 1 cup shredded

2 - 3

Tbsp

Parmesan cheese
DRESSING
1/4

cup

balsamic vinegar

1/4

cup

olive oil

1

garlic clove

crushed or minced

1

shallot diced

or sub 1/2 red onion

2

Tbsp

chopped fresh basil

salt/pepper to taste
Instructions
Cook red lentil pasta - watch closely. There is nothing worse than over cooked red lentil pasta! When it's done, immediately drain and rinse with cold water. Put in a large bowl.

Make the dressing. Mix all the dressing ingredients together in a mason jar or sealed container and shake.

In the large bowl with the pasta, add the remaining ingredients and add dressing stirring gently.

Serve with more Parmesan cheese and salt/pepper to taste. Enjoy!
Notes
Other Thoughts:
Because red lentil pasta packs some serious protein, you can absolutely leave out the chicken if you are vegetarian and it will still be very balanced.
This is a super easy meal prep option - all you have to cook is the pasta. And, dump the other ingredients in! Okay.... you have to make the dressing too - but promise it's worth the extra 5 minutes.
Already gluten-free as is - just double-check the brands of sun-dried tomatoes, olives, and cheese you buy to make sure - if this is needed.
How-to-Use:
Athletes: This recipe is specifically built to meet the nutrition needs of athletes. You don't need to add anything else. Just eat it as is - anything from 3 - 5 cups!
Healthy Eating: All your protein, healthy carbs, veggies, and fats in one meal. Adjust the portion to your hunger levels.
Kids: My kids have a 'green' aversion lately. So, one kid was fine as long as the spinach wasn't present. She wasn't sure about the 'balls' of cheese but once we encouraged her to try them.... she was IN. <can you blame her?!>
Fast Food with Feathers:
Here we are - attempting to make easy recipes even faster. We all have very little time but we've all gotta eat. So, let's make some food - FAST. The only swap you need here is buying your favorite pre-made Balsamic dressing + pre-cooked chicken strips. Go ahead and pull chicken off a rotisserie chicken if you have the time, but Target has a mean chicken in their refrigerator section.