This recipe was 100% inspired and guest blogged, as below, by Nicole – an incredible human being + runner – who also happens to be vegan but found her iron in the toilet and decided adding some iron-rich bison into her life might be a good idea. She also has a culinary wizard of a husband – and a background in crunchwrap creation as a Taco Bell chef in high school – so when this all combines, magic happens. So here goes…. take it away Nicole! <<of note, besides the bison – Nicole's version is vegan. The photos here are of the version we made, which included white cheddar cheese. Morale: make any changes you want based on what you have on hand at your house! So. Many. Options.>>
There really aren't many times you want to hear your doctor say something is "in the toilet." So, when that descriptive language was used to describe my ferritin, I wanted to cry, especially considering I am an endurance athlete that hadn't felt like herself in weeks. Clearly, that was why.
So, when I reached out (read: cried) to Meghann, we took immediate action, in the form of a nutrition plan we affectionately dubbed "iron bootcamp." I happily supplemented, ate all of the iron-rich foods my body could handle, and physically felt my iron come back up. It truly is amazing how one mineral can make or break you, but your body is one big yogi that truly just wants to achieve its own perfect "Zen."
One of my favorite foods from my youth was a Crunchwrap Supreme from Taco Bell, but as an almost thirty year old endurance athlete with ulcerative colitis, you can only imagine the havoc that a "fourth meal" might have on my body. So, with a little help of Meghann and my local health foods store, I have created an iron rich version that will make your mouth water, perhaps even more than the original version. It is also worth noting that I typically eat a plant-based diet – so this can be completely vegan!
You will need:
One pound of bison burger
Taco seasoning (I typically get mine from Trader Joe's)
Can of black beans
Spinach or a spinach/kale mix
Whole wheat tortillas, as large as you can find. Sub white if you are also carb-loading.
Tostada shells
Tomatoes – we created a mixture of pico de gallo and corn because why not?
Siete cashew queso – mild nacho flavor
Tofutti's "better than sour cream"
First, you cook the bison like you would any typical taco meat. I googled a "how to," and if "she who burns all things" (aka me) can cook it, you absolutely can too. I think it also goes without saying that if you do use bison in this recipe, it will no longer be vegan or as iron heavy – but it is just as good without.
Simultaneously, warm up the black beans as well as the queso dip. Don't scald them. Ain't nobody got time for a charred black bean. Also, make sure you stir the queso while it is warming. You may think this is obvious, but non-natural chefs like me need this reminder.
Next, get out your ingredients. It is go time.
Open the large tortillas, placing a helping of the black beans, bison meat, and queso dip on the bottom. Cover this gooey goodness with a tostada shell, and add the toppings (sour cream, a hefty helping of spinach/kale, and corn salsa/tomatoes) to your desire. The world is your oyster – or, at least, this burrito shell is.
The hardest part about this dish, honestly, is folding it. If you did not work at taco bell when you were 16 like I did, look up a YouTube video of people folding crunchwraps, and mimic their efforts. I was actually shocked as the amount of videos people have made of this phenomenon. I was even more shocked at the amount of views they had. People love their crunchwraps.
Lastly, either enjoy it the way it is, or you can do a quick pan/panini press browning job of the burrito shell to give it the crisp you never knew you needed.
Fin.
So, in conclusion, I hope you love this recipe. I have the palate of a five year old, and if I love this, you probably will too. Vegan cheese doesn't taste quite like the gooey queso T-Bell adds to their many concoctions, but out of all of the brands of cheese I have found, Siete seems to make some of the best product around. And, it is packed with veggies and nutritional yeast, so it ain't half bad for you.
In another conclusion (I am rambling but I promise this might help you) – I highly recommend getting bloodwork if something feels off, and even if it doesn't. I had felt off for weeks before finally getting my iron/ferritin tested, and now that I am back on the upswing and making it RAIN iron in my body, I have felt so much better. I think it's important to know what you might be lacking, or what you are doing right. Plus, then Meghann can help you reach your diet goals or help you maintain healthy levels through your nutrition, and that's a win-win situation!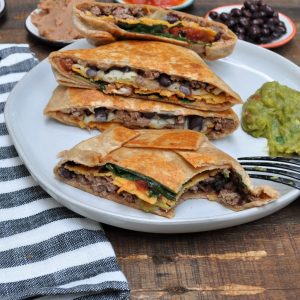 Bison Crunchwrap
Ingredients
1 1/4

whole wheat tortilla

2

Tbsp

or so refried beans - enough for a thin layer on the tortilla

1/4

cup

ground bison

cooked in Chili Lime seasoning

1

Tbsp

black beans

2

Tbsp

shredded white cheddar cheese

1/2 to

stada

or a couple tortilla chips

1

Tbsp

tomatoes

canned or fresh

1

Tbsp

salsa

small handful torn or chopped spinach
Instructions
Over the whole tortilla, spread the black beans. Top with the bison, black beans, and cheese.

Top with the tostada or chips. See picture below to make for placement.

Top tostada with tomatoes, salsa, and spinach.

Place the 1/4th tortilla over the spinach. Carefully pull up each side and secure it by pressing the refried bean edges into the 1/4th tortilla piece.

Spray both sides with a little avocado oil. Cook in a hot pan on each side until golden brown.
Notes
Other Thoughts:
Don't overfill these guys or they won't stay shut and may even bust open at the seams.
Feel free to add and delete ingredients to whatever you like. Any ground meat will do - or pulled chicken - or no meat. Super easy to throw these guys together with leftovers.
You can make these ahead of time. Just warm in foil, store in the fridge, and rewarm in the oven at 375-ish degrees for 10-15 minutes.
How-to-Use:
Athletes: This is a solid way to get in all the nutrients you need in one sitting. A healthy dose of carbohydrates + protein + dip in some guacamole for healthy fats.
Healthy Eating: Eating well doesn't have to be boring. Bring the fun to dinner with these guys!
Kids: Let the kids help build their own with the fillings they like. Encourage them to add a small amount of a new ingredient. Allowing them to help ups the likelihood of them trying and enjoying new foods.