Much like your favorite early 2000's DJ…… I take requests! These muffins were a solid request from a devout blender muffin fan. I hope you all have the essentials in your well stocked cupboards to throw some of these together this week.
What's easier than tossing all the ingredients into the blender and flipping a switch?! Make sure you put the wet ingredients on the bottom <eggs, yogurt, applesauce, etc> and the oats on top. Prior experience tells me that when you put the oats in the bottom of the blender, things get a little crazy. And by crazy I mean your blender has to work too hard and overheats. If you don't have a high speed blender, blend up the oats into a flour first. Dump the oat flour into a bowl. Then, blend all the other ingredients together and pour into the oat flour bowl. Mix with a spoon.
The topping is listed as optional. But, is a crumb topping every really optional?! If you're feeling crazy, don't even measure and just top them all with some extra sugar + oats + cinnamon. The coarser sugar, like raw sugar or turbinado sugar, works really well on top but if you don't have any – brown sugar does the trick too.
Fuel it up right – make some more blender muffins!
---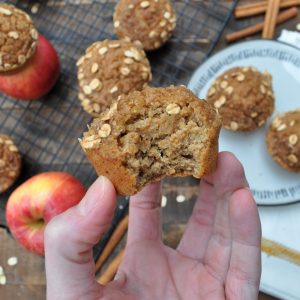 Blender Apple Cinnamon Muffins
Ingredients
1

large apple

cored

1

4 oz container unsweetened applesauce, single serving

1

5.3 oz container of vanilla Greek yogurt

2

eggs

1/3

cup

maple syrup

1/4

cup

almond butter

1

tsp

vanilla extract

2

cups

oats

2

tsp

cinnamon

1

tsp

baking powder

1/2

tsp

baking soda

Optional Topping

2

Tbsp

turbinado or brown sugar

2

Tbsp

oats

1/2

tsp

cinnamon
Instructions
Preheat oven to 350 degrees. Grease or spray 12 muffin tin

In a high powered blender, add all ingredients except the optional topping. Make sure to put the apple, applesauce, yogurt, and eggs at the bottom and the oats at the top.

Blender well. Use the tamper to mix, if your blender has one. If not, stop the blender - scrape down the sides with a spatula - blend. And, repeat as needed until it is well combined.

Pour into pan. Each muffin tin will be about 2/3rd's of the way full.

In a small bowl, mix the topping - sugar, oats, and cinnamon - and evenly distribute on top of the muffins before baking.

Bake for 16 - 20 minutes or until firm, slightly brown, and a toothpick inserted into the middle comes out clean.

Allow to cool slightly before removing from the tin. Cool completely on a cooling rack before storing. Store on the counter for 2 - 3 days, in the refrigerator for 7 - 10 days, or the freezer for a couple months.
Notes
How-to-Use:
Athletes: Grab a muffin as you run out the door for an easy run. With 15 gm of carbohydrates and just 2 gm fiber, these will fuel an easy run.
Healthy Eating: These aren't your bakery muffins. These guys pack some very balanced nutrition. Whole grains - protein - healthy fats - all for just over 100 calories per muffin.
Kids: These are very forgiving so let your helpful kitchen kids add ingredients into the blender for you. Share with your helpers if you want!
Other Thoughts:
These can easily be made gluten free with gluten free oats.
If you don't have maple syrup, you can use honey or brown sugar.
They get a little denser the day after you make them. Heat them up in the microwave or toaster oven before eating.