Since half my recipes lately involve a baked good created in the blender, it's probably about time for a blender sponsor, right?! I kid. I don't have one. But, it appears that you all appreciate a fast blender recipe as much as I do. So, they are going to keep coming around here!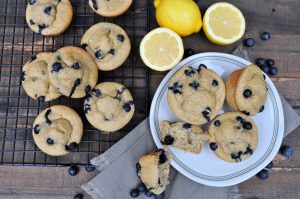 This recipe is also quite out of character for late October…. but when my kids requested blueberry muffins, I couldn't argue. They sounded pretty delicious to me too.
So here we are – eating blender blueberry muffins the week before Halloween. I'm okay with it if you're okay with it.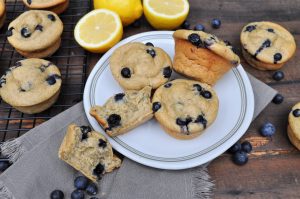 I used my Chocolate Banana Blender Muffins as a 'template' for these guys. But, I didn't want the bananas to steal the flavor show. So, these have 1/2 cup honey for the sweetness. And, I swapped a little avocado oil for the peanut butter. So these blueberry muffins are a rare nut free recipe around here! The substance of these muffins come from oats, so they can easily be made gluten free as well.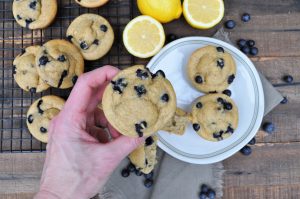 The lemon flavor is subtle and the vanilla adds a nice sweetness. Hope you guys enjoy these as much as we did! <past tense… we crushed them!>
---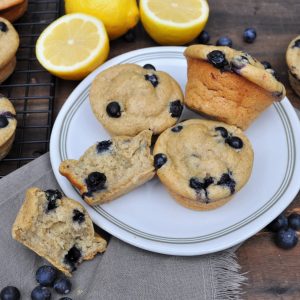 Blender Blueberry Muffins
Ingredients
2

eggs

2

Tbsp

avocado oil

3/4

cup

Greek yogurt, plain

1/2

cup

honey

3

Tbsp

lemon juice

<juice of 1 lemon>

1/2

cup

milk or nondairy milk

1

Tbsp

chia seeds

1

tsp

vanilla

2 1/2

cups

oats

1

tsp

baking powder

1/2

tsp

baking soda

3/4

cup

blueberries

<save and add after blending>
Instructions
Preheat oven to 350 degrees. Grease 12 cup muffin pan.

In a high powered blender, add all ingredients except the blueberries. Pro tip: add ingredients in the order listed here and it will blend easier. If you put the oats in first, it's a lot harder to get those blades turning.

Once well combined, stop blender and stir in blueberries.

Fill each muffin tin about 3/4th full. Try to distribute batter evenly.

Bake for 20 - 22 minutes or until they start to brown at the edges and toothpick inserted into the center comes out clean.

Remove from pan and allow to cool slightly. Enjoy!
Notes
Other Thoughts:
I used fresh blueberries in these but I'm sure you could use frozen. They might just need to bake a little longer if you put them in frozen. They also tend to turn the whole muffin more blue - but nbd.
If you're feeding these to a kid under 1 year old, don't use honey. I haven't tried it - but I assume maple syrup would work well too.
You can use any type of oil you want - I just like the nutrition and neutral flavor of avocado oil.
If zesting a lemon seems like too much, feel free to skip that piece. They will still be delicious.
How-to-Use:
Athletes: Highly encourage these to fulfill the frequent snack needs throughout the day. Or, as a pregame to a meal - or postgame - I won't judge.
Healthy Eating: A muffin would be a great snack between meals. Each muffin is 125 calories balanced well with protein, healthy fats, and whole grain carbohydrates. You could also make a breakfast out of it by adding some protein - eggs, yogurt, cottage cheese, etc.
Kids: Maybe your 4 year old will eat 3 for breakfast too.... but if they do, rest assured they're getting some balanced nutrition in!
Old Recipe: 
In April 2021, I updated the recipe. But some of you said nope, keep the old one! So here is the old one if you like it better: 
In a blender, combine: 
2 eggs + 2 Tbsp avocado oil + 5.3 oz container vanilla Greek or Skyr yogurt + 1/3 cup honey + 1 Tbsp lemon juice + 1 tsp lemon zest + 1 tsp vanilla extract + 2 cups oats + 1 tsp baking powder + 1/2 tsp baking soda 
Stir in 1 cup blueberries. 
Pour evenly into 12 muffin tins (approx. 1/2 full). Bake at 350 degrees for 12 - 14 minutes
<<Please excuse the poor photo quality. Due to popular demand, I had to take some quick photos before the sun came up so I could let my rugrats eat them all.>>