We really like cookies around here. Like, really…. REALLY like cookies over here.
I'm hoping some of you share this love of cookies and feel inclined to head down this cookie baking journey with me. Sometimes I make the legit – gramma's recipe – no alterations – mack daddy of cookies – recipes. And, sometimes I play around with some legit healthy ingredients to meet our athletic nutritional needs while also happening to be eating cookies. These are the latter.
These guys get their heft from chickpeas – no flour in these bad boys. If you have ever made cookies or brownies that sub the flour for some type of bean, you know the consistency of these cookies is slightly different than your typical cookie. It turns out more like fudge. I don't know about you – but I dig fudge too. So, sometimes it's fun to use beans instead of flour. Not always – but it's a legit option! If you need gluten-free, these babies fit your needs.
The majority of the sweetness in these cookies comes from dates. I hereby declare dates the new natures candy (later raisins.) They have an intense sweetness, plus hints of caramel flavor. These accompany the chickpeas perfectly. Dates and chickpeas in my cookies, Meghann!?!? Give it a whirl before you dismiss it. It's pretty unreal.
Plus, let your blender or food processor do the work and they'll be ready in a flash. Can't wait to hear what you guys think!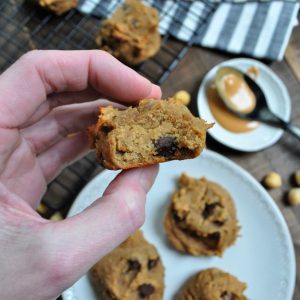 Blondie Drop Cookies
Ingredients
1

can chickpeas

drained and rinsed

10

Medjool dates

approx. 1 cup

2

Tbsp

maple syrup

1

egg

2

tsp

vanilla

1

tsp

baking powder

1/2

cup

natural peanut butter

Crazy Richard's, if you can find it

1/3

cup

chocolate chips
Instructions
Preheat oven to 350 degrees.

In a microwave save bowl, combine dates and maple syrup. Microwave for 30 seconds to soften.

In a blender (or food processor), add chickpeas, dates, maple syrup, egg, vanilla, and baking powder. Using the tamper, blender as well as possible. (If using the food processor, scrap down the sides frequently.)

Remove mixture and place in a bowl. Stir in peanut butter. Stir in chocolate chips. NOTE: if your blender heats up your mixture like mine, let it cool before you mix in the chips or they will melt into the batter.

Heap about 2 Tbsp batter onto baking sheet. It will make 16 cookies total. NOTE: your cookies will keep their shape, so shape however you want.

Bake for 16-18 minutes. Allow to cool slightly before removing with a spatula and cooling completely on a cooling rack.
Notes
How-to-Use:
Athletes: Don't eat three of these before you head out for a workout…. they've got some fiber in them from the beans! But, these would be a great snack between meals to pack in some complex carbohydrates and keep your hunger satisfied.
Healthy Eating: This are sure to satisfy those sweet needs – plus punch a serious nutritional punch at the same time. Soluble fiber from the chickpeas – Potassium for the dates – Satiety from the healthy peanut fats.
Kids: These passed both the kids cookie test. Kid #1 (3 1/2) said 'heeeeey – these no look right' but then he devoured it and asked for more.
Other Thoughts:
The cookies are best described as fudge-y. Deliciously fudge-like.
I recommend storing them in the refrigerator, if you don't eat them all the day you make them! You can also freeze them – just defrost or throw in the microwave before eating.
They aren't good frozen!
If you want them to be added sugar free – use 1 Tbsp water instead of 2 Tbsp maple syrup.
Naturally gluten free.