Anytime a snack is in cookie form, it's going to be more exciting, if you ask me! These snack cookies are packed full of nutrient dense complex carbohydrates – sweet potatoes, whole wheat, and oats – making them a solid option for managing hunger and meeting nutrition needs for our active lifestyles.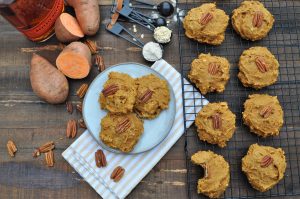 It's no secret I love bourbon, so it was only a matter of time until it made it's way into a recipe around here. One of my all time favorite Thanksgiving side dishes is my mom's bourbon sweet potato casserole. It's full of bourbon, cinnamon, and a pecan + brown sugar topping. <<cue inspiration for this recipe>> So if these cookies remind you of Thanksgiving dinner, you're not alone!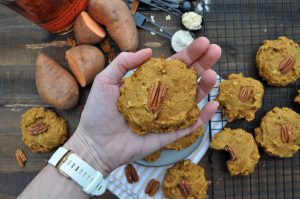 This recipe makes 12 perfectly palm sized cookies to fulfill those mid day snack attacks. But, if you prefer a more normal sized cookie, you could easily get 24 cookies out of this recipe as well. <just make sure to decrease the cook time> Keep a few in an air tight container on the counter for 2 – 3 days and put the rest straight into the freezer. Whether off the counter or out of the freezer, pop them in the microwave for a moment before eating to give them that fresh baked warmth. <Confession: I made these a couple different times before I was satisfied and ate many of said 'duds' with coffee pre-run, so I can vouch for that success as well.>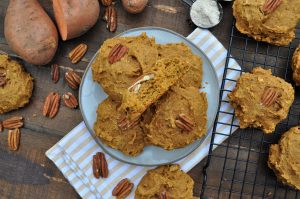 After the fact, I was eating these cookies while dishing up my kids some dried tart cherries. I popped a couple cherries in my mouth and took a bite of these cookies and realized they might be even better with tart cherries. So, if you're feeling wild – add some tart cherries too!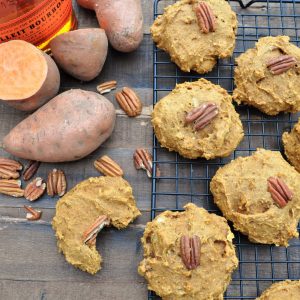 Bourbon Sweet Potato Snack Cookies
Servings
12
large cookies
Ingredients
10

oz

bag frozen sweet potatoes, cooked

<or 1 3/4 cup mashed sweet potatoes>

2

eggs

1

cup

oats

<quick or old fashioned>

1/4

cup

brown sugar, packed

1/4

cup

maple syrup

3

tbsp

bourbon

<can leave out, if you dislike bourbon>

1

tsp

vanilla extract

1/2

cup

almond flour or meal

1/2

cup

white whole wheat flour

<or all purpose flour>

1

tsp

baking soda

1

tsp

cinnamon

1/2

cup

pecans, chopped
<Optional: add 1/2 cup dried tart cherries>
Instructions
Preheat oven to 350 degrees.

In a blender, combine sweet potatoes through vanilla extract. <sweet potato, eggs, oats, sugars, bourbon, and vanilla> Blend well. Set aside.

In a medium bowl, combine almond flour, whole wheat flour, baking soda, and cinnamon. Stir to combine.

Pour sweet potato mixture into flour bowl. Stir until combined.

Stir in pecans. <Add tart cherries here, if using.>

Cover baking sheet with parchment paper for faster clean up, or you can bake without. Scoop 1/4 cup batter onto cookie sheet. Spread out batter with a spoon into the size cookie you'd like - it will not spread much. They just puff upwards. <12 cookies will be about the size of the palm of your hand> Repeat until your tray is full. Top each cookie with a whole pecan if you want them to look fancy.

Bake for 14 - 16 minutes for 12 cookies.

Store on the counter for 2 - 3 days, in the refrigerator for a week, or freeze for 3 months. <I recommend keeping a couple out and freezing the rest right away to keep them fresh. Pop into the microwave for 20 - 30 seconds and enjoy!>
Notes
Other Thoughts
Hate bourbon?! <I cannot relate.> Feel free to leave it out. 
Although I have not tried it, I have a feeling you can sub quick oats or oat flour for the white whole wheat flour if you need them to be gluten free. You could also use regular white flour if you want. 
You may be able to sub almond butter for the almond flour. I haven't tried it but I think it should work. If you try it, add the almond butter to the blender step. 
How-to-Use
Athletes: Love these as a snack. Full of flavor but packed with complex carbohydrates <sweet potatoes, oats, whole wheat> to fuel you up right. Or, try it as pre-run fuel before an easy run.
Healthy Eating: No one needs to say no to cookies! If a palm sized cookie feels a little too much, make these into 24 cookies and enjoy for a longer period of time! <Bake time will need reduced. Check at 10 minutes - they should be brown on the edges and firm in the middle.>
Kids: The bourbon is cooked out of the cookies so they are safe to give your kids!