Who says pumpkin pie isn't for breakfast?! Add some grahams and call it breakfast!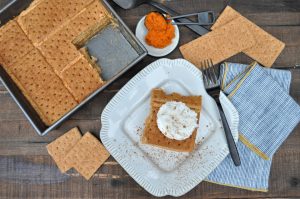 One of my favorite desserts as a kid was this 'éclair dessert' my mom would make that layered graham crackers with pudding mix, milk, and cool whip and topped it off with a can of chocolate icing. As it sat, the grahams softened into the vanilla cream layers and it was pretty insanely delicious. Well, now you know where the inspiration for this recipe came from.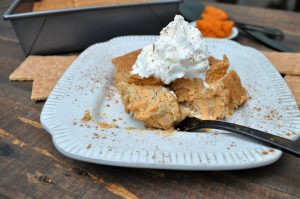 The goal here was for a delicious pumpkin filling that has some protein packed in for true breakfast staying power. Nobody has time to be hungry an hour after breakfast – so the filling brings more protein and less fluff. I've created enough recipes and worked one-on-one with so many of you over the last few years, I've gotten smarter and know you're all going to ask for how to make this dairy free. So, we've got two recipes options here: dairy and non dairy. And, that non dairy one can very easily be made vegan.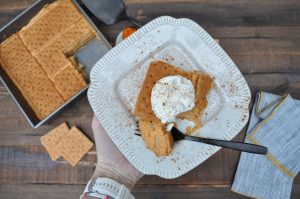 I have to be honest. I think the non dairy version with tofu is far superior. If you're looking for a true pumpkin pie consistency, go for the non dairy option. If you are going for lots of pumpkin, a little tangy, a little sweet you definitely want the dairy version with Greek yogurt. Either way, promise you cannot go wrong.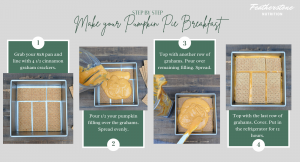 There's the step by step guide to make this easier than anything to whip up! After you make this, plan on letting it sit in the refrigerator of 12 hours before eating. The grahams soften into more of a sponge cake layer and this is when the ultimate deliciousness happens! Enjoy!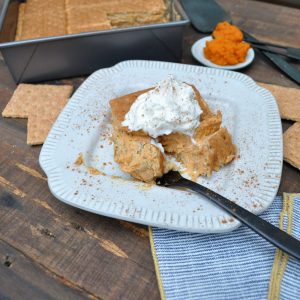 Breakfast Pumpkin Pie
Ingredients
Dairy Version
1

can

pumpkin puree

<15 oz>

1 1/2

cups

plain Greek yogurt

1/2

cup

milk

<I used skim>

1

packet

vanilla instant pudding mix

<3.4 oz box>

1

tsp

vanilla extract

1

tsp

pumpkin pie spice

13 1/2

cinnamon graham crackers

whipped cream

<optional>
Non-Dairy Version <can be vegan>
1

can

pumpkin puree

<15 oz>

1

block

tofu, any firmness

<14 oz>

1/2

cup

non dairy milk

<I used unsweetened vanilla almond milk>

2/3

cup

brown sugar

1

tsp

vanilla extract

1

tsp

pumpkin pie spice

13 1/2

cinnamon graham crackers

<use original grahams for vegan>

non dairy whipped cream

<optional>
Instructions
Decide if you are making the dairy or non-dairy version and get all the ingredients out. Grab your 8x8 inch pan and blender.

Toss all ingredients except graham crackers in the blender. Blend well.

In your 8x8 pan, lay 3 grahams across + 1 1/2 grahams to fill the remaining open space. There will be a little space between the grahams.

Pour half the pumpkin filling over the grahams. Spread over evenly with a spoon or spatula.

Place another layer of graham crackers down. Top that with the remaining pumpkin filling. Spread evenly. Top with a final layer of graham crackers.

Cover. Place in the refrigerator for a minimum of 12 hours. As it sits, the graham crackers soften and this is when the magic happens. It can stay in the refrigerator for 1 - 4 days.
Notes
Other Thoughts: 
This recipe is super adaptable. Use the graham's you've got. The milk you like. You name it. 
To make the non-dairy version vegan, grab the Nabisco original graham crackers as they don't use milk or honey. 
For the dairy version, use whatever Greek yogurt you like best. I made this with plain nonfat Greek yogurt - but it would be delicious with vanilla Skyr! 
Keep for up to 5 days in the refrigerator - it's safe to eat after this. It just gets a little soggy.
How-to-Use: 
Athletes: This actually wouldn't be the worst idea before your Turkey Trot. Decent amount of carbs - moderate fat and protein - perhaps it'll get you a PR?! One serving <1/6th> of each version is roughly 300 calories, 5 gm fat, 50 gm carbs, and 10 gm protein. This means - we may need to add more protein if we're using this as our whole breakfast.
Healthy Eating: Pumpkin pie for breakfast?! Okaaaaay. If we're looking to really fill up for the day, add 2 scrambled eggs to the side or an additional 1/2 cup Greek yogurt or Skyr. 
Kids: Sloane's favorite part was the whipped cream. But, she actually liked the tofu version better. Who knew?! Try it out on your kids and let me know what they think!