This recipe has been on my mind for a while, and after four different versions – dare I say it's just about as close to perfection as it gets. Hear me out. We like to make things easy around here. We also really appreciate delicious food. And, the blender muffins are by far the most popular recipes around here.
So why not blend up all the ingredients – pour it into 4 ramekins – and have a warm, ooey, gooey, chocolatey breakfast for the entire week?! I think we're onto something here.  <<literally – just dump all this in the blender and magic happens.>>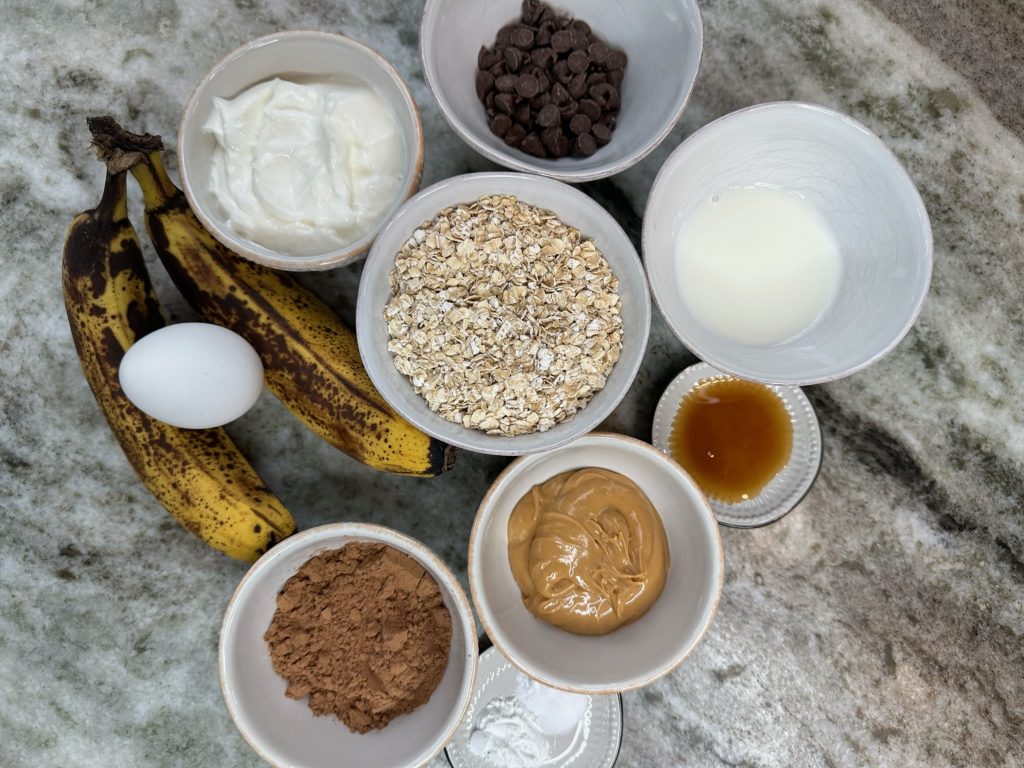 Who doesn't want brownie batter for breakfast? <<ok, ok sometimes I want all the pickles and sriracha on my toast – BUT, if sweet is in order, this recipe has my heart.>> My kids have been housing these – they are loving having 'brownies' before school. Little do they know that these also provide some whole grain goodness, fruit, healthy fat, and protein <shhh don't tell them!> To make this a full breakfast, eat two of these or add something like Greek yogurt and berries.
Pop one in the microwave for ~2 minutes and we're done! Grab a towel because that bad boy will be toasty. Just look at how pretty these are once they cook! And it tastes just as delicious as it looks. Now, tell me you don't want to dig right in… it's not going to last very long.
The best part about this recipe?! You've got THREE more to eat throughout the week. Just cover the extras with these silicone lids or plastic wrap and store them in the refrigerator.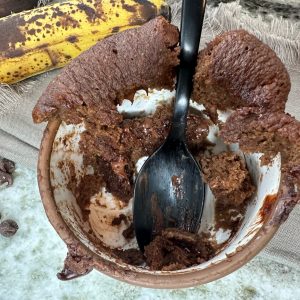 Brownie Batter Baked Oatmeal
Ingredients
2

ripe bananas

Approx. 1 cup smashed

1

egg

1/4

cup

peanut butter

1/2

cup

Greek yogurt, plain

1/4

cup

milk, any type

1

tsp

vanilla extract

1/4

cup

cocoa powder

1

cup

oats, quick or old fashioned

1/2

tsp

baking soda

1/2

tsp

baking powder

1/4

cup

chocolate chips
Instructions
Add all ingredients, except the chocolate chips, to your blender. If you do not have a blender, a food processor will work too. Blend well.

Pour batter evenly into 4 ramekins (8 oz size) or any microwave save bowl or mug. Top with a couple more chocolate chips, if you are feeling sassy.

Microwave 1 ramekin for approximately 2 minutes to bake. It will grow a LOT but it shouldn't overflow in an 8 oz ramekin. You know it is baked enough when the entire top looks cooked and it does not look shiny or doughy.

Also, use a towel or pot holder to remove from microwave. It will be hot! Allow to cool slightly. ENJOY!

Cover the other 3 ramekins with silicone covers or plastic wrap. Store in the refrigerator for up to 4 days. When it's time to make more, remove cover, microwave for 2 minutes, and enjoy a fresh Brownie Batter Oatmeal cup each morning.
Notes
Other Thoughts
One serving contains 360 calories with 45 gm carbohydrates, 13 gm protein, and 15 gm fat. 
When you reheat these from a cold refrigerator vs room temperature the first go around, it may take a little more than 2 minutes. Just watch for it to fully rise in the center and look cooked through. 
Since the sweetness comes from bananas, the inside of the oatmeal may look a little soft in places. As long as it's steaming hot, it's cooked through. 
How-to-Use
Athletes: If this is breakfast, we need to add a good source of protein - like Greek yogurt or Skyr or scrambled eggs. Plus, add a side of fruit for more carbs. Or, just eat two for all the carbs & protein you need to support your training. Eat this for a snack any time of the day. 
Healthy Eating: Add a side of protein to make this a filling, satisfying breakfast that has staying power until lunch. Think: top with Greek yogurt or Skyr - or eggs on the side - or a protein shake on the side.
Kids: Common - what kid wouldn't want this for breakfast?! Just don't let them dig in until it cools a little. We made that mistake one time...