It's no secret that we all love mac-n-cheese around here. So let's take that up a notch and add some buffalo chicken into the mix. You won't believe what's in the cheese sauce. Don't tell anyone and they won't even know…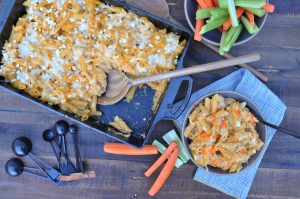 What's in that cheese sauce?! Here's a little sneak peek into the thought process… mac n cheese needs to be saucy and creamy. Lots of sauce means lots of cheese. Creamy usually means loads of fat. We wanted to balance out this dish so it was a solid meal of adequate carbs, protein and fats without being too heavy on the fat end and leaving us all feeling sluggish and needing to take a nap. <<insert hidden vegetable>> Pureed veggies can provide a thickness, richness, and increase the volume of a sauce without sacrificing flavor and without adding additional fat. Cue the addition of 1 cup of pumpkin puree. That pumpkin puree provides lots of richness and creaminess and I promise you won't even notice it's there. <<I tested this theory on two buffalo mac-n-cheese loving men and neither had a clue there was pumpkin in the sauce.>> So, before pumpkin puree is gone from the shelves over the summer – stock up – so you can make this all year round!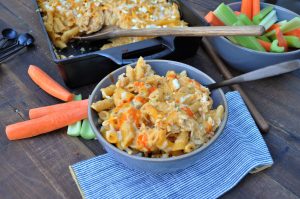 Eating well never has to be boring. Enjoy the food you love – with all the flavor – and fuel it up right in the meantime. This was delicious fresh out of the oven or reheated the next day. Use this for dinner and/or meal prepped lunches. We threw some frozen chicken in the crock pot with some broth and hot sauce – shredded it up – and used this for the chicken. You can also use leftover chicken from another meal <<feel free to dice instead of shred, if needed>> or throw some in your instant pot. Or, shred up a rotisserie chicken if you're really in a hurry! <<Note: rotisserie chicken is higher in sodium so you may want to leave the salt out of the cheese sauce if you do this, since the hot sauce has a boat load of sodium as well.>>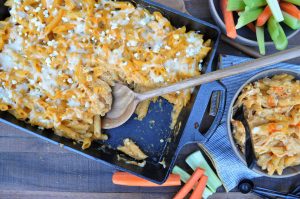 Add this into the rotation and let us know what the entire crew thinks!!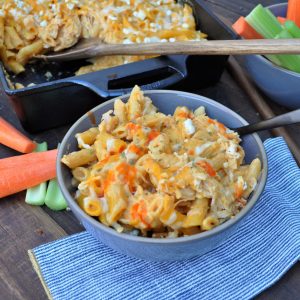 Buffalo Chicken Mac-n-Cheese
Ingredients
2

tbsp

avocado oil

1

small

onion, diced

<I like to dice fairly small so there aren't chunks in the sauce.>

3

tbsp

flour

1

can

evaporated milk

<12 oz>

1

cup

chicken broth

1/2

tsp

onion powder

1/2

tsp

garlic powder

1/4

tsp

paprika

1/2

tsp

salt

1

cup

pumpkin puree, canned

1/2

cup

hot sauce

<like Frank's Red Hot>

10

oz

white cheddar cheese, shredded, divided

<buy the whole block and shred it. save 2 oz for the top>

4

cups

shredded chicken

<pre-make in instant pot, slower cooker, or use leftovers>

14.5

oz

box pasta

<I prefer Barilla Protein+ penne but you can use whatever you prefer.>
Optional Toppings
1 - 2

oz

goat or blue cheese

green onions

parsley

hot sauce, additional
Instructions
Place a large pot of water on the stove to boil. Let this water come to a boil while you start making the cheese sauce.

In a medium sauce pan, heat oil over medium heat. Add onions. Sauté onions until soft, or about 3 - 4 minutes.

Add the flour to the oil and onions. Stir. It will form a paste. Spread this paste throughout the bottom of the pan and allow the flour to cook for a minute, stirring a couple times.

Grab a whisk. Whisk in evaporated milk and broth. Bring to a boil whisking the whole time to prevent the sauce from sticking to the bottom of the pan and burning. Whisk for 3 - 5 minutes or until sauce is thickened.

Reduce heat to low. Stir in onion and garlic powder, paprika, and salt. Add pumpkin puree and hot sauce. Whisk together well.

Turn off the heat under the pan. Stir in 8 oz of shredded cheese. Make sure to save 2 oz for the topping. Stir gently until cheese is totally melted. Cover.

At this point, your water should be boiling. Cook pasta according to directions on the box. Do not over cook! Over cooked pasta doesn't hold up will to the stirring and sauce addition.

Drain pasta very well. Excess water will make your cheese sauce runny.

In your large pasta pan, add back the cooked pasta. Add chicken. Add cheese sauce. Stir carefully until well combined.

Pour mac-n-cheese into a 9x13 inch pan. Top with 2 oz white cheddar cheese + 1 - 2 oz goat or blue cheese.

Bake in a 375 degree oven for 10 minutes or until bubbly around the edges and cheese is melted. <This is optional if you're in a hurry!>
Notes
Other Thoughts
Use whatever type of pasta you like. I prefer the Barilla Protein + as it holds up well and tastes very similar to white pasta yet packs some serious nutrition - higher in protein, fiber, and iron. If you are using banza or another bean based pasta, be sure to NOT overcook it and rinse it with cold water to keep the texture more appetizing. 
Hot sauce is salty. If you are watching your sodium for one reason or another, this might not be the recipe for you. If you sweat like a pig, this is exactly what you need to refuel post summer long runs (+ water.) 
I have not made this dairy free - but others have made the Butternut Mac-n-Cheese with nondairy milk and cheese. I would recommend adding additional flour to thicken the sauce if you try it. 
If you are planning to make this and use it for meal prep solely, I recommend skipping the baking step. Just put it right into 2 cup containers <or more for the hungry kids!> and into the refrigerator. Baking it dries out the extra sauce a little so skipping this step will keep it creamier when you reheat it the next day. 
How-to-Use
Athletes: Protein. Carbs. Hidden Veggies. And all that flavor. Highly recommend adding this into the dinner rotation. Add a side of carrots and celery or side salad to get even more veggies in with your meals. 
Healthy Eating: Portions will vary to meet your nutrition needs but delicious and fun foods will always be a part of healthy eating. Pair this with a big side of roasted or air fried veggies, a side salad, or carrots and celery. 
Kids: Beware. Spicy dish ahead. This was a no go at our house - so we left some plain pasta and white cheddar cheese shreds out for them to devour. Older kids?! I bet they're love this!