Days are crazy. Weekends fly by too fast. Too often, despite our best intentions, we're left with little time to prep and prepare our meals. This meal right here to the rescue! It uses a rotisserie chicken – so you don't even need to turn on your oven.
I have one goal for these fast meals – balanced nutrition at your finger tips while tasting delicious. There's a method to my madness – like shredding carrots into the buffalo chicken salad to increase your veggie intake. Extra vitamin A without changing the overall taste and adding some fun texture into your meal.
We've got a hefty dose of lean protein from the shredded chicken. And, whole grain complex carbohydrates from the bread…. the next thing we needed to round it out are some healthy fats. Cue the addition of 100% avocado oil mayonnaise (we used Sir Kensington's from Costco and it worked great!) 
Get all the flavor of Buffalo Chicken in a delicious and hearty meal to keep your hunger at bay for hours!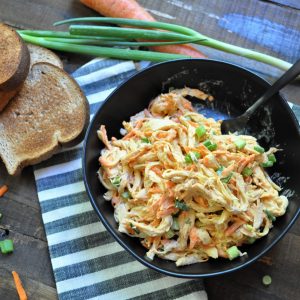 Buffalo Chicken Salad
Ingredients
3

cups

shredded rotisserie chicken

1/2

cup

shredded carrots

1/4

cup

green onions

sliced

1/4

cup

avocado oil mayonnaise

1/4

cup

Greek yogurt

2-3

Tbsp

hot sauce

depending on how spicy you want it

1/2

tsp

parsley

dried

1/4

tsp

dill

dried

1/4

tsp

onion powder

1/4

tsp

garlic powder

1/4

tsp

salt
Sandwich additions:
Whole wheat bread or tortillas

Avocado

sliced

Lettuce

Tomato

Red Pepper

sliced
Instructions
In a medium bowl, combine shredded chicken, carrots, and green onions.

In a small bowl, whisk together avocado mayo through salt to make the buffalo sauce.

Add the sauce to the chicken mixture and stir well.

At this point, you can do whatever you'd like with your Buffalo Chicken Salad. (I recommend putting it on toasted bread with sliced avocado, lettuce, tomato, and red pepper.)
Notes
Other Thoughts:
To make this into a Hot Buffalo Chicken Dip: increase the mayo, Greek yogurt, and hot sauce. Use 1/2 cup Greek yogurt + 1/3 cup avocado mayo + 1/4 cup hot sauce instead of the amounts listed in the recipe. Then, shred 1/2 cup white cheddar cheese. Set a little aside for the top and add the rest into the chicken mixture. Keep the rest of the recipe the same. Then, put the chicken mixture into a small pan + top with a little more white cheddar cheese + bake in a 400 degree oven for 20 minutes or until the sides are nice and bubbly. Then, dive in with whatever dipper you love!
If you want to make this really easy, you can leave out the spices (parsley, dill, garlic & onion powder) - those are included to add a little bit of a 'ranch' flavor.
If you're a ranch fan, you may wanna dip this sandwich is some. I highly recommend Bolthouse Farm's Ranch dressing that is made from Greek yogurt. It's the real deal. You can find it in the refrigerator section by the bagged lettuce of most larger grocery stores.
Keep the chicken salad by itself in the fridge and make up your sandwiches or wraps close to when you are going to eat them to prevent soggy sandwiches. Nobody likes a soggy sandwich.
How-to-Use:
Athletes: Prep this once. And, you've got four high protein sandwiches to help keep you going all week. Make sure to pair this with a great source of carbohydrates (bread or wrap) + more healthy fats (avocado) + another carbohydrate (piece of fruit or pretzels) to keep you satisfied and fuel that recovery.
Healthy Eating: It's like buffalo chicken dip, but healthy + for lunch!?! I just signed you up. One serving of this chicken salad alone has 25 grams of protein. Pair it with whatever meets your nutrition goals - high fiber wrap, salad full of greens, whole wheat bread.... the options are endless!
Kids: Unless your kid likes some heat, you may want to save some shredded chicken for them to eat plain.