The beauty of this meal – you can use whatever you've got. In these COVID kitchen days, we want to try to minimize our trips to the store – which means, keeping more foods with a longer shelf life around. Like dried grains, beans, pasta – frozen protein items like fish, chicken, and shrimp – and vegetables that last a little longer like Brussels sprouts, broccoli, cauliflower, carrots, and pea pods.
Build-a-Bowl with whatever you have around. We happened to have farro, frozen chicken breasts, and Brussels sprouts, broccoli, and a few leftover green beans.
If we know one thing is certain, some grocery stores are having trouble staying stocked with the essentials we are used to buying each week. So, instead of making a recipe that needs followed to a T… here's an easy idea of how to build a nourishing meal with whatever you can find!
One thing that is a must for a solid bowl is….. the dressing or sauce. This takes a boring meal to a super duper exciting one. Throw all the ingredients in a blender to make an insanely delicious lemon dijon vinaigrette. <nothing too funky – so hopefully you'll have all the ingredients on hand> 
Get creative – if you're vegan or vegetarian – add lentils, black beans, or tofu + a big scoop of hummus on the side. Build the bowl to your energy needs – running more these days?! Increase those grains. Sitting on your butt more?! Add more veggies. And, enjoy!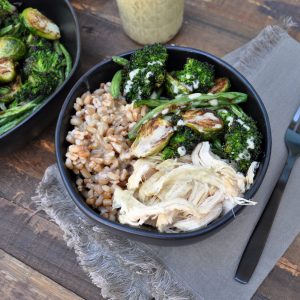 Build-a-Bowl + Lemon Dijon Vinaigrette
Ingredients
1 1/2

cups

uncooked whole grain

32

oz

broth

1 1/2

# of uncooked protein

4 - 5

cups

veggies

Avocado oil

Salt
Lemon Dijon Vinaigrette
juice of 1 lemon

1/4

cup

apple cider vinegar

1/2

cup

olive oil

2

tbsp

dijon mustard

1

garlic clove

1

tsp

honey

1/2

tsp

salt

1/4

tsp

pepper

1

tsp

dried herb or 1 tbsp fresh herb
Instructions
This recipe has 4 main steps - they can be done in any order and at any time throughout the day.
Roasting Vegetables
Preheat oven to 425 degrees.

Fresh: Cut veggies into similar sizes. Drizzle with a little oil and sprinkle with salt. Place on a baking sheet - spread out for faster cooking. Use two baking sheets if needed. Bake for 10 minutes. Flip. Bake for another 10 minutes.

Frozen: Place the frozen veggies right on the baking sheet. Drizzle with oil and sprinkle with salt. Spread evenly on the sheet. Bake for 15 minutes. Flip. Bake for another 15 minutes.
Cooking Grains
Read the bag of grains you are using. Follow those directions to cook. I recommend cooking your grain in broth for more flavor. Note: you won't need the full 32 oz of broth to cook your grains. Save some broth to cook your protein.

For the wheat berries, I put 1 1/2 cups dry wheat berries in a medium sauce pan - covered with broth - about an inch above the grain. Bring to a boil. Simmer covered for 20 - 25 minutes or until tender.
Cooking Protein
If you're using frozen protein like we did highly recommend using your Pressure Cooker or Slow Cooker and let it do it's thing.

For 1 1/2# frozen chicken breasts - place frozen in the Pressure Cooker - cover with remaining broth from cooking your grains. Set to HIGH pressure. Cook for 20 minutes. Quick release. Allow to cook. Shred with forks.
Vinaigrette
Place all ingredients into a blender or food processor. Blend well.

If you don't have a blender or food processor, get out a big bowl and whisk all ingredients except oil. Then, whisking the whole time - drizzle oil into the other ingredients. Keep whisking until emulsified.

Store in a container with lid in the refrigerator.

Build your bowl with grain, protein, veggies, and drizzle with dressing. If you want to get crazy, add some nuts, goat cheese, avocado or egg to the top.
Notes
How-to-Use:
Athletes: The ultimate match your nutrition needs meal. Ran a quality session this morning? Add more protein and grains. Have a quality session tomorrow? Add more grains and less veggies Recovering from an injury or surgery? Double up on that protein.
Healthy Eating: I love a good Build Your Own Bowl for families eating dinner together. This way each person can build the bowl to their own unique nutrition needs.
Kids: Often kiddos will accept new foods better if they are separated on a tray. So, deconstruct their bowl on a plate. And, give them a couple different dipping sauces to try.
Other Thoughts:
Anything goes here! Get creative.
This is a great idea for meal prep. Make all the ingredients - add them to a bowl right before the meal. Mix it up a little every day to keep things exciting. Try adding walnuts, goat cheese, shredded cheese, hemp seeds, hot sauce, avocado, or anything about to go bad in your refrigerator!
Ingredients can be kept refrigerated for up to 5 - 6 days.