Everything you need – all in one dish. Efficiency at it's finest. I hesitate to call this a casserole because in my mind that draws up the picture of some sort of creepy canned soup or cream sauce. This doesn't have any of that. It's held together by the goodness of all the ingredients – not a sauce.
Butternut squash provides a hefty dose of vitamin A + the kale is also a heavy hitter for this same antioxidant and vitamin C. Maybe this will help your house stave off these colds that have been ravaging ours – maybe.
The dried tart cherries add a fun pop of flavor and you know we love tart cherries around here for their crazy high antioxidant content that can help decrease post exercise muscle soreness and promote recovery. <Grab a handful as a snack while you're making this for extra love> 
Chicken was an easy addition to make this higher in protein – but feel free to sub in your favorite protein food. Make it vegan with some tempeh. Use leftover turkey around the holidays. Or, leave protein out completely if you want.
The brown rice is definitely not the star of the show here. If you want to extend this dish a little further, add 6 cups of brown rice instead of the 4 I used. Or, try quinoa, wheat berries, or whatever grain you like best.
This recipe is a solid option for meal prep. You can easily get a week's worth of lunches out of this from cooking once – plus a good dinner!
If you don't like to eat the same thing every day, freeze a couple servings for next week.
Enjoy all the fall flavors in this delish dinner – or lunch – or snack. I guess I can't discriminate against breakfast – I heard savory non-breakfast foods are a thing these days. How trendy do you wanna be?!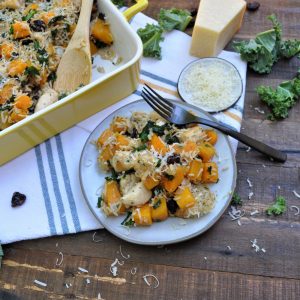 Butternut Squash, Chicken, Dried Cherry & Kale Casserole
Servings
5
2 1/2 to 3 cups
Ingredients
4

cups

cooked brown rice

1 1/3 cup brown rice, dry & 1 1/4 cup chicken broth

3

Tbsp

avocado or olive oil

1

onion

chopped (approx. 1 cup)

1

butternut squash

diced (approx. 4 cups)

1/2

tsp

salt

1/4

tsp

pepper

1/2

tsp

thyme

1

tsp

sage

3

cups

chopped kale

1

# chicken

diced

salt/pepper

1/2

cup

dried tart cherries

1/2

cup

freshly grated Parmesan cheese

or 1/3 cup pre-grated
Instructions
If your brown rice is already cooked, ignore this step. If you have a pressure cooker, add 1 1/3 cup brown rice + 1 1/4 cup chicken broth. Set to high pressure and cook for 20 minutes then quick release. Or cook according to directions on the stove top.

In the meantime, heat oil in a skillet on medium heat. Add the onion and butternut squash. Cook until squash is cooked through and tender.

Add kale, salt, pepper, sage, and thyme to squash mixture. Cook for 1-2 minutes or until kale is wilted.

Remove veggie mixture from skillet - place in a large bowl. No need to wash skillet. Add 1 Tbsp oil, heat, and cook chicken. Add a little more salt and pepper to the chicken. Once cooked through, add to veggie mixture.

Add rice, cherries, and parmesan cheese to the chicken and veggies. Stir well. Pour into 9x13 inch pan. Top with a little more cheese.

Cover and bake at 350 degrees for 20 minutes or until warmed through.
Notes
Other Thoughts:
Vegetarian: omit the chicken + use vegetable broth or water to cook the rice. It would still be delicious!!
Vegan: do the above + omit the Parmesan cheese
If you are reheating it, if it gets a little dry - add a couple Tbsp chicken broth to the container before rewarming.
If you can find pre-cut butternut squash, or even the steamer bags of diced squash - this would be a real time-saver. If you get the steamer bags, you will just want to saute quickly because it will already be cooked through.
How-to-Use:
Athletes: One huge serving has 60 grams of carbohydrates and 30 gm of protein. I dig it. If you're training hard, you may need a little more rice. Or a higher carbohydrate side or snack before bed.
Healthy Eating: I really like the balance of this meal. A HUGE serving has 10 gm fat, 60 gm carbs, and 30 gm of protein. Too much?! Cut back the serving size.
Kids: My daughter couldn't get enough of this. She thought the rice was 'pasta' but she also devoured everything else in it. Although, she was partial to the cherries. Hope you have some success with your kids too. My son on the other hand - he had mac n' cheese. Some day he'll join the rest of us.