One of my favorite childhood memories were the Speedy Family Reunions held every August. It seriously seems criminal that the Speedy clan was made up of five girls so the 'Speedy' last name wasn't passed along. And, you better believe we threw around making Speedy one of our children's middle names! Which didn't actually happen…. but Sloane's middle name 'Charlotte' came from my grandma Charlotte Speedy Smith and my son is Smith after my maiden name. So, I guess you could say we still kept the family namesakes around. Didn't want to put any pressure on them to be too speedy! 
Sunday brunch at the Speedy Reunions always ended with bananas foster. For those who have not had the pleasure of experiencing Uncle Lee's bananas foster, it's basically ALL the butter + ALL the brown sugar with a side of bananas and a dash of rum. It's then served over vanilla ice cream to cut the sweetness of the bananas foster. Kills me right?! Ice cream to cut the sweetness! 
As I was staring at 3 near destruction bananas this week, I decided I wanted to channel this bananas foster goodness in muffin form. And, I gotta say guys…. it really, really worked!
Any bananas foster purists would have me at the stake for calling these banana fosters muffins, as there isn't nearly enough butter or brown sugar in them to hold up to the name. But, when you cook the bananas down in a smaller amount of butter and brown sugar the flavor is super caramely – so while these muffins don't actually contain caramel, once you try them you'll see why they got their name!
With 8 simple ingredients, you can whip these up anytime you have some decently ripe bananas around. Get after it, guys!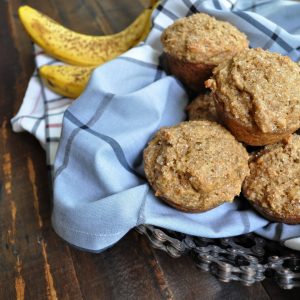 Caramel Banana Muffins
Ingredients
3

ripe bananas

mashed

4

Tbsp

butter

1/3

cup

brown sugar

1

tsp

vanilla

1

egg

1 1/2

cup

white whole wheat flour

or flour of choice

1

tsp

baking soda

1/4

tsp

salt

Optional: coarsely ground sugar

such as raw sugar, or turbinado sugar
Instructions
Preheat oven to 350 degrees. Grease muffin tins.

In a saute pan, melt butter over low-medium heat. Add mashed bananas and sugar. Stir and bring to a boil. Cook for 3-5 minutes or until begins to caramelize.

Remove from heat. Pour into a heat safe bowl and allow to cool slightly.

Whisk in egg and vanilla.

Add flour, baking soda, and salt. Stir just until combined.

Pour into prepared muffin tins - 9 for big, 12 for small muffins.

Top with coarsely ground sugar, if you want. I highly recommend - if you don't have coarse ground sugar, a little brown sugar will do too!

Bake 20 minutes for 9 muffins, less for 12 muffins. Or until golden brown.
Notes
Other Thoughts:
Bananas should be ripe but not dying. You know, spotty but not completely brown.
We like big muffins over here, so we made 9. But, this will easily make a dozen good sized muffins as well.
Keep any extras in the refrigerator. Warm in the microwave for 10-15 seconds before eating.
You can also freeze them! Just warm them up before eating.
How-to-Use:
Athletes: I like to use these as second breakfast. I know you all feel me that one breakfast is never enough! So when those hungries hit you an hour or so after breakfast, these muffins are the perfect fit. Also great as an anytime snack.
Healthy Eating: Full of flavor and sweetness, combine a muffin with some protein for a filling breakfast. Great protein options would be 2 eggs, a cup of greek yogurt, or cottage cheese.
Kids: Never met a kid who didn't like a muffin! As we begin to pack lunches over here, I love the muffin + fruit + greek yogurt combo for a quick packed lunch.