These have been in the back of my mind as something we all needed to rally around for our next carb load. And, here we go – finally making it happen!
What's better than a homemade rice crispy treat?! One with a secret ingredient that takes it to the next level!!! Typical rice crispy treats are marshmallows, butter, and crispy rice cereal. But, if you toss some Funfetti cake mix into those melted mallows you are in for a treat. If you haven't tried it, you're going to need to. You will not be disappointed.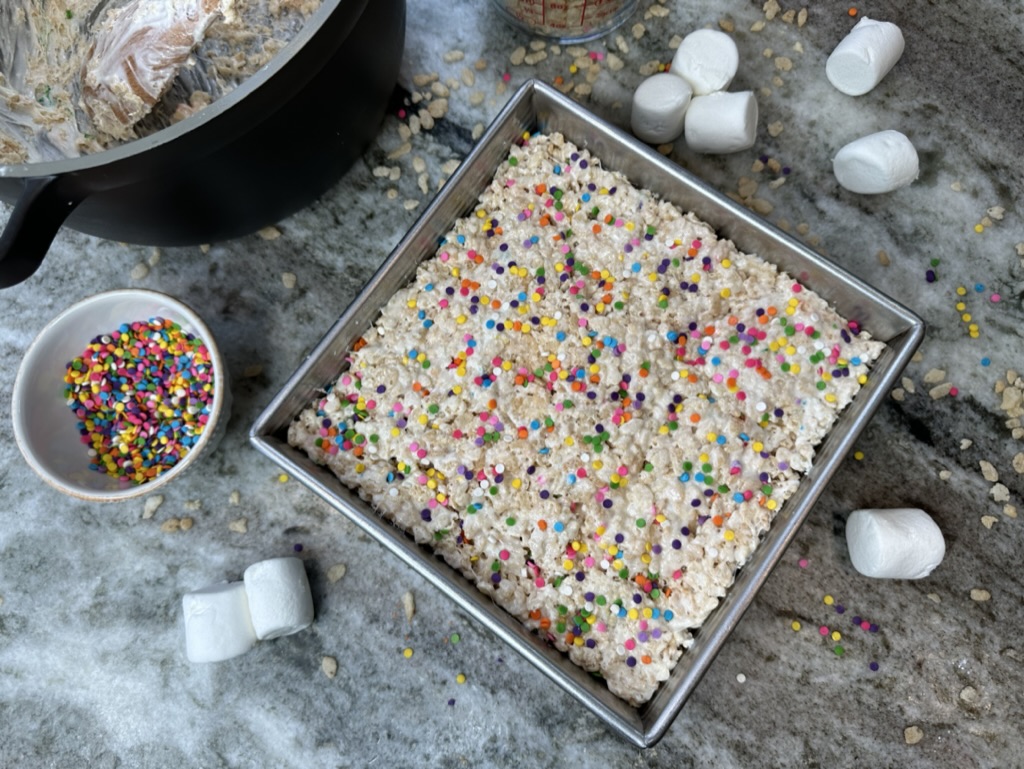 Why Carb Load Crispy Treats?! Because I've never met someone who has trouble eating a large hunk of these. And, they are approximately 90% carbohydrates which bodes well for a carb load. If you cut these into 6 treats, each contains 110 gm of carbs to stock those glycogen stores! That's a decently large portion, so if you're thinking about making these for a sweat treat – they cut well into 18 pieces for 35 gm carb servings.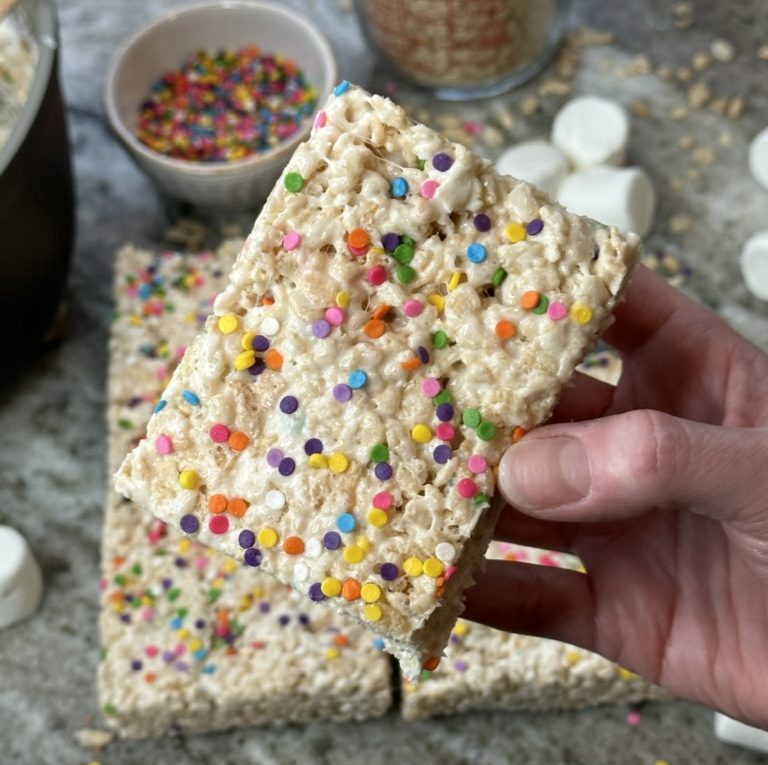 These are a favorite around here and have been Sloane's birthday cake for the the past 2 years – definitely kid <and adult> approved! So whether you are eating these as part of your carb load, as a sweet treat or for a special occasion, I promise you won't be disappointed!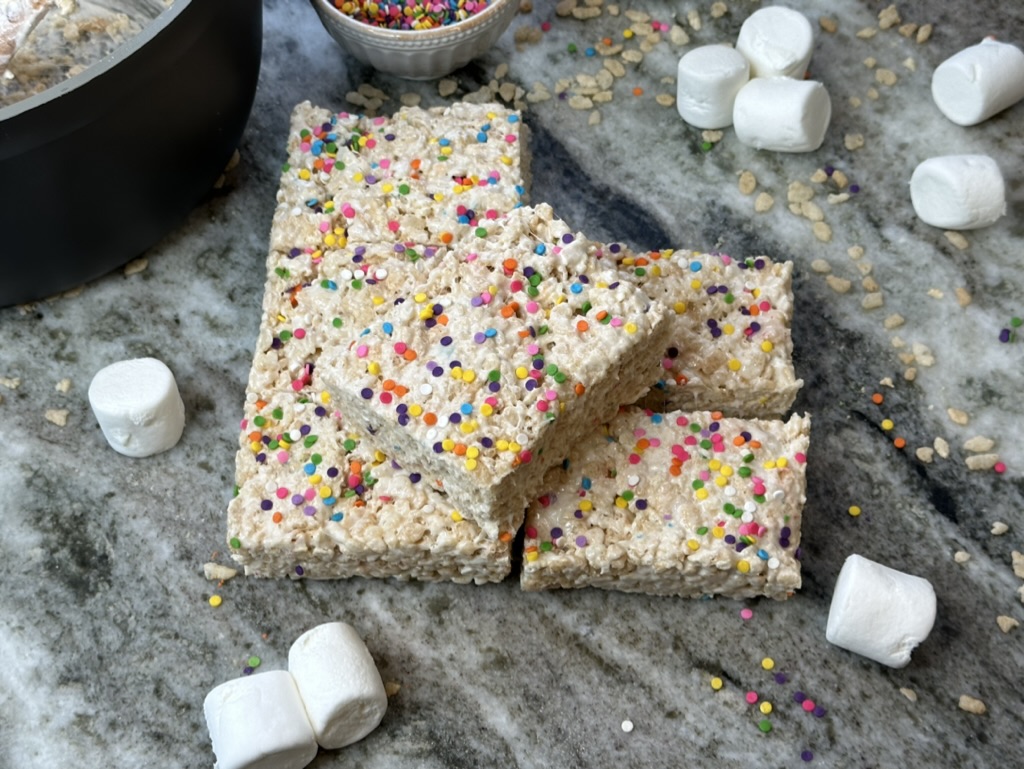 I like a marshmallowy & chewy rice crispy treat – if you do too, follow these directions to a T. They will appear gooey when you are putting them into the pan but they set up perfectly as they sit. The added dry cake mix changes the texture pretty dramatically so don't let that fool you. If you prefer a rice-full treat, feel free to add more cereal. Whatever you do – ENJOY!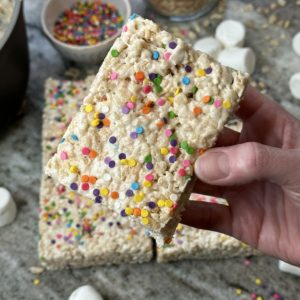 Card Load Crispy Treats
Ingredients
2

10 oz

bags of marshmallows

5

tbsp

butter

1/2

cup

funfetti or white cake mix, dry*

7 - 8

cups

crispy rice cereal

sprinkles, optional
Instructions
In a large microwave bowl or in a pan on the stove over low heat, melt the butter & marshmallows. Stir often and make sure not to over heat or burn.

Once melted, remove from heat. Stir in dry cake mix. You want to work quickly here as the mixture stiffens up as it cools, making it hard to stir.

Dump in the crispy rice cereal. I've found it is easier to stir 2 - 3 cups in at a time. Again, work quickly as the marshmallow mixture stiffens quick making it hard to combine.

I like ooey, gooey treats so I only add 7 cups of cereal. However, if you like a firmer treat, add 8 cups or more to your liking. Add sprinkles here, if you are using them.

Press into an 8x8 pan or 9" cake pan. Grease hands with a little butter or oil so you can pan them down firmly without making a total mess.

Allow treats to cool. Cut into desired serving size. I recommend anywhere from 6 - 18 treats.
Notes
Other Thoughts
As I mentioned in the recipe, these firm up quickly. Be sure to keep moving through the process. Some will stick to the bowl - so you'll have some to snack on as you clean up. 
The added dry cake mix makes the mixture set up more quickly than normal rice crispy treats, so don't over-add the rice cereal or they won't be as awesome.
Cut these into any shape and size you want! I suggest 6 (110 gm carbs per treat) or 8 (85 gm carbs per treat) for carb loading. Or, for a fun snack or dessert, cut into 12 (55 gm carbs per treat) or 18 (38 gm carbs per treat.) 
Sprinkles are optional. But are they ever really optional?! 
*In 2021, there was an outbreak of E-coli <foodborne illness> traced back to uncooked flour. Since then, the CDC recommends that we do not consume raw flour. To decrease any risk of consuming raw flour, spread your 1/2 cup cake mix on a plate. Microwave for 90 seconds - or until the flour reaches 160 degrees - before adding to the marshmallows. 
How-to-Use
Athletes: These are a very easy way to pack extra carbs into your carb-loading days. 1/6th of this recipe gives you 110 gm of carbs! Not carb loading?! No problem. Cut into 18 pieces for the perfect pre-run snack of 35 gm carbs. 
Healthy Eating: Who doesn't need something sweet to end a meal?! Whip these up and enjoy! Stick to cutting the pan into 18 pieces - 160 calories & 38 gm carbs. 
Kids: Truth be told, these were Sloane's birthday cake two years in a row. They are a favorite around here! Let them help and fight you to lick the spoon.