If you're looking for quick and easy, this soup's for you. Just drop all the ingredients in, and turn on the pressure cooker. <If you don't have a pressure cooker, drop those ingredients into your slower cooker.>
We have a Cuisinart Pressure Cooker – which is just a different brand of 'Instant Pot.' I highly appreciate the start it and forget it attitude you can have with a pressure cooker. However, I have found – it doesn't always save time. It cooks food very quickly – but it takes a decent amount of time to get up to pressure. This soup only cooks for 15 minutes – but by the time it got up to pressure and cooked for 15 minutes – nearly 30 minutes had gone by. Still a time saver! But keep that in mind if you are really pressed for time at dinner some night.
I made this soup with regular chicken broth and also bone chicken broth. I recommend the bone broth as it has a richer flavor. However, both of the broths will work just fine. Bone broth is higher in protein and lower in sodium than regular chicken broth. Adjust the added salt in the recipe as needed depending on which broth you choose.
Make sure to top this with a solid handful of Parmesan cheese – or just a pinch, however you like it. Enjoy!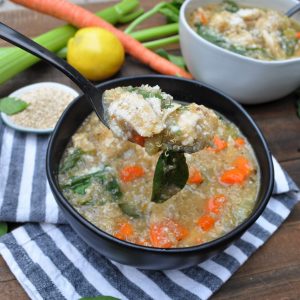 Lemon Chicken & Quinoa Soup
Ingredients
1

onion

(diced)

1

cup

chopped celery

2

cups

chopped carrots

1

garlic clove

(pressed or minced)

1

tsp

dried thyme

1

tsp

salt

(1/2 tsp if using regular chicken broth)

1/4

tsp

pepper

1/2

cup

quinoa

32

oz

chicken bone broth

(can also use regular chicken broth)

1 - 1 1/4

lb

chicken breasts

(boneless and skinless)

juice of 2 lemons

3

cups

fresh spinach

Parmesan cheese
Instructions
Add all ingredients (except lemon juice, spinach and Parmesan cheese) to pressure cooker.

Set to High Pressure. Cook for 15 minutes. Quick release.

Shred chicken & add back to the soup. Add lemon juice and spinach.

Top with Parmesan cheese before eating.

Note: if you don't have a pressure cooker, you can use a slow cooker instead. Cook for 3 - 4 hours on high or until chicken is at least 165 degrees.
Notes
How-to-Use:
Athletes: Each serving packs 20 grams of protein, complex carbohydrates and all the veggies. If you are training currently, add more carbohydrates on the side. Think 2 slices bread Or, 2 pieces of fruit.
Healthy Eating: If you're looking for a filling, high protein meal that packs some complex carbohydrates and veggies this soup is for you.
Kids: If your kids are hesitant to try this new soup, serve with a grilled cheese and encourage them to dip in the soup. Baby steps to trying new food!
Other Info:
This is great for meal prep. It keeps well in small containers in the refrigerator for 4 - 5 days.
You can use any color quinoa - red might look preeeeeetty.
You can use boneless, skinless chicken breast or chicken tenders. They both work great.
You could also add canned, drained beans or chickpeas when you add the spinach and lemon juice. This adds more complex carbohydrates, fiber, and protein.