Need a fix it and walk away dinner?! Toss everything into the pan and let the oven do the work! It's even going to cook our pasta for us. It's that easy.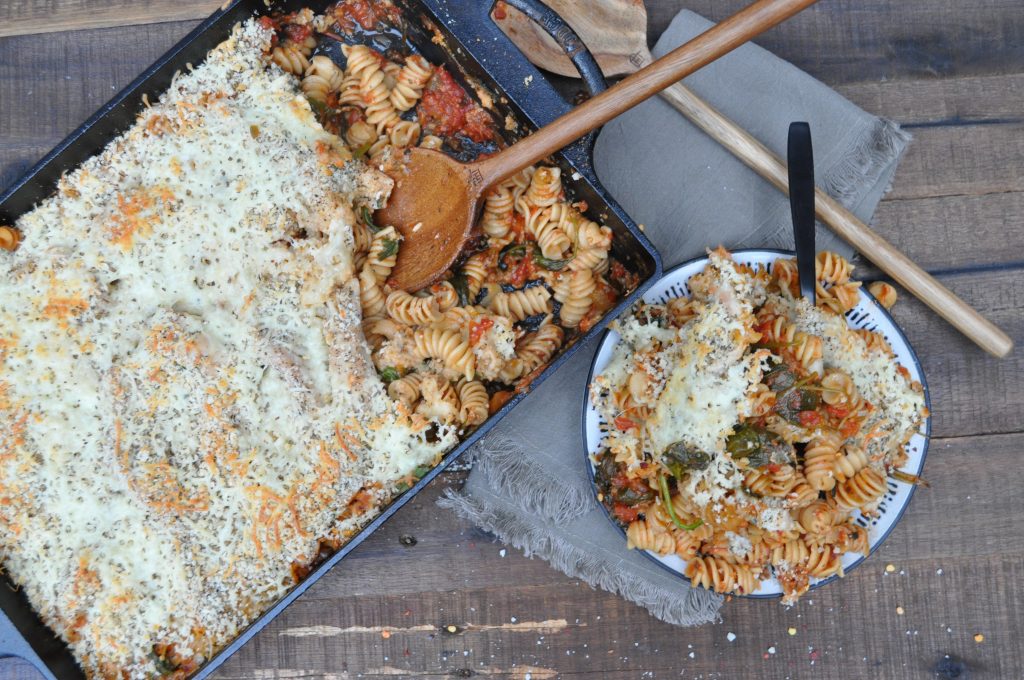 In true Featherstone Nutrition style, this recipe packs the carbs, protein, and color you need at a meal into one dish. Because some nights, we just don't have time for anything else!
Use whole wheat rotini or rigatoni to follow the cooking time in this recipe. If you use another shape or type of pasta, it may take less time to cook. Check your pasta and see how it's doing. And, if it looks like there is a little too much liquid – just take the foil off the dish and let it keep cooking.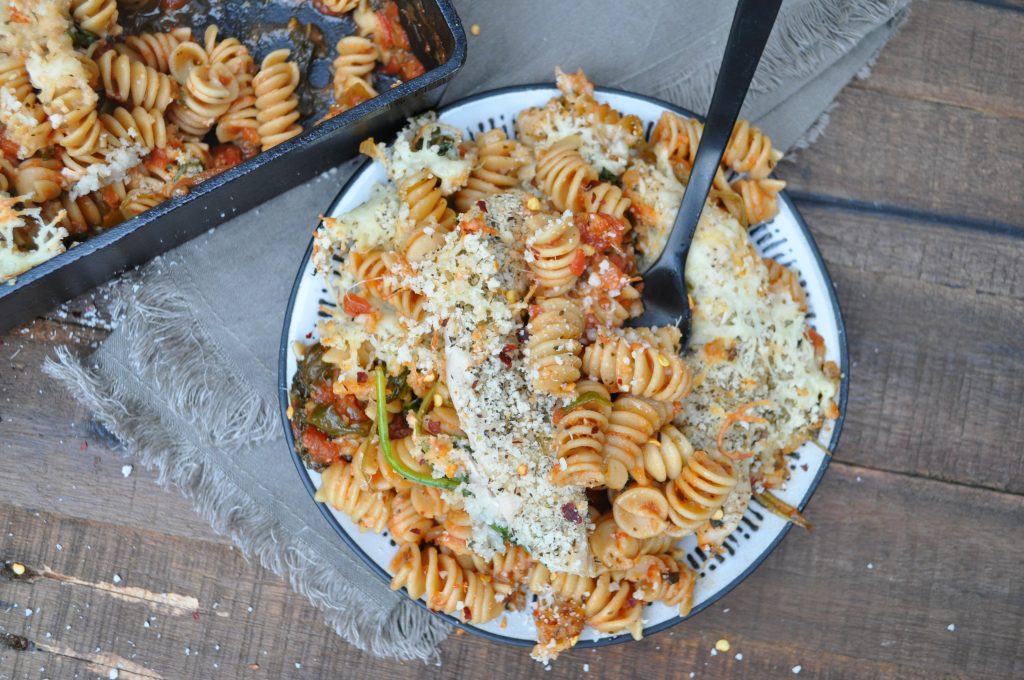 This pasta bake is great for leftovers and saves well in both the refrigerator and the freezer. Dinner one night makes leftover lunches for days.
Grab your favorite sauce – this makes all the difference!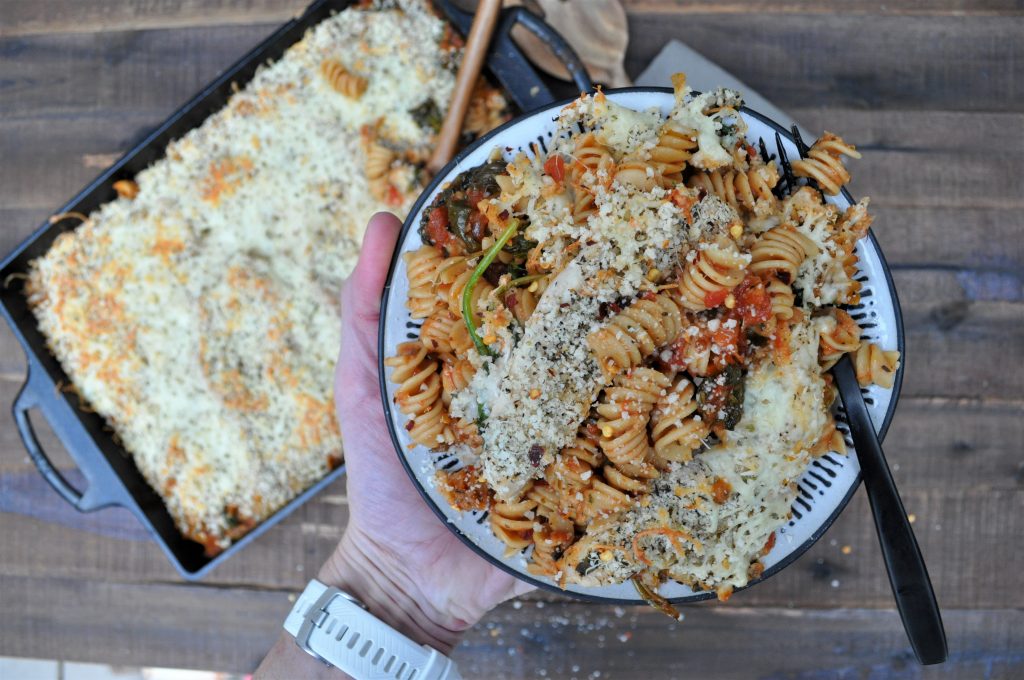 If you prefer ground meat sauce with your pasta, I got you covered! Cooking a pound of bison <or your preferred ground meat> on the stove & adding it to the rest of the ingredients makes a mean, fast pasta dish as well. Or, if you're feeding a crew – make them both!! See the recipe below for both options.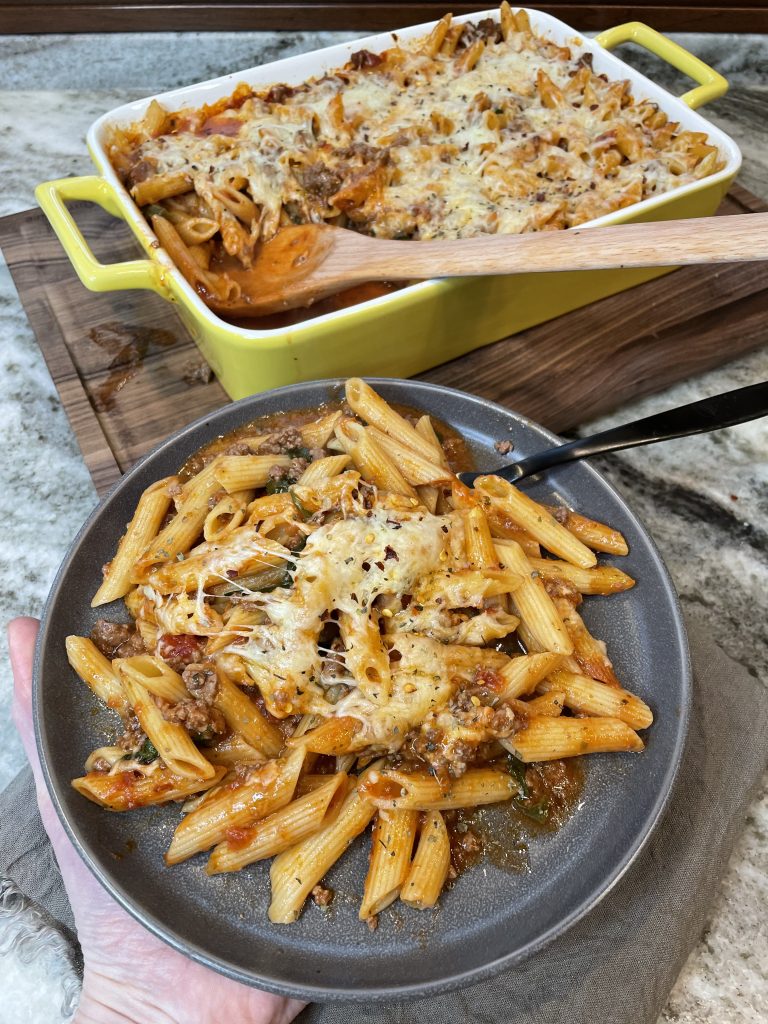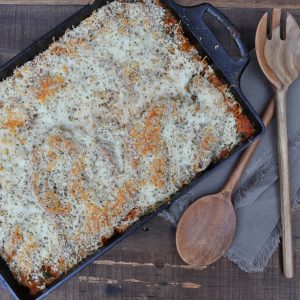 Chicken Parmesan Bake
Ingredients
1

lb

whole wheat pasta

3

cups

water

24

oz

tomato sauce

5

oz

spinach, fresh

1½

lb

chicken tenderloins, raw

1

tsp

garlic powder

salt & pepper

1

cup

panko breadcrumbs

2

tsp

Italian seasoning

½

tsp

salt

¼

cup

parmesan cheese

1

Tbsp

oil

¼

cup

mozzarella cheese, shredded
Instructions
Preheat oven to 400 degrees. Spray 9x13 inch pan with oil.

Add uncooked pasta, water, tomato sauce & spinach to the pan. Carefully stir. Place uncooked chicken on top. Sprinkle chicken with garlic powder and a little salt & pepper.

Cover dish with foil. Cook for 40-50 minutes. The shape of the pasta will alter your cook time. Whole wheat rotini & rigatoni took 45 minutes. Spaghetti may take less time.

While baking, combine panko, Italian seasoning, salt, oil & Parmesan cheese in a bowl. When chicken is cooked through to 165 degrees & pasta is al dente, remove from oven. Uncover.

Sprinkle panko mixture evenly over the pan. Top with mozzarella cheese

Return to oven. Bake for 5-10 minutes or until cheese is melted.
Notes
Tips:
Don't use bean-based pasta. They need to be rinsed after cooking and will not work in this.
If you use white pasta, uncover at 30 minutes. Bake for 10 more minutes uncovered before topping with the panko mixture. 
You can portion them into leftover containers and keep them in the fridge or freeze them for up to 2 months. 
Alternate Recipe - Meat Sauce:
If you prefer meat sauce, cook 1# of bison, lean ground beef, or turkey. Add the water, sauce, pasta, spinach, and meat sauce to the 9x13-inch pan. Cover with foil and cook for 30 minutes (white pasta) or 40 - 50 minutes (whole wheat pasta). Remove foil and sprinkle with Italian seasoning, parmesan cheese, and mozzarella cheese. <skip the panko part> Bake for another 10 - 20 minutes or until pasta is cooked through and liquid is absorbed. 
How to Use:
For athletes: Fuel it up with this meal for dinner! You may need more than 1 serving depending on your training.
For healthy eating: Pair a serving of this delicious dinner with a big side of veggies. 
For kids: In my house, kids love anything that you can sprinkle parmesan cheese over!