It's officially 'I need something warm in my belly' season. This skip through fall proceed straight from summer to winter – do not collect $200 – isn't all that awesome, but you know what is awesome?! This soup. It never lets me down – unlike Fall in northeast Ohio.
For years, the only thing that went into my crock pot was chicken tortilla soup. I was a one trick pony. If I broke out the crock, it was ALWAYS this recipe. It's one of those things I just don't get tired of eating. But my crock pot 'runs hot', kinda like it's owner, and I felt like I was always overcooking the chicken. So, it's been a couple years since I made this. And, oh how I have missed you tortilla soup! However, I gladly accepted it from my mom, who makes it frequently as well, because hers always tastes perfect! Is it that she makes it different or does it always taste better when someone else makes it!?
I'm sure you're not shocked that I have totally tweaked, changed, and remade this recipe over the years. You're looking at sheer tortilla soup perfection here folks. And it just so happens to be the easiest thing you'll ever make in your kitchen. Win-Win.
<<Insert getting a Pressure Cooker for Christmas last year here>> Let me tell you. This bad boy changed my thoughts on a lot of meats. I'm a little bit of a freak when it comes to food safety and meat. (I blame the scare tactics in my Food Science 101 class at Miami U. and the ServSafe classes we had to take. You leave there thinking death = not cooking your meats to 140-165 degrees depending on the animal.) This leads me to overcooking ALL meat that comes through my kitchen. So, the pressure cooker has been a godsend for me because the pressurized cooking allows for super tender meats even when I have 'accidentally' overcooked them.
This may be one of the easiest and least labor intensive recipes on the planet, especially if you use a pressure cooker. Just dump ALL the ingredients in and go! You do have to cut an onion, but I promise after that it's all just opening cans and touching that slimy chicken for a hot second.
The other major plus to this recipe. It's a crowd pleaser. The base soup is very simple. The fun comes in the add-ons and toppings. Let everybody add their favorites and just like that the WHOLE family is pumped with dinner. Another Win-Win.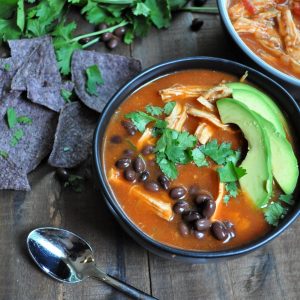 Chicken Tortilla Soup
Ingredients
1

small onion

chopped

3

garlic cloves

pressed or minced

30

oz

chicken broth

8

oz

tomato sauce

28

oz

can diced tomatoes

1

Tbsp

Worcestershire sauce

2

pounds

boneless

skinless chicken breasts, fresh

1

Tbsp

chili powder

1/4

tsp

garlic powder

1/4

tsp

onion powder

1/4

tsp

dried oregano

1/2

tsp

paprika

1 1/2

tsp

cumin

1/2

tsp

salt

1/2

tsp

pepper
Toppings, optional
Avocado

Black beans

Cilantro

Tortilla Chips

Greek yogurt

Cheddar cheese

Hot sauce
Instructions
Place all ingredients into your pressure cooker or slow cooker.

For the pressure cooker, set to high pressure. Cook for 15 minutes. Use quick release.

For slow cooker, cook on high for 4 hours or low for 6-8 hours.

Once cook time is done, remove chicken. Shred chicken and place back into soup.

Top soup with whatever sounds good! I suggest avocado, black beans, cilantro, tortilla chips and if you're feeling wild some cheddar cheese, greek yogurt, and hot sauce! Have it your way, guys.
Notes
Other Thoughts:
You can sub all the spices for 1/2 a packet of taco seasonings if you want.
If you're a food safety freak like me, check your chicken after cooking (but before shredding) to make sure it has cooked to 165 degrees through the thickest part.
You can easily make this a lower sodium soup by buying low sodium canned tomatoes, sauce, and chicken broth. Plus, omit or decrease the added salt.
How-to-Use:
Athletes: All the tomato goodness in this soup is an incredible source of lycopene, a crazy potent antioxidant. Read: great for recovery! This is also incredibly high in protein.And, you have the flexibility to add in whatever your nutrition requires for the day ahead. Tough workout in the afternoon? Add some extra carbohydrates - tortilla strips or chips. Recovery day? Add black beans and avocado for more fiber and healthy fats.
Healthy Eating: Research shows we can support the maintenance of our muscle mass by eating enough protein at all three meals throughout the day. The base of this soup is very high in protein and low in carbohydrates and fat. This allows you to dress the soup up to meet your nutritional needs. Add avocado for healthy fat. Add black beans for more fiber. Add tortilla chips for more carbohydrates. You get the drift...
Kids: Let the kids decide how they want to top their soup. All the cheese may be a great way to encourage them to eat it! Or, let them dip tortilla chips in the soup to try it for the first time. Have a self feeding, young one? Serve with more chunks and less broth so more of the good stuff makes it to their little bellies.