This is hands down one of my favorite quick meals. It's the main reason I keep avocados in the house. And, the only reason I'm not eating it is probably because said avocados aren't ripe yet.
I held off putting this on the blog because I felt like it was way to simple to throw up here. But, I think you guys also dig simple – so here it is. My favorite tuna salad recipe + My favorite seasoning = My favorite fast meal.
I like this tuna salad because it's super adaptable to training and recovery. In other words, you can add minimal carbs <eat with cucumbers> or ALL THE CARBS <eat with crackers, bread, and fruit> to this tuna salad and make it fit any of your training cycle's needs.
It also makes a pretty mean sandwich.
Tuna is an amazing source of omega-3 fatty acids which help with recovery and inflammation. Tuna also has a higher mercury content than some other fish – so while this recipe is daily eating worthy, stick to twice a week. <If you're pregnant or nursing – once a week.>
Hope you enjoy this concoction as much as we do!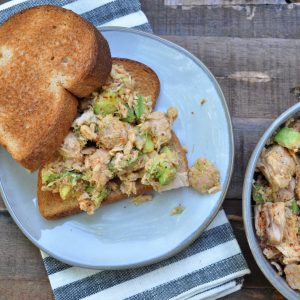 Chile Lime Tuna Salad
Ingredients
5

oz

can tuna

drained (highly recommend Wild Planet)

1

tsp

avocado or olive oil

1

tsp

lime juice

1/4

tsp

chile lime seasoning

Trader Joe's or Tajin from Aldi

1

small avocado

or half a big one
Instructions
Using a fork, separate tuna into bite size chunks in a bowl. Mix in oil and lime juice.

Dice avocado and add to tuna. Sprinkle over chile lime seasoning and mix to your liking.

Eat with veggies, crackers, on a sandwich - or just with a fork!
Notes
Other Thoughts:
This would also taste great with any other protein if tuna is not your thing.
I've eaten this any way you can imagine - I approve of them all. Wraps, sandwiches, crackers, veggies, straight with a fork...
I prefer the Wild Planet albacore tuna. But, you can use any tuna you want. Just an FYI.... chunk light tuna is lower in mercury than albacore, if you need to know that. 
How-to-Use:
Athletes: Highly recommend using this as a recovery meal with the addition of 2 servings of crackers or 2 pieces of bread + fruit. All the protein + carbs to help you recover faster. Plus, the omega 3's help your muscles recover and maybe even grow stronger.
Healthy Eating: This is a big serving - 31 gm protein + a decent amount of healthy fats. It will keep you full for awhile! Or, if you're not feeling super hungry - eat for two meals. Pair with veggies or whole grain crackers - depending on your goals.
Kids: This is one of my daughter's favorite meals. My son won't touch it. So, hopefully you have a 50-50 shot in your house of success as well!