This guys are easy, healthy, gluten free, and no added sugar. Literately, throw all the ingredients into a blender and ZOOM – you've got the batter. Mix in the chocolate chips and you're ready to bake.
Sometimes if I start the day off with something super sweet and chocolate-y, I seem to want sweets ALL day. Maybe that's a personal problem – or maybe you feel me, but either way – these muffins are just lightly sweet and lightly chocolate-y. I just don't want anyone to be fooled. While they look like you're biting into a brownie, it most certainly is just a well balanced blender muffin. <I dig it. But didn't want to mislead anyone!>
Nothing like sinking your teeth into one <or two> or these bad boys first thing in the morning. Top with anything you've got that looks delicious to you and ENJOY!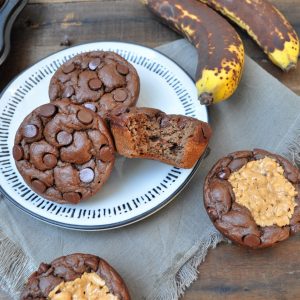 Chocolate Banana Blender Muffins
Ingredients
3

ripe bananas

2

eggs

3/4

cup

plain Greek yogurt

1/4

cup

peanut butter

1

tsp

vanilla

1

tsp

baking powder

1/2

tsp

baking soda

1/4

cup

cocoa powder

1 3/4

cup

oats

use gluten free, if needed

1/3

cup

chocolate chips
Instructions
Preheat oven to 350 degrees. Grease your muffin tin.

Place all ingredients into blender except chocolate chips. Blender well.

Mix in chocolate chips. Pour evenly into 12 muffin tins.

Bake for approximately 20 minutes or until toothpick inserted into the center comes out dry.

Allow to cool slightly before removing from tin. Store any extras in the refrigerator for 5-6 days, or freeze for up to 3 months.
Notes
Other Thoughts
Use gluten free oats, if needed.
Not into the chocolate base for the muffins - this recipe is based off a fan favorite around here Chocolate Banana Blender Bread. If you make these into muffins, bake them for 22 - 25 minutes.
How-to-Use
Athletes: Grab a muffin for a pre-run snack or 2 for a bedtime snack or one as a pregame to dinner.... basically, eat whenever you are hungry!
Healthy Eating: Each muffin is a well balanced snack to keep you fuller, longer between meals. (1 muffin = 20 gm carbohydrates, 5 gm protein, 5 gm fat) Use as a snack or pair with Greek yogurt or hard boiled eggs for breakfast.
Kids: My kid approved of the top half of the muffin where most of the chocolate chips resided before she got ahold of it. But really, a few chocolate chips never hurt anyone!
 What the muffins look like after a two year old eats the top off for the chocolate chips…. not quite as appetizing! Sweet of her to put it back on the board for photos though.