Ask and you shall receive! This recipe is a request from so many of you out there. I've heard – 'What if I don't have ripe bananas? How can I make blender muffins?' Or… 'my kid thinks bananas are poison – how can I make these without bananas?' Well, lucky for you all, we had a 'I have no ripe bananas' crisis and this recipe was born. And, dare I say, I prefer these over the OG Chocolate Banana Blender Muffins.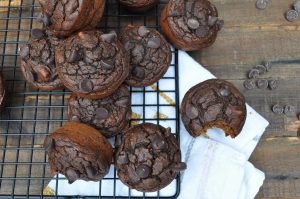 Along with you the banana-less blenders request, everyone keeps asking for dairy free blenders as well. So, you got them both in one recipe here! The bananas provide the sweetness and moisture. Greek yogurt provides a ton of moisture as well. So, what are you going to replace this with?! Pumpkin! Now, I promise these don't taste like pumpkin. You won't even know it is there. The cocoa powder covers up any pumpkin flavor and it just replaces the moisture of the bananas. And, if you too stocked up on pumpkin once it showed up after the 'shortage' in 2020 – you're probably sitting on a few cans that you don't know what to do with. Next, the bananas provided sweetness. So we need to add some sugar. I made them two different ways. Once with 1/4 cup brown sugar and the next time with 1/3 cup brown sugar. I preferred 1/3 cup but they worked fine with less, if that's important to you.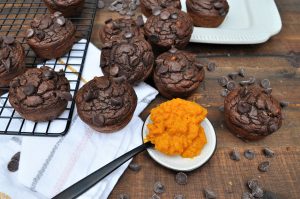 As always, the best way to make these is in a high powered blender. The blender pulverizes those oats to that they are an even texture and consistency just like a muffin should be if you ask my son. If you don't have a good blender, you can use a food processer. Don't have that either? Some had made them without a blender and said they are just fine – you'll just see the whole oats and the texture won't be so smooth. I've also heard blending in batches of a smaller blender and mixing all together works. You name it. You guys have tried it! Nice work, guys!!!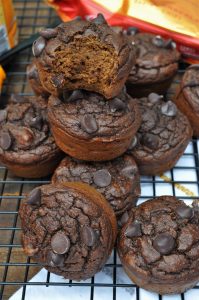 If you are a fan of the original Banana Chocolate Blender Muffins, give these a try next time you are out of ripe bananas and let me know how they stack up!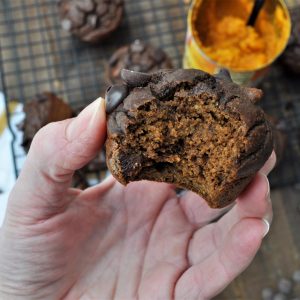 Chocolate Blender Muffins - Banana & Dairy Free
Ingredients
3

eggs

1

cup

pumpkin puree

<canned pumpkin>

1/2

cup

non dairy milk

<can use cows milk too>

1/3

cup

peanut butter

1 1/2

cup

oats

<quick or old fashioned>

1/3

cup

cocoa powder

1/3

cup

brown sugar

<can decrease to 1/4 cup, if you want>

1

tsp

vanilla extract

1

tsp

baking powder

1/2

tsp

baking soda

1/2

cup

chocolate chips,

<use non dairy, if needed & save a few chips for the top of the muffins>
Instructions
Preheat oven to 350 degrees. Grease 12 muffin tins.

Place all the ingredients except chocolate chips in a high powered blender. Place it order listed for best blending. <If you don't have a high powdered, high volume blender - separate into two batches.> Blend well. Turn off blender and scrap down sides as needed until blended smoothly.

Remove blender from base. Stir in chocolate chips, saving a few for the top of the muffins.

Pour or spoon the batter into the prepared muffin tins. Fill the muffin tins 3/4 of the way full.

Top with a few more chocolate chips.

Bake for 22 - 25 minutes or until toothpick inserted into the middle of the largest muffin comes out clean. Allow to cool slightly before removing from pan. Place on cooling rack to cool completely before storing. Store in the refrigerator for a week or the freezer for up to 3 months. <Pop in the microwave to warm before enjoying!>
Notes
Other Thoughts
Highly recommend freezing these as soon as they cool - and microwaving for 30 seconds before you eat them. 
I have not tried these without eggs. I can imagine they would be quite dense with 3 flax eggs substituted, but if you try it - let me know! 
Old fashioned or quick oats both work just fine. 
How-to-Use
Athletes: So many possibilities - those 12 muffins will be gone in no time! Perfect for a mid morning snack to keep the rungries at bay until lunch. Running a lot?! Make that two blenders. Many of you have also been enjoying 2 of these muffins for a meal with Greek yogurt, berries or a banana, and some nut butter drizzled on top. Just that easy. Just that delicious. 
Healthy Eating: Who says eating healthy is boring?! These muffins are ridiculously delicious, keep you full, plus satisfy that need from something sweet. Look forward to one of these every day for a snack. 
Kids: The OG blender muffins are a fan favorite with the kids. However, a few of you told me your kids think bananas are the devil - so that was a big reason I made these without bananas! See what your kiddos think. I bet they'll love them!