It's been FAR too long since a new granola bar saw it's face around these parts. So here is the latest granola bar obsession at our house – dried tart cherries + cocoa powder + almond butter + oats + whole wheat flour + hemp seeds + chocolate chips…. so many good things packed into one, no wonder these taste so INSANE.
Because three variations of granola bars is not nearly enough, here's your fourth option. But if you haven't tried the original PB Chocolate Granola Bars or the PB Pretzel Granola Bars or the Lemon Blueberry Granola Bars …. here's all the links so you can decide which is your personal fav. This one reminds me more of a brownie caught up in an oatmeal fight. All the brownie flavor with the heartiness of a granola bar + extra chewiness from the dried cherries and hemp seeds. I can't even do it justice – you try them and see!
Quite frankly, I can't imagine a week going by without granola bars in my life. I still have some store bought favorites: picky bars, Rx bars, Perfect bars, and Clif Builder bars…. but if these are around, they take the cake. Why do we love these? They're full of healthy fats from the almond butter and avocado oil. They're made with 100% whole grains thanks to the oats and white whole wheat flour. And, the antioxidants are spilling out of each bite from the cocoa powder and dried tart cherries. Give them a try and lemme know if you dig them as much as we do!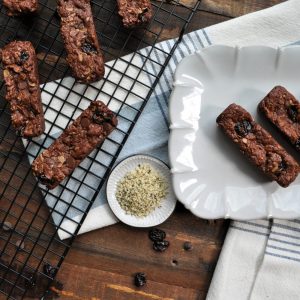 Chocolate Cherry Hemp Granola Bars
Ingredients
1/2

cup

almond butter

1/2

cup

honey

1/4

cup

avocado oil

or oil of choice

1

tsp

vanilla

1/2

cup

white whole wheat flour

1/3

cup

cocoa powder

1/2

tsp

baking soda

1/4

tsp

salt

1/4

cup

hemp seeds

1 1/2

cups

old fashioned oats

1/2

cup

dried cherries

1/4

cup

chocolate chips
Instructions
Preheat oven to 350 degrees. Line 8×8 baking pan with parchment paper. Note: you want the parchment paper long enough to hang out of the sides of the pan. Almost like a sling, so you can pull the sides up to remove the bars after baking. Or, grease your granola bar pan.

In a medium bowl, mix together almond butter, honey, oil, and vanilla. (If you are having trouble mixing it, you can heat it in the microwave for 20-30 seconds.)

Add flour, cocoa powder, baking soda, and salt. Mix well.

Add hemp seeds and oats. Mix well.

Add dried cherries and chocolate chips and mix.

Press dough into prepared 8×8 baking pan or granola bar molds. Press REALLY well – really get in there. This helps keep them from crumbling when you cut them.

Bake for 20-22 minutes in 8×8 pan. Bake for 15-18 minutes in granola bar pan. Remove from oven and cool completely in the pan before removing.

Once cool, pull out granola bar square by lifting the parchment paper on opposite sides or pop the bars out by pushing the silicone mold from below. If using 8×8 pan, cut into 12 bars or 16 squares. Store in an air tight container on the counter or in the refrigerator for a week.
Notes
Other Thoughts:
These were made in an old silicone granola bar pan that is no longer being sold. However, this one on Amazon and this one at Bed Bath and Beyond look very similar. If you're a granola bar freak like me, I highly recommend purchasing one.
If you don't have hemp seeds, you can omit them and use 2 cups old fashioned oats instead of 1 1/2 cups.
You can freeze these guys too. Usually, they don't hang around long enough to stand a chance at lasting long enough to need the freezer. But.... this time I threw one in the freezer from the get-go to see how it works.
How-to-Use:
Athletes: These (and the other 3 granola bar recipes) are by far the best way to get that sweet fix while training. Full of all the carbohydrates you need to fuel performance without all the junk.
Healthy Eating: 100% whole grain, packed full of antioxidants, and all healthy fats - not many store bought granola bars can claim these attributes!
Kids: It smells like you're cooking brownies - so basically the kids will think you're amazing for making them brownies for fun. Instead they're full of whole grains, antioxidants, and deliciousness.
Eating the props…. good thing they're cute.