You read that right- banana bread in the blender. Please tell me what's easier than that?! Plus it only has 8 ingredients – none of which include added sugar, gluten, or nuts for those of you who aren't into those things.
We go through more bananas in our house than the ape exhibit at the zoo. So, it's quite shocking that at any given time we have 3 ripe and unused bananas. But, when we do….. this is what we do with them!
I know we've talked about it before, but it's worth repeating. Anything we can do to cut time and effort in the kitchen to get healthier food into our grubby hands faster – needs to happen. If you don't have a high powered blender, it's worth the price. This is one of the appliances we use every day. Mainly for our toddler's 'monkey milk' (or as he calls it 'Ewww, Ewwww, EEE, EEEEE, Eck' milk) – which we started making for him to hide his Omega 3 supplement (1 cup 2% milk, 1/2 banana, 1 tsp Nordic Naturals DHA for kids) but also for our smoothies and THIS BREAD. YUM!
The only thing that stinks about this recipe is the 65 minute wait while it bakes!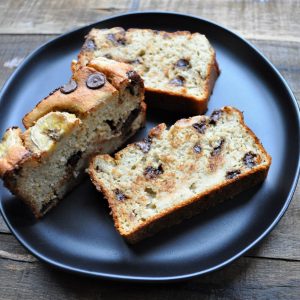 Chocolate Chip Blender Banana Bread
Ingredients
3

small

ripe bananas

2

eggs

1

cup

Greek yogurt

whole milk

1

tsp

vanilla

1

tsp

baking powder

1/2

tsp

baking soda

2

cups

oats

1/2

cup

chocolate chips

Plus a couple banana slices and chocolate chips to make the top pretty
Instructions
Preheat oven to 350 degrees.

Put bananas, eggs, yogurt, vanilla, baking powder and soda in the blender. Blend well.

Stir in oats. Blend again - very well.

Stir in chocolate chips.

Pour into greased 8.5" loaf pan.

Bake for 65 minutes or until toothpick in the center comes out clean. Enjoy!
Notes
Other Thoughts:
Because there is no flour, the 'substance' of the bread comes from the pureed oats. The bottom of the loaf gets slightly gummy. Make sure to cook it long enough to avoid this. Although, it will get gummier as it sits. It's a dense loaf!
Try to let it cool before cutting. Good luck - we ate 1/2 this loaf before it cooled. Melty chocolate chips are THE best.
For gluten free, use gluten free oats.
The riper the bananas, the sweeter the bread.
How-to-Use:
Athletes: A slice of this as a pre-workout snack is ideal. Not too much fat. Not too much protein. Healthy carbs. Allll the potassium. What's not to love?!
Healthy Eating: All the flavor and satiety without added junk. Swap out your old white flour, white sugar banana bread for this healthy alternative.
Kids: This is a fun recipe to involve the kids in measuring the ingredients. Let them 'decorate' the top with extra chocolate chips and banana. My son told his Meme today that he had cake for his snack. It's that good guys.... your kids might think it's cake too. Win.