It was only a matter of time. We had to master the blender muffin in zucchini bread form. All the goodness of our other blender muffins – whole grain, banana sweetened, and minimal clean up – with a classic zucchini bread twist.
The magic of blender muffins is you throw all the ingredients into a blender. Blend it up. Stir in a couple ingredients and you're ready to bake! Just that easy. Just that quick. If zucchini muffins aren't your thing or you want to try ALL the blender muffins, we've got Chocolate Banana, Apple Cinnamon, Pumpkin, Banana Bread, and these Sweet Potato Bars almost count. By the end of this, we're going to have a whole BOOK of blender muffins and baked goods! Grab yourself a good blender – it's worth it!
For the blender muffin newbies, they are a different texture than your typical quick breads and store bought muffins. The sweetness comes from bananas and the substance comes from oats. This means they are more dense than a typical muffin. I highly, highly recommend letting them cool and freezing them right away – even if you plan on eating them within the week! Then, pop into the microwave for 30 seconds before eating and it's warm, soft and those melty chocolate chips are perfection. My absolute favorite snack these days!
It's up to you if you want to share or not. But, if you stash them in the freezer no one will know they are there!! Enjoy!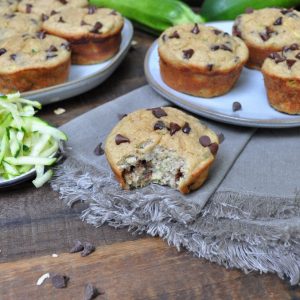 Chocolate Chip Zucchini Blender Muffins
Ingredients
3

small

very ripe bananas

3/4

cup

plain Greek yogurt

1/4

cup

avocado oil

2

eggs

1

tsp

vanilla

2

cups

oats

1

tsp

baking powder

1/2

tsp

baking soda

1/2

tsp

cinnamon

1

cup

shredded zucchini

measure then squeeze out as much water as you can

1/3

cup

mini chocolate chips
Instructions
Preheat oven to 350 degrees.

Grease or line 12 muffins tins. Set aside.

In a blender, combine bananas, yogurt, oil, eggs, vanilla, oats, baking powder, baking soda, and cinnamon. Blend well.

Stir in zucchini and chocolate chips. Pour into prepared muffin tins. They will fill a little over 3/4 of each muffin cup in a standard muffin tin.

Bake for 18 - 22 minutes or until toothpick inserted into the middle comes out clean. Sides will be brown - tops may not brown.

Allow to cool slightly, then remove from tins. Cool completely on a cooling rack. Store in the refrigerator or freezer.
Notes
How-to-Use
Athletes: Use this as a snack - smoother it with peanut butter or eat two!
Healthy Eating: Get your zucchini bread fix in an easy, quick and healthy recipe. Doesn't get much better than this!
Kids: Add chocolate chips. Kids will come.
Other Thoughts
If you enjoy cinnamon, double that amount!
If you do not have a blender blend oats, baking powder, baking soda, and cinnamon. Remove and place in a medium bowl. Blend bananas, greek yogurt, avocado oil, eggs and vanilla. Add to medium bowl. Stir. Add remaining ingredients.
Highly recommend putting these right into the freezer after they cool. Then, defrost one in the microwave every time you want one. Those melty chocolate chips get me every time!