Looking for a fast recipe that gets everybody excited?! Look no further. Homemade Chocolate Peanut Butter popcorn – with just the right amount of sweetness to hit the spot but not leave you with a sugar hangover.
Candy coated popcorn is all the rage these days – if you want the real deal, eat the real deal. But, if you're looking for a fun little substitution, see if this fits the bill.
It couldn't be any easier to whip this up. Microwave the honey, peanut butter, and oil together. Pour over the popcorn + chocolate chips. Bake. Flip once and bake again. EAT!
Enjoy the day you make it for the best quality. But, I did a little experiment about the best way to store it. Definitely keep it in the best air tight container you've got and it stays pretty crunchy for 3 – 4 days. Don't leave it out uncovered – it gets soggy. <Silly me.>
Give it a whirl and lemme know what you think! Kid #1 found some rocks in town that he thought looked like 'Mom-Mom's new popcorn' – but I promise they don't taste like rocks.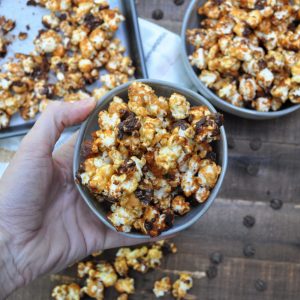 Chocolate Peanut Butter Popcorn
Ingredients
1/3

cup

honey

1/3

cup

peanut butter

creamy

1

Tbsp

oil

1

tsp

vanilla

7

cups

of popcorn

1/3

cup

chocolate chips
Instructions
Preheat oven to 400 degrees.

In a microwave safe bowl, combine honey, peanut butter, and oil. Microwave for 30 seconds. Stir. Add vanilla and stir again.

Line a baking sheet with parchment paper. Evenly spread popcorn & chocolate chips onto the baking sheet.

Pour honey + peanut butter mixture over the popcorn and toss slightly.

Bake for 5 minutes. Using a spatula, flip and stir around. Spread evenly on the baking sheet again and bake another 5 minutes.

Store in a air tight container for 3 - 4 days, if you don't eat it all before then!
Notes
How-to-Use
Athletes: Why not eat some healthier popcorn?!
Healthy Eating: Popcorn is a fantastic snack. Whole grain and a large portion size! Why not jazz it up occasionally to make it taste more delicious?
Kids: My kids couldn't leave this alone. They were diving in mid photos....
Other Thoughts
You could also wait and add the chocolate chips after baking. This will keep it more separate and less melty over all the popcorn.
I used Aldi's pre-popped popcorn but you could also pop your own or use microwave popcorn. If you use microwave popcorn, go for the lighter versions - I'm not sure the movie theater butter is applicable here.