For Mother's Day tomorrow, we needed something special- And special in our house is typically synonymous with dessert.
My daughter has been really into freeze dried strawberries lately and honestly, not having to stain stick her clothes from fresh strawberries this week was a serious time saver. At 11 months, it's pretty much guaranteed that she'll be wearing almost as much as she eats. The flavor in these freeze dried strawberries is outrageous. It's completely intensified. I suppose another reason why she's obsessed with them, banging on the cupboard and pointing at them when I open the door. Then, she screams and screeches until I grab the bag. What can I say, she loves to eat! Apple didn't fall far from the tree there.
As I was trying to fall asleep last night, I started thinking about how amazing those would taste with chocolate. Then, I started to get all excited thinking about turning them into a flour and adding them to brownies. Oh…. to black bean brownies! Make them flourless and gluten free. I kid you not…. this is the weird sh*t that keeps me up at night.
Needless to say, as soon as I got up this morning I started getting out the ingredients to craft these brownies that kept me up last night. Originally, I wanted to use dates for the sweetener. But then I heard you all's voices…. 'isn't black beans enough to make a healthier brownie?' Just use some sugar! And boy am I glad I heard your voices because these turned out legit. Like really good!
Just don't tell Sloane I used all her strawberries…
You can find freeze dried strawberries at Aldi's in their nut and dried fruit section. Reason 508 to love Aldi's! Mine recently started carrying cocoa powder – totally random the things they do and do not carry. So, all these ingredients can be picked up at Aldi's today and made tonight to wow your Mama tomorrow! Hope you're not reading, Mama, cat's outta the bag for your surprise tomorrow!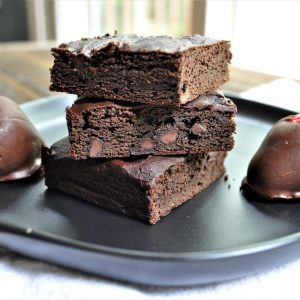 Chocolate Strawberry Flourless Brownies
Ingredients
1

cup

freeze dried strawberries

1

can black beans

drained and rinsed

2

eggs

1/2

cup

cocoa powder

1/2

cup

sugar

1

Tbsp

oil

1/2

tsp

baking powder

1/2

tsp

baking soda

1/2

tsp

vanilla

1/3

cup

chocolate chips
Instructions
Preheat oven to 350 degrees. Grease an 8x8 baking pan.

In a food processor, pulverize the freeze dried strawberries into a powder. Careful - I left the insert in the lid off and hacked up a lung from breathing in the dust!

Add black beans, eggs, cocoa powder, sugar, oil, baking powder and soda, and vanilla. Process until smooth. You may need to scrape down the edges a couple times.

Remove the food processor blade. Stir in the chocolate chips.

Pour into prepared pan. Spread evenly to the edges.

Bake for 22-28 minutes, or until the edges begin to pull away from the sides of the pan and the middle feels firm. (Mine baked for 24 minutes)
Notes
How-to-Use:
Athletes: Tough training needs some serious nutrition to support those training demands. Use your dessert to refuel and repair after long training sessions.
Healthy Eating: Everyone needs dessert in their lives. Have it a little more often with these flourless, black bean brownies.
Kids: What's better than serving dessert with meals?! Keep that smirk on your face as your kids are super excited you gave them dessert with lunch knowing they're getting their serving of beans for the day. Win-Win.
Other Thoughts:
The first time I baked them for 31 minutes and they were a little dry - more cake like. Bake for less time for a fudgier brownie.
I used a metal pan. A glass pan may need to bake a little longer.
These would also be good with chocolate chips on top. Or... that icing I made for my Fudge Chocolate Cake. Oh man... lemme know if you try THAT!