I know I'm not alone here when I say every summer seems to completely sneak by without doing 85% of the things you 'said' you were going to do at the beginning of the summer. Oh, early summer ambitions can't you stay with me always!?
The last two summers we 'said' we were going to have all our friends down for a day at the lake only for September to arrive with a big old ……. opps. Apparently when you're old and have kids (or a puppy!) you have to plan in May for your summer. No judgement here because it actually happened – we got together at the lake!
The last thing you want to be doing while spending some much needed time with friends (while wrangling rugrats) is slaving in the kitchen. This salad was born out of this exact idea. Easy, breezy! Just chop all the ingredients ahead of time and literately spend 5 minutes or less throwing the salad together before the meal.  It looks super pretty so expect some people to think you worked really hard on it.
Napa cabbage is the base of this salad, which is a Chinese cabbage that is much more tender and mild than your typical white cabbage. It's worth a separate trip away from Aldi's to find it. The other colorful vegetables and edamame add lots of flavor and texture, but the star of the show is the homemade almond butter sriracha dressing. It'll knock your socks off, guys.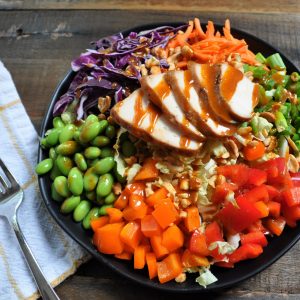 Chopped Salad with Almond Butter Sriracha Dressing
Ingredients
Salad
1

red pepper

chopped

1

orange pepper

chopped

1/2

red cabbage

sliced thin

1

medium Napa cabbage

sliced thin

1/2

bag matchstick carrots

1

cup

green onions

sliced thin (green parts only)

1/2

bag frozen edamame

3/4

cup

peanuts

ground
Dressing
1/2

cup

almond butter

3

Tbsp

honey

1/4

cup

rice wine vinegar

1/4

cup

+ 2 Tbsp Tamari

low sodium (or soy sauce)

2

tsp

fresh ginger

minced

1

Tbsp

sesame oil

1

Tbsp

Sriracha

1/4

cup

avocado oil

or oil of choice
Instructions
Chop all the salad ingredients ahead of time and store in separate containers. When ready, assemble salad with Napa cabbage on the bottom then pile remaining veggies and edamame around the edge. Sprinkle the top with peanuts.

Combine all dressing ingredients in a large bowl and whisk together. Alternative options include throwing it all in the blender or shaking it in a large mason jar (with the lid on, of course.)
Notes
Other Thoughts
The dressing makes 1 1/2 cups total. You probably won't need it all for the salad. If not, use it as a marinade, dressing or dip! Keep it safely for a week or two in the fridge.
The salad will hold up with the dressing on it throughout the day. Think: ate it for lunch and leftovers are still good at dinner but aren't good the next morning for breakfast. 
Make it a meal by adding some protein. We put grilled chicken, which was marinated in teriyaki, on top and it was pretty legit. You could also cook tofu and marinate it in the dressing. Salmon would be an awesome addition too.
The Napa cabbage really makes this salad for me. But, if you can't find it at your grocery (Read: this is NOT an Aldi item.) You could certainly make this with your favorite greens or combo of greens and white cabbage.
Not looking to feed a crowd?! Make 1-2 salads at a time. All these veggies are super hearty and will keep all week chopped up in the fridge.
How-to-Use
Athletes: This is an antioxidant BOMB right here. Great addition to your training cycle to help repair, recover, and recycle all those free radicals generated during hard training! If you have a sensitive GI tract, save this recipe for the night you don't have a tough run in the morning.
Healthy Eating: Everyone is always trying to find ways to eat more veggies. Sometimes at the expense of a tasty meal. This is an awesome way to eat a variety or colors and vegetables with a ton of flavor and satisfaction. Top it with some protein to really hit the mark!
Kids: Keep it nice and segregated for the picky eaters out there. Allow them to try the elements individually. Give them a little 'side dish' of dressing to dip. Everything is more fun when you dip, baby, dip.