These oatmeal cups are chock full of all the good stuff to fuel your mornings up right and also leave your taste buds satisfied. Bananas + Oats + Peanut Butter + Cocoa leave these the chunkiest of the monkiest.
The OG oatmeal cups have been around for almost 2 years and while they still are a solid breakfast option – it was time to upgrade them. And lemme tell you, these are an upgrade. You've gotta try them.
A few criteria for breakfasts in our house: fast, filling, and deeeeelicious. We're huge fans of grabbing and going for breakfast and I know many of you are too. Whip these up on the weekend and grab a couple as you run out the door with a glass of milk or Greek yogurt or a hard boiled egg.
Store these guys in the refrigerator or the freezer until you're ready to enjoy. Toss them in the microwave for a moment to warm them up and melt those chocolate chips we tossed on top. You won't regret it!
And does anyone remember that Ben and Jerry's ice cream flavor Chunky Monkey?! Hope they don't mind I borrowed their name. They used walnuts. But I wanted peanuts, so there's that.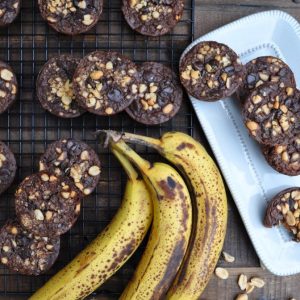 Chunky Monkey Oatmeal Cups
Ingredients
2

ripe bananas

2

eggs

1/3

cup

peanut butter

1

tsp

vanilla extract

1/3

cup

cocoa powder

1 3/4

cups

old fashioned oats

2

cups

of your favorite milk or milk alternative

1/4

tsp

salt
Topping
1/3

cup

chocolate chips

1/3

cup

peanuts

crushed
Instructions
Preheat oven to 350 degrees. Grease 16 muffin cups. Grease well or they will stick!

In a medium bowl, mash the bananas with a fork. Add eggs. Mix well with fork until well combined.

Add peanut butter, cocoa powder, and vanilla. Continue to mix well.

Grab a spoon and mix in remaining ingredients - oats, milk and salt. Stir carefully until combined. Allow to sit for 5 - 10 minutes so the oats can absorb a little liquid.

Top each muffin with chocolate chips & crushed peanuts.

Bake for 25 - 30 minutes for 16 cups.

Remove from oven when center is firm to the touch. Allow to cool slightly before removing from tins. Run a knife around the edges to loosen before removing. Allow to cool on a baking rack.

Store in the refrigerator for up to 7 days or in the freezer for up to 3 months.
Notes
Other Thoughts
If you want to increase the protein, use cow's milk or a higher protein nondairy milk such as Ripple or soy milk. The nutrition stats below are based on unsweetened almond milk.
You can sub in quick oats or gluten free oats, if needed.
These would also be pretty fantastic with almond butter and almonds instead of peanut butter and peanuts.
How-to-Use
Athletes: Three of these guys is a minimum serving - they aren't very big. This will give you 45 gm carbs and 12 gm protein. Top that off with some greek yogurt or a side of eggs for your protein + you may need to add a banana or more fruit to meet your training carb goals.
Healthy Eating: One of these guys has 120 calories, 6 gm fat, 15 gm carbs, and 4 gm protein. That's not enough for a meal, no matter what you goals! Adjust the amount and add in other things to get what you need.
Kids: These passed the kiddo test so hopefully you can put these in your kids hands as they run out the door and for a quick breakfast at home.