The star of the show here is this amazing <non-dairy> cilantro pesto. It's unbelievably versatile. Add it to chicken, pasta, tofu, or spread it on your toast. I won't be mad if you eat it right off the spoon.
But, we're definitely here to help you all build balanced meals. Balanced meals are great and all but they need to be tasty. <<cue: this pesto that jazzes up pretty much anything.>>
This pesto is so easy – you don't even need to pick the cilantro off the stems. Because I don't know about you, there is not a harder or more annoying task. So, toss the entire bunch of, washed, cilantro right into that food processor and get on with it.
If you're thinking 'this looks delicious, but I don't want to make it', you can always buy your favorite store-bought pesto & add it to the shredded chicken, pasta, or another dish of your choice. Any kind of pesto will bring lots of flavor to your meal.
But, seriously, promise promise it's worth the additional effort to make your own. So good!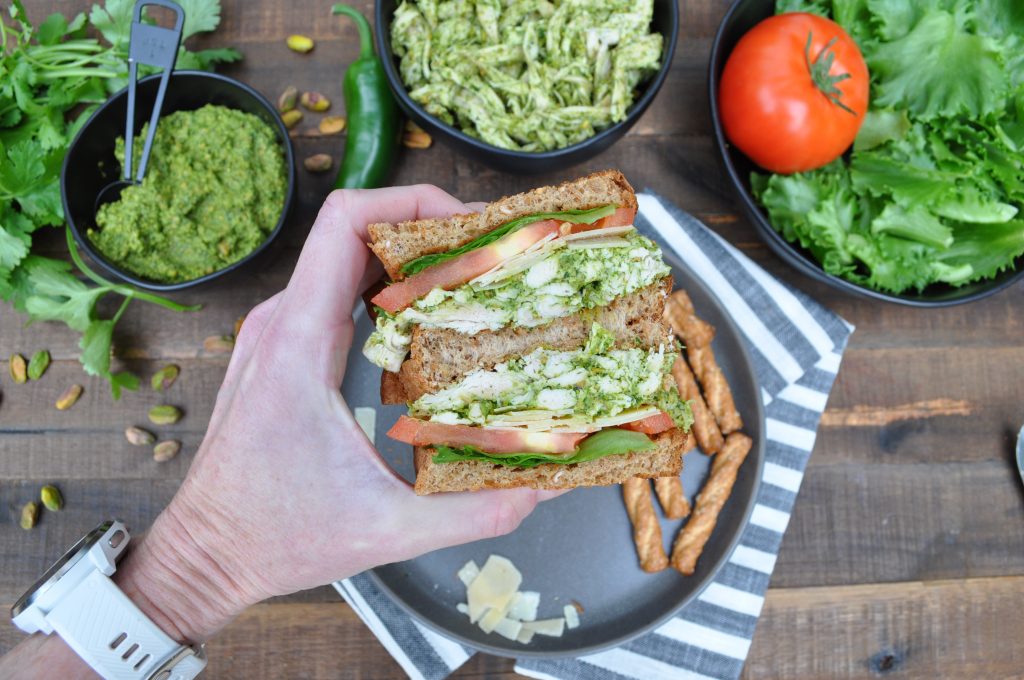 This pesto will keep in the refrigerator for 1 – 2 weeks. Or, toss it in the freezer for up to 3 months. You won't regret keeping this guy on standby.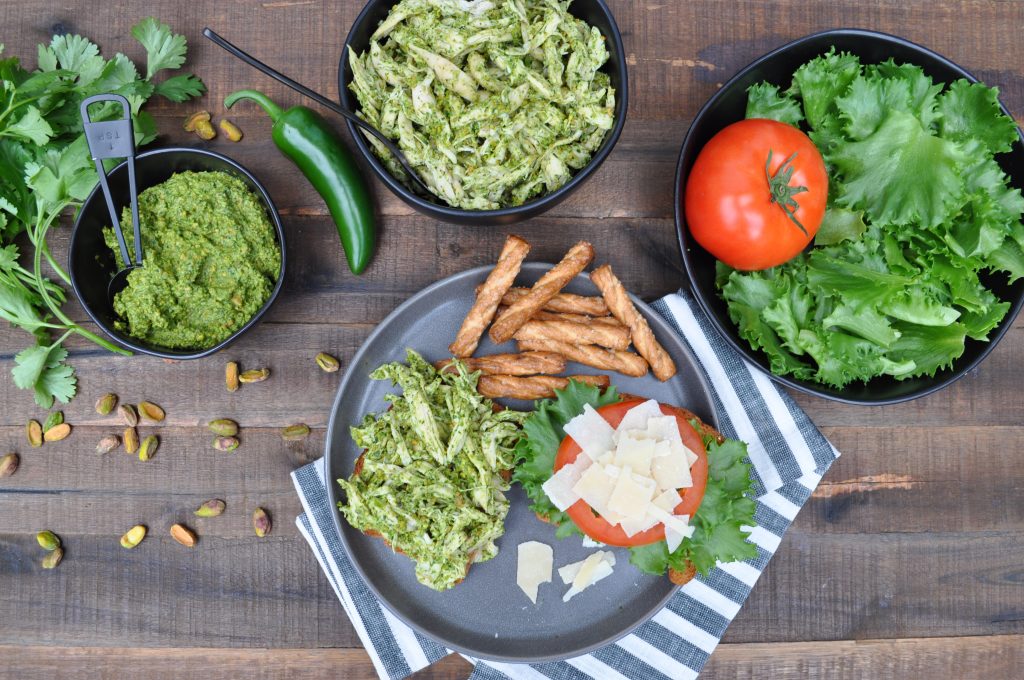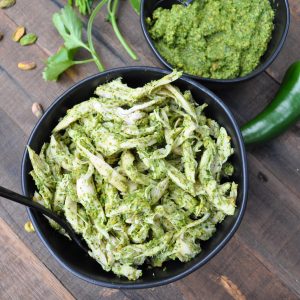 Cilantro Pesto Chicken Salad
Ingredients
3

cups

rotisserie chicken

bread

lettuce, tomato

½

cup

cilantro cilantro pesto
Cilantro Pesto
2

cups

fresh cilantro

½

cup

pistachios

roasted & shelled for the best flavor

1

jalapeno

remove ribs & seeds for less heat

2

cloves

garlic

1

tbsp

lime juice

2

tbsp

avocado oil

½

tsp

salt

2

tbsp

water
Instructions
Shred chicken from a rotisserie chicken. One chicken is about 4 cups.

Put chicken in a large bowl.

In a food processor, add all the ingredients for the pesto - cilantro, pistachios, jalapeño, garlic, lime juice oil, salt & water.

Process until smooth.

Stir ½ cup pesto into the chicken. If your pesto is too thick, add more water.

Build your sandwich. Also delicious on tortillas, over rice, with pasta or plain. Makes a mean grilled cheese or panini sandwich, too!
Notes
For athletes: Enjoy this balanced meal for lunch - you may need to add more carbs on the side. For healthy eating: This is a great lunch option to stay on track with healthy eating. Add the chicken salad to a sandwich & throw it over a salad. For kids: Your kids may like this fun green color. They can eat it with a fork or on a sandwich, too.