There's a new flavor in town and I can't wait to hear which one you like best! The Lemon Pie Overnight Oats were such a hit we needed to introduce a new flavor. Cinnamon Toast Overnight Oats have all the flavor of my favorite childhood breakfast wrapped up in a solid, balanced meal that will help fuel your training and recovery with the best of them!
Not to mention, the best cereal out there is Cinnamon Toast Crunch – so I highly support sprinkling that over top for some crunch. If you really want to get crazy, drizzle some almond butter on there too.
As a kid, my breakfasts consisted of cinnamon sugar toast, cinnamon toast crunch cereal <dry, of course>, frosted cinnamon sugar Pop Tarts, and cinnamon rolls every Sunday morning. I think you can all see the common denominator here…
While I still love all of the above, I also really love when my breakfast leaves me feeling full and satisfied through the morning so I can focus on things other than lingering hunger. The balance of protein <Skyr yogurt + whey protein powder> and carbohydrates <oats + maple syrup> and fats <almond butter + chia seeds> is a recipe for contentment.
What's not to love about a recipe that comes together in moments + doesn't dirty any dishes <use the measurements on the side of your mason jar!> + is completely grab-n-go in the morning?! These guys even make the drive-thru look time consuming!
So what do you think?! Team Cinnamon Toast or Lemon Pie Overnight Oats? You be the judge…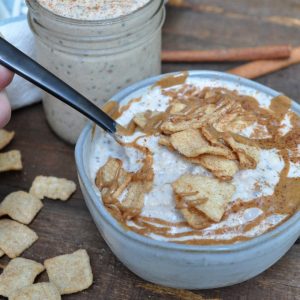 Cinnamon Toast Overnight Oats
Ingredients
5.3

oz

vanilla Skyr

1/2

cup

milk

1/2

tsp

vanilla extract

2

tsp

maple syrup

1/4

tsp

ground cinnamon

1/2

scoop vanilla whey protein powder

1/2

cup

old fashioned oats

1

tsp

chia seeds

1

Tbsp

almond butter
Instructions
In a mason jar or container with a tight lid, combine all ingredients. Cover. Shake until well combined.

Store in the refrigerator overnight and enjoy.

Top with a little cinnamon toast crunch, almond butter drizzle, and shake of cinnamon to really take this over the top.
Notes
How-to-Use
Athletes: This is a solid post workout meal to jump start that recovery, restock glycogen stores, and max stimulate muscle protein synthesis Doctor it up to meet your nutrition needs - training hard?! Add that cinnamon toast crunch and extra almond butter!
Healthy Eating: A balanced breakfast is key to managing hunger levels and cravings throughout the day. These oats have all the protein, carbs, and healthy fats you need for that ideal balance. Why limit this to breakfast? This would be a great grab and go lunch.
Kids: Spice up breakfast time with a major upgrade from a boring bowl of cereal!
Other Thoughts
These can easily be made vegan with nondairy milk and yogurt and vegan protein powder. I'd recommend using a whole serving of vegan protein powder as the nondairy yogurts do not provide much protein.
Adjust the amount of liquid as needed - sometimes vegan protein powders absorb more liquid, therefore need more in a recipe. If you want to try BiPro protein powder, you can get 10% off with code MEGHANNF10 at their website. Free shipping for over $50. Or, you can get it on amazon. (They didn't sponsor this post and I don't get any kickbacks. I just like their stuff!)
I hung onto these guys for 4 days and tried a bite every day to test how well they saved. The flavor stayed consistent. But, the texture changes dramatically on day 3 - less chewy. If you make then for a week, I'd recommend making 2 - 3 at a time. Then, repeat.
Update: 9/13/2022
Looking to make these all things Fall?! Add 1/4 cup canned pumpkin puree + 1/4 tsp pumpkin pie spice. Decrease the milk a touch or they are a little runny! ENJOY!