It didn't take much to convince me to try to recreate a client's favorite flavor of Yasso bars – here she is, DIY Cookie Dough Frozen Greek Yogurt Bars. While nothing is going to replace the creaminess of a store bought frozen yogurt pop, these guys pack all the flavor – significantly less of the cost – and you'll have leftover cookie dough to snack on. I think you can see the clear winner here…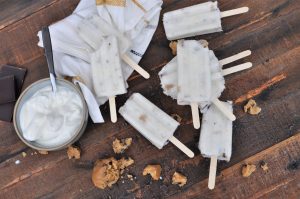 These guys are very easy to whip up. The hardest part may be finding your popsicle mold <and I will help make that easier.> We have used many different molds in the past. My kids are a huge fan of these dinosaur molds and these unicorn molds for their homemade popsicles. We have also used these flavor pop-esk plastic sleeves to make push up popsicles in the summers and these reusable silicone ones. However, for these, I highly recommend getting a silicone popsicle mold to keep things easy. <As you can see, we're a big fan of homemade popsicles around here and have tried out just about every gadget to make them.> Let me know if you have any questions about these.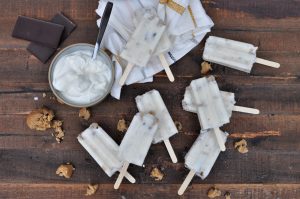 I would recommend pouring some Greek yogurt mixture into the mold before adding the cookie dough. Pour 1/2 inch liquid – top with 2 hunks of cookie dough – repeat until the molds are full. You will have leftover cookie dough. Enjoy!!! <I used about half the cookie dough.> Refrigerate any extra cookie dough for snacking or your next batch. If you like them, I think we need to play around with more flavors next….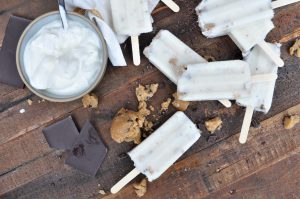 Store them in the molds themselves, or they make little popsicle bags, or… if you bought one of those half gallon sized Stasher bags, that would be perfect too! Enjoy! What flavor should we make next?!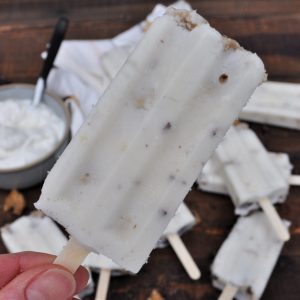 Cookie Dough Frozen Greek Yogurt Bars
Ingredients
Cookie Dough
3/4

cup

oat flour

<toss oats in a blender to make your own>

1/4

cup

almond flour or meal

2

Tbsp

avocado oil

<or melted butter>

1

Tbsp

milk

<any kind>

1

tsp

vanilla extract

1/4

cup

brown sugar

2

Tbsp

chocolate chips

<mini, if you've got them>
Greek Yogurt Mixture
1

cup

Greek yogurt

<I used plain, full fat>

1

cup

milk

<I used skim>

1

tsp

vanilla extract

3

Tbsp

sugar

1

Tbsp

honey

1

oz

chopped chocolate, optional
Instructions
To make the cookie dough, in a small mixing bowl - combine all the ingredients and stir well. You may want to save the chocolate chips and add them right at the end, but do what you want. Set aside. <You can make this ahead of time and keep it in the refrigerator until you need it.>

In a medium bowl, combine all the ingredients expect the chopped chocolate. Whisk very well. Keep whisking until the honey and sugar are dissolved. Toss in some chopped chocolate and whisk again. <The finer you chop the chocolate the better is disperses in the liquid. Big pieces will just fall to the bottle. Think almost shaving it when you chop it.>

Grab your popsicle molds. Pour a tiny bit of the Greek yogurt liquid in the bottom of the mold. Drop two small pieces of cookie dough in. Pour 1/2 inch more liquid. Drop 2 pieces of cookie dough and repeat until filled almost to the top of the mold. Repeat for each mold. <Note: you will NOT use all the cookie dough. I used half. But, who's complaining about leftover edible cookie dough in the fridge?!>

Freeze for at least 5 hours or until hardened.
Notes
Other Thoughts
These can absolutely be made dairy free with nondairy milk and yogurt. 
If you use vanilla flavored yogurt, you can scale back on the amount of sugar you add. 
I recommend using full fat Greek yogurt to decrease the tartness and make them more creamy. 
Use any container you have to freeze - your kids dino molds, the plastic popsicle 'flavor ice' sleeves, small paper cups you peel away + popsicle stick, or get on amazon and buy yourself a $13 popsicle mold! 
How-to-Use
Athletes: These sound like a solid post workout recovery snack - once it's not the dead of winter! <I posted this in February in the middle of a snow storm. Even Texas got snow!> But seriously, protein + carbs is key to recovery and these have both! But make sure to get to that meal asap after a shower. 
Healthy Eating: A sweet something after dinner is not something we need to ignore. If a little something sweet post dinner is what you need?! Give these guys a whirl! <Because if we ignore that craving for too long, what happens?! We may end up face down in a gallon of ice cream feeling ill.>
Kids: My 5 year old proclaimed 'these are the best popsicles I've ever eaten!' I was shocked. I thought for sure this fruit loving kid would revolt that they were white instead of colorful like the fruit pops we normally make. I hope your kids, too, think these are the best things ever.