This one is gooooood. You really wanna find a place for this at the table asap. Not only is the flavor insane but so is the nutritional punch it's packing.
This vegan, gluten free soup is so full of goodness your body will be thanking you for days. Let's talk about the all star line up:
Red Lentils: it's no secret around here – lentils are in my top 10 'you gotta start eating these regularly' foods. Packed full of plant based protein, complex carbohydrates, and iron – it's like they were made for athletes and everyone, really.
Cashews: When pureed into this soup, these give an amazingly creamy and full mouthfeel. All this without adding heavy cream – so for the vegans and non-dairy eaters out there – you can enjoy this creamy soup!
Turmeric: Turmeric contains a potent antioxidant, curcumin. Curcumin is on the list of supplements from the IOC 2018 consensus statement that 'may assist with training capacity, recovery, muscle soreness and injury management.' Studies show that it may decrease muscle soreness and speed recovery due to its potent antioxidant effects. These studies also used 5 gm supplements of curcumin for 5 days to see these results – this soup does not have that much (and would taste very terrible if it did!) However, including these antioxidant rich spices in our daily nutrition gives our body an extra boost during training, stress, and cold season.
Curry: Curry is a spice combination that also contains turmeric. And TONS of flavor to spice things up a little.
Butternut Squash: Just one cup of this soup contains more potassium than a banana, thanks to YOU, butternut squash. As athletes, we need to ensure adequate potassium intake to meet daily needs + losses from sweat. American's as a whole are lacking in our potassium intake. The DRI for potassium is 3,500 – 4,700 mg per day. This helps maintain a healthy blood pressure and fluid balance.
Limes: You won't get scurvy! great news. But really, the vitamin C in the lime helps with absorption of the iron in the lentils. Plus, it is a great antioxidant.
So now that you know more about this soup than you EVER wanted to know, rest assured that despite all this healthy talk – this is an absolutely delicious soup. In fact, my husband said this was his favorite recipe yet. So, give it a try and see if you agree with him!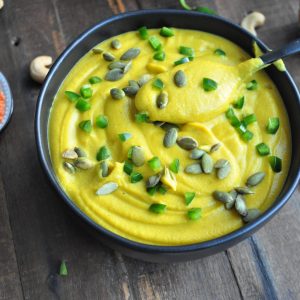 Creamy Curry Butternut Squash Soup
Servings
4
(1 ¼ cup portions)
Ingredients
2

10 oz steamer packs butternut squash

2

Tbsp

avocado oil

or oil of choice

1

onion

diced

1

jalapeno pepper

diced (remove seeds and ribs for less heat)

1

tsp

ginger

freshly grated

1

Tbsp

curry

1

tsp

turmeric

1/4

tsp

salt

32

oz

4 cups vegetable broth

1

cup

cashews

1/2

cup

red lentils

1

lime

juiced
Instructions
Steam butternut squash according to directions in microwave.

Meanwhile, heat oil in a large sauce pan. Add onion, jalapeno, and butternut squash to heated oil. Cook for 5-8 minutes or until onions are softened.

Add ginger, curry, turmeric, and salt. Cook until fragrant - approximately 1 minute.

Add broth, cashews, and lentils. Cover the pot and simmer for 20 minutes.

Turn off burner. In batches, puree soup in blender. (Make sure the lid has a vent to let the heat escape)

Once all of the soup is blended, add juice of one lime.

Serve topped with diced jalapeno and pepitas. (Or whatever sounds good!)
Notes
How-to-Use:
Athletes: You guys know I'm always trying to pack all your nutritional needs into one bowl, but this bowl is more of a side dish. With 9 grams of protein and 30 gm carbs plus healthy fats, you need to add a solid portion of protein (think a piece of salmon the size of your palm.) Plus, depending on your training, another 2-4 servings of carbohydrates may be needed (think a couple thick slices of sourdough bread or a big baked potato.)
Healthy Eating: The richness of this soup is out of the world. Feel like you're indulging in a super decedent soup from the thickness the cashews and red lentils provide. This soup is high in healthy fats, plant based protein, and complex carbs. To make it a meal, add a source of lean protein on the side - grilled chicken, pork chop, fish, or sauteed tofu.
Kids: Serve in a side dish with a grilled cheese sandwich and encourage them to dip their sandwich into the soup. Or, if you have an adventurous eater, just give them the bowl and spoon. Or, just let them put their whole hand in your bowl....
Other Thoughts:
If you want to use a whole butternut squash instead (ie. Aldi doesn't always have the steamer bags!), aim for a squash that is over 1# - ideally about 1 1/2#. Cut in half, place cut side down in a 9x13 inch pan with a small amount of water in it. Bake at 350 degrees for about an hour, or until soft. Scoop flesh into the soup in the saute onions step.
There are a ton of different dried curry options out there. My favorites are from Penzey's spices - their sweet curry and hot curry are amazing. I used half and half in this recipe for a little extra heat.