I went back and forth if I was even allowed to call a ball of peanut butter coated in chocolate a buckeye if it didn't have 1/2 a pound of butter and a bag of powdered sugar in it…. Or, if it didn't have the top exposed.
But, I'm taking a risk over here because really – these are legit amazing. Just like the real deal buckeyes. Those of you who aren't familiar with a buckeye (you must be an alien) they are basically a ball of peanut butter fudge dipped in chocolate. Delicious, right?
This weekend we went to a friend's house for dinner and wanted to take a vegan dessert to accommodate everyone coming. And, well… I can assure you even the non-vegans highly appreciated these balls of goodness. And, I can assure you that these have been and will continue to be on repeat in our house as well. While I'm not vegan, I absolutely love trying new things and the challenge of making delish food without animal products.
I do have a very strong recommendation for this recipe. Go buy Crazy Richard's crunchy peanut butter. It is outta this world fantastic. And, it has a very different consistency than any other natural peanut butter out there. Quite frankly, it's the only peanut butter that comes into our house these days because it's THAT good. One ingredient: peanuts.
I find the easiest and cheapest way to find dairy free (aka vegan) chocolate is just to buy a 70% cocoa dark chocolate bar. You can buy dairy free chocolate chips, but they don't sell those at Aldi's – so that's another trip. I love Aldi's Moser Roth 70% cocoa bars. And, they worked perfectly in this recipe. If you don't care if they're vegan, feel free to use whatever chocolate you want for the outside.
I mean if that doesn't make your tummy growl and mouth drool…. you ARE an alien.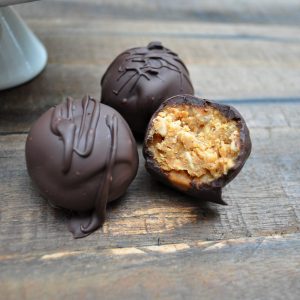 Crunchy Vegan Buckeyes
Ingredients
1

cup

natural

crunchy peanut butter (highly recommend Crazy Richard's)

1/4

cup

maple syrup

1/2

tsp

vanilla

1/4

tsp

salt

3-4

Tbsp

powdered peanut butter

1/2

cup

crispy rice cereal

5-6

oz

70% cocoa dark chocolate bar
Instructions
In a medium bowl, combine peanut butter, maple syrup, vanilla, 3 Tbsp powdered peanut butter, and salt. Stir well.

You want it the consistency of play dough. If it is still too sticky, add another Tbsp of powdered peanut butter and stir.

Add the rice cereal and stir carefully. You want to evenly incorporate them but not completely crush them.

Roll about 1 1/2 Tbsp of dough into a ball. Repeat until you have 16 balls or used up all the dough.

Place dough balls in the freezer for 20-30 minutes. (This makes dipping them in chocolate easier.)

In a microwave safe bowl, break chocolate into pieces. Microwave for 30-90 seconds, stirring every 15 seconds until melted. Careful not to overheat the chocolate.

Remove balls from the freezer. Stick a toothpick into the ball and dip into the chocolate. Use another toothpick to ease the ball off the original toothpick onto parchment or wax paper. Repeat for each ball. Allow chocolate to harden and enjoy.
Notes
How-to-Use:
Athletes: So many of my athletes are looking for a sweet fix that also can meet their nutrition needs for the day. For example, the healthy fats in peanut butter support muscle recovery after exercise, promote satiety in the ravenous athlete, and are essential for hormone production in the body. Plus, dark chocolate (>60% cocoa) may improve athletic performance by increasing time to exhaustion. Bada-bing. Bada-boom. See, I'm looking out for you guys!
Healthy Eating: If you really want a buckeye, eat a buckeye. I'm never going to stop you or call the food police. But, if you're looking to healthify the traditional favorite, these are a very solid option. Full of healthy fats, antioxidants, a touch of protein and fiber, and a full dose of satisfaction.
Kids: Every time my 3 year old son eats one of these, he then runs to the bathroom mirror to find out if he has a chocolate 'beard.' So there's my warning.... these are messy for little hands. But certainly a real crowd pleasure!
Other Thoughts:
Please use Crazy Richard's peanut butter! I mean, I really like it so that's part of the reason. But, the real reason is because it is the perfect consistency for this recipe. If you can't find this brand, use another natural peanut butter that the only ingredient is peanuts. (+ or - salt) But, most other natural peanut butters are thicker than Crazy Richard's so you may need less peanut butter powder for the right consistency.
Use the peanut butter with added ingredients under your own discretion! I have never tried it and I'm not sure how it will turn out. You may not need much powdered peanut butter at all. I would mix it in 1 Tbsp at a time until it forms a play dough like consistency. Let me know if you try it!
If you aren't vegan or dairy-free, feel free to use any chocolate you want for the coating. Chocolate chips, chocolate bar, milk or dark... whatever tickles your fancy.
Keep the uneaten buckeyes in the refrigerator or cold garage. I did freeze some and that worked great too - just let them come to room temperate before you crack your teeth on them.