Switching things up a little with some curry, garlic and ginger. I've never been disappointed by that combo and hope you aren't either! In true Featherstone style, this meal packs everything you need to fuel it up right in each bite – carbs, protein, veggies, and flavor. <<I just heard 'Flavor Flaaaaaaav' in my head and I'm wondering if he's still a thing or if anyone remembers him and his clock necklace.>>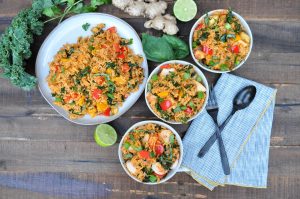 If you have a pressure cooker/instant pot, I highly recommend making the rice in there. It's super easy. Fix it and forget it. Make the rice with coconut milk from a can + a little more liquid and some red curry paste and be ready for your mind to be blown. Might be the best rice ever. If you don't have a pressure cooker, you can definitely make this on the stove top. Just replace part of the water needed to cook the rice with the coconut milk. When you make rice on the stove top, more steam escapes so you need more total fluid to cook it. <<Useless details you probably don't really care about!>> Check on the instructions on your rice bag and swap some of the liquid for the can of coconut milk.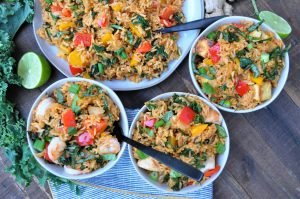 Pick your protein for this recipe. Use whatever you like, have on hand, or meets your nutrition preferences. Don't worry. I tried it out with chicken, shrimp and tofu. And, they were all delicious! Cook the chicken and shrimp right in the same pan as the veggies. For the tofu, I highly recommend tossing it in the air fryer to dry it out and crisp it up first, then just toss it into the pan with the veggies. No air fryer?! <<you should get one>> Or, cube it up. And, bake it in the oven on 400 degrees for 20 – 25 minutes and get the same crispy deliciousness. Sound like too much work?! You can toss the tofu in and just warm it up – the texture is just not as good.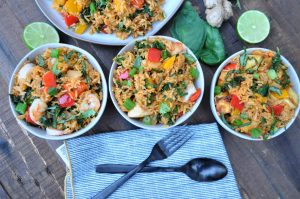 And as always, let's make this as easy as possible! The two main flavor ingredients – red curry paste and coconut milk – are pantry staples. Keep those on hand. And, feel free to buy the squeezeable garlic, ginger, and basil to make this even easier! <<I'm partial to fresh basil but also really enjoy fast dinners.>>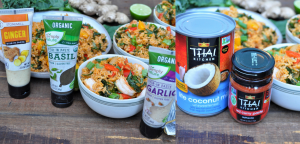 As always, gobble this up for dinner. And/or pack it up for meal prep lunches all week. Either way, enjoy!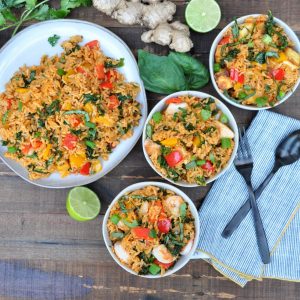 Curry Fried Rice
Ingredients
For the Rice <in a pressure cooker>
1 1/2

cups

brown rice, uncooked

13.66

oz

can of lite coconut milk

1/4

cup

water

2

tsp

red curry paste

1/2

tsp

salt
For the Recipe
2

tbsp

avocado oil

1

onion, diced

1

red pepper, diced

2

cups

kale, chopped

3

garlic cloves, minced

<or, 1 tbsp squeeze garlic>

1

tbsp

ginger, fresh grated

<or. 1 tbsp squeeze ginger>

2

tbsp

red curry paste

1/4

cup

broth or water

1/2

tsp

salt

1

pound

protein <chicken, shrimp or tofu>

2

tbsp

lime juice

<juice of 1 big lime>

1/2

cup

fresh cilantro, chopped

1/4

cup

fresh basil, chopped

<or, a big squeeze of basil>
Instructions
Let's make the brown rice. If you have a pressure cooker <Instant Pot>, get it out and add the rice, coconut milk, water/broth, curry paste, and salt into the pot. Cook on high pressure for 20 minutes, quick release, and you're done. If you're making it on the stove, follow the directions on the package but replace some of the water with the can of coconut milk. Set aside in a large bowl when cooked. <<If you are using white rice in your Instant Pot, adjust the cooking time to 8 minutes.>>

In a large sauté pan, heat oil and sauté onion, red pepper, and kale for 5 minutes or until softened.

Mix red curry paste in to broth. Add this, garlic, ginger, and salt to the vegetables. Stir well. Dump this into the rice.

Next, let's make our protein. Grab the vegetable pan <don't even bother cleaning it> and add your protein <shrimp, chicken, or tofu.> Cook until cooked through for the shrimp or chicken. If you're making tofu, cook until crispy. <If you have an air fryer, cut the tofu into chunks and air fry on 400 degrees for 10 - 12 minutes first. Then, toss it right into the rice and vegetable mixture.>

Add your protein to the rice.

For the final touch, add lime juice, cilantro, and basil. Stir well and you're done!
Notes
Other Thoughts
The rice, veggies, and spices are an awesome base. Add whatever you want from here. Any protein will work. Or, add cooked beans or lentils. 
I recommend using the lite coconut milk from a can. It's lower in saturated fat but packs all the flavor. 
You can cook the rice ahead of time to make this a faster dinner meal prep. 
This also saves great in the refrigerator for 4 - 5 days. Feel free to prep it early for a week night dinner or lunches all week. 
How-to-Use
Athletes: The higher the mileage, the larger the portion. This meal provides everything you need - protein, carbs, and veggies. Just adjust your portions for your training volume. 
Healthy Eating: It's no secret around here that we love an 'all in one' meal. Every bite gives you flavor, protein, carbs, and veggies. No need to make a million different dishes for your meal. Less active? Add more protein and veggies. More active? Keep as is. 
Kids: If your kiddos don't like spice, scale back the red curry paste a little. And again, if they don't love foods all mixed together - keep some of the rice to the side and protein to the side. Separate it on their plates and see if they are more willing to try it. Remember. It's our job to provide the food. It's our kiddos job to decide how much they want to eat.