I'm going to let you in on a little secret. These muffins have all sorts of good stuff hidden in them. But, they straight up taste like dessert. You guys are probably on to me by now. I have a thing for baked goods and making healthier tweaks that don't sacrifice flavor. Something tells me you guys are probably okay with this – I'll be the guinea pig and you guys get the final, perfected product.
Zucchini – and I promise I don't make you squeeze it forever before adding it. This is a no squeeze recipe. This is what keeps the muffins the dreaded 'm' word. <moist> 
Greek Yogurt – and I want you to use full fat. (Or at least made with 2% milk) Don't skip out on this important detail. It adds just the right amount of fat and flavor. <if you use non fat yogurt, add a little extra peanut butter>  
After the first batch of these I threw together, it was an automatic keeper. That doesn't happen very often, but when it does… DAY. MADE. They are an extremely light muffin. Almost cupcake-esk light. These really, really won't let you down. (Did I say this already!? I really mean it!)
When you have a hankering for some chocolate…. zucchini muffins to the rescue! (Betcha never thought you'd turn to that, huh?! Don't knock it until you try it.) Quite frankly, how could you go wrong with a chocolate and peanut butter combo.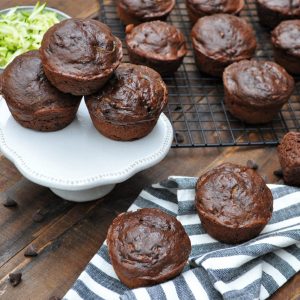 Double Chocolate (Zucchini) PB Muffins
Ingredients
1

cup

white whole wheat flour

or flour of your choice

1/3

cup

of cocoa powder

1/2

cup

sugar

1

tsp

baking soda

1/4

tsp

salt

1

egg

1

tsp

vanilla

1/2

cup

whole milk Greek yogurt

1/4

cup

peanut butter

1/3

cup

milk

1

cup

zucchini

shredded (don't squeeze!)

1/2

cup

chocolate chips

save a few for the tops, if you want they extra pretty
Instructions
Preheat oven to 350 degrees. Line muffin tin with liners. Spray liners with nonstick cooking spray.

Combine first 5 ingredients (flour through salt) in a medium bowl. Stir.

Combine next 5 ingredients (egg through milk) in a smaller bowl. Whisk together. Gently stir in zucchini.

Add zucchini mixture to the dry ingredients and stir just until combined. Stir in chocolate chips.

Divide evenly among muffin tins. (I filled them a little over 3/4 of the way full.) Top with a couple chocolate chips, if you want.

Bake for 20 minutes or until toothpick inserted in the middle of the biggest muffin comes out clean. Don't over bake or they get really dry!
Notes
Other Thoughts:
If you want these to be nut free, try eliminating the peanut butter and using 2 Tbsp of oil or melted butter instead.
For gluten free, an all purpose gluten free flour would work great in these.
I have found that the white whole wheat flour needs a lot of liquid in a recipe. So, if you use a regular white, all purpose flour - you may need an extra 1/4 cup of flour.
How-to-Use Guide:
Athletes: Smear some extra peanut butter on a muffin and call it a snack. The whole grains and healthy fats will surely calm even the largest of appetites.
Healthy Eating: Squash your sweet, chocolate craving with a hearty, veggie-packed muffin whenever the craving strikes.
Kids: Get the kids in the kitchen to help you grate the zucchini, measure and mix the ingredients. Helping in the process of cooking and baking increases the likelihood that they will try it! Not that you'll have trouble getting your kid to eat a chocolate muffin.....
My toddler was very serious about helping me 'measure' the ingredients…………. cannot make this up!!!