The thing I like the most about overnight oats…. it's really just a dump – dump – shake – forget it… and you're ready the next morning with a delicious and balanced breakfast! Fastest meal prepping around.
This recipe uses 4 ingredients as the base. Then, you can add whatever additions you want to complete your breakFAST.
It's highly recommended that you throw 3 or 4 of these together on Sunday for easy grab-n-go breakfasts all week. Now, you guys know me, and you know I am always looking out for your well balanced, satisfying, hunger squashing meals. The base of these overnight oats has everything you need to stay full all morning long (or for like 2 hours if you did your long run yesterday.) Protein (higher protein milk) + Complex carbohydrates (oats & banana) + Healthy fats (chia seeds) = nailing breakfast.
Since Aldi had Fairlife milk this past week, this is what we used in this recipe. Fairlife milk is higher in protein than 'regular' cows milk and is also lactose free. If you avoid dairy, try using Ripple – a higher protein pea protein based milk. Both of these are solid options. If you use almond, rice, coconut, or another nut based milk – your oats won't have adequate protein for a full meal. No big deal – just make sure you eat another good source of protein with them.
Now, once you've got your base thrown together. Add whatever goodies you want to jazz it up. If you're feeling adventurous, make each one different so you don't get bored with breakfast this week. Also, I would advise against making 5 on Sunday. I did a little experiment and the bananas got pretty funky by Friday. So, just make 1-3 days ahead of time.
The fan favorites around here were Peanut Butter Cup, Oatmeal Raisin Cookie, and Carrot Cake. So, you'll find the additional add-ins for these in the recipe. But, I challenge YOU to find your favorite add-ins and share it with us over on Instagram.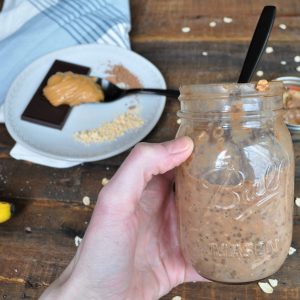 Easy Overnight Oats
Ingredients
1

banana

mashed

1

cup

Fairlife milk or Ripple milk

higher protein options

1

Tbsp

chia seeds

1/3

cup

oats
Option: Peanut Butter Cup
1

Tbsp

cocoa powder

3

Tbsp

peanut butter powder
Option: Oatmeal Raisin Cookie
1/4

tsp

cinnamon

shake of nutmeg

2

Tbsp

raisin and/or dried cherries
Option: Carrot Cake
1/4

cup

shredded carrots

1

Tbsp

raisins

1

Tbsp

pecans

1/4

tsp

cinnamon
Instructions
In a mason jar or seal-able container, combine mashed banana, milk, chia seeds, and oats. Shake or mix well.

Decision time: choose which option you want to add into your oats. Mix the rest of the add ins.

Cover or screw lid onto container. Shake it again for good luck. Store in the refrigerator at least overnight and up to 4 days.

Before eating, shake well and give it another stir. Feel free to top with more ingredients - nut butters, fruit, spices, nuts, seeds... get crazy.
Notes
How-to-Use:
Athletes: These are great for post workout breakfasts or breakfast when you don't have a workout until the afternoon. There may be a little too much fiber and healthy fats to eat this preworkout, depending on the intensity of said workout. These would also serve as a great mid-day snack to keep the hungries away during intense training blocks.
Healthy Eating: These no added sugar breakfasts are so customizable to keep healthy breakfasts exciting and satisfying.
Kids: This is a pretty big portion for younger kids. Pour them out a smaller portion or put in smaller jars to begin with. I'm a fan of just sharing yours to introduce them to new texture and flavors. For older kids, let them add in the ingredients they want. Engaging them in the preparation greatly increases their odds of trying a new food and accepting it.
Other Thoughts:
You can use old fashioned oats or quick oats. The old fashioned hold up more and leave you with more texture, chewiness. But nutritionally, it's the same.
The base alone has 21 grams of protein with Fairlife milk. Plus, a little more once you add the additions. Solid balance for starting your day off right.
Feel free to add whatever you want to the base - it doesn't have to be the suggestions. Get crazy and lemme know what you like!