I love pad thai. But, I never have rice noodles around. <which are clearly a MUST for pad thai> But, I do always have whole wheat spaghetti in the cupboard, so that was the inspiration for this recipe. Is hillybilly pad thai a better name?!
If you've followed along here much, you probably already know that my M.O. is packing more vegetables into meals. This pad thai has carrots, red pepper, and green onions – but you don't have to stop there. Feel free to keep adding whatever veggies you like – snap peas, yellow peppers, and bean sprouts all sound incredible. Plus, edamame and peanuts. Yum.
My mom brought over an amazing salad for Mother's Day (I know, she shouldn't have been the one cooking but she insisted – she's pretty amazing) and it had chopped edamame on top. I found this to be absolutely genius. Because if you've ever thrown edamame into your salad, you know at the end of your salad, you have a bowl full of edamame. Because they're nearly impossible to stick with your fork, and they're too heavy to cling to the other salad fixings….. clearly I have totally over analyzed this, so please tell me someone out there knows what I'm talking about!? So for this recipe you pulse them in a food processor or just chop them up. They end up the same texture, consistency of crushed peanuts.
While full of flavor, whole grains, healthy fats, and veggies you do want to pair this with a good protein source. Tofu will keep this vegetarian. We like salmon with it. Shrimp is a solid choice with pad thai. Get crazy!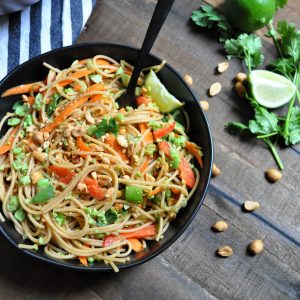 Easy Pad Thai Spaghetti
Servings
6
(1 1/2 cup servings)
Ingredients
12

oz

6 cups cooked whole wheat spaghetti, cold (once drained in a colander, rinse with cold water)

1

cup

shelled edamame

pulsed in food processor (or chopped with a knife)

1

cup

shredded carrots

or buy matchstick carrots

1

red pepper

diced

1/2

cup

peanuts

crushed

1/4

cup

cilantro

chopped

1/4

cup

green onions

sliced
Sauce
1

Tbsp

fish sauce

2

Tbsp

soy sauce

2

Tbsp

brown sugar

2

Tbsp

rice vinegar

2

tsp

sriracha hot sauce

2

Tbsp

peanut butter

**Update 3/1/2022: double the sauce if you know what's good for you!**
Instructions
Combine spaghetti through green onions in a big bowl.

In a small bowl, whisk together the sauce ingredients.

Add sauce to spaghetti and veggie mixture. Mix well and DONE.
Notes
Other Thoughts:
This saves very well. Make ahead for meal prep. 
Add some shrimp or chicken & double the sauce for meal prep all week! 
This pairs great with salmon. Make it a whole meal with some grilled salmon, shrimp, or chicken. Not into meat and fish!? Add tofu, tempeh, or more edamame to get your protein in.
If you're a rice noodle purist, you can certainly use those instead.
How to Use:
Athletes: Enjoy a couple cups of this pasta and veggie combo with a side of salmon. We drizzle our salmon with honey, lime juice, and soy sauce before baking and it was perfect with this spaghetti pad thai. And, just like that you have your complex carbs, veggies, protein, and healthy fats to fuel your training!
Healthy Eating: I'm a huge fan of mixing a big heap of vegetables into pasta dishes (if you haven't picked that up already) because a serving of pasta goes a lot further - plus you're getting your veggies in. Pair this with a source of protein - shrimp, salmon, chicken, tofu... to really complete the meal.
Kids: This one wasn't a hit with the kids - not even our adventurous eater. Although, they both thought the carrots were pretty neat. (After I peeled the dirty part away, i just kept using the peeler to slice long ribbons of carrots.) Sometimes changing up how you cut veggies is all it takes to peak interest.