Extra cheesy. Extra delicious. Extra satisfying.
Not shocking that over the last 10 years as a dietitian, nearly every group I have worked with asks me for a healthier mac-n-cheese recipe. A quick google search told me it's the 6th most popular comfort food for Americans (behind grilled cheese, chocolate, pizza, ice cream, and french fries.) Strange…. it's almost like they polled me…. gimme-all-a-this.
Making a common comfort food classic a little healthier is all about rethinking the balance. Most comfort foods are super high in unhealthy fats, refined carbs, and/or sugar. Please don't get me wrong – all these things are fine on the occasion. But if you're looking for a mac-n-cheese to add to the regular rotation, let's try to healthify it slightly. It's important to not completely lose the core elements of a comfort food or we're going to be left completely unsatisfied and raiding the snack drawer within the hour. Cue a higher protein and complex carb pasta – keep the savory and creamy white cheddar and in comes that balance we're lookin' for.
Plus a crispy, crunchy, cheesy topping…. which is totally optional for all the mac-n-cheese purists out there.
I apologize now for you never wanting to go back to boxed mac-n-cheese again. But that doesn't mean you won't…. because we all know there will always be a place for boxed mac-n-cheese.
Hope you devour it and it fills your heart with happy, cheesy goodness!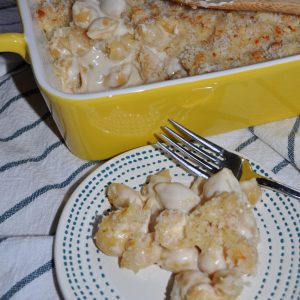 Easy Peasy Mac-n-Cheesy
Ingredients
12

oz

dry pasta - cooked and drained

1

12 oz can evaporated milk

1/2

cup

milk

1/4

tsp

mustard powder

1/4

tsp

salt

can omit if desired

2

tsp

cornstarch

dissolved in small amount of milk

8

oz

white cheddar cheese

shredded

Topping:

1/2

cup

panko breadcrumbs

2

oz

white cheddar cheese

shredded

Pinch

of salt and pepper
Instructions
In a medium sauce pan, combine evaporated milk, 1/2 cup milk, dry mustard and salt.  Bring to a bowl. Whisk occasionally to make sure it's not sticking to the bottom of the pan.

Once it comes to a boil, add cornstarch/milk mixture. Whisk constantly, while boiling, for 2-3 minutes or until it starts to thicken. (Remember when you add the cheese and the sauce starts to cool it thickens a lot more. It might look thin at this point- but that's a-ok.)

Remove from heat and stir in cheese.

Add cheese sauce to the cooked pasta.

In a small bowl, combine panko, 2 oz cheese, salt/pepper.

Pour mac-n-cheese into a 9x13 inch pan. Top evenly with panko mixture. Bake in a 425 degree oven for 10 minutes, or until bubbly and toasty brown. (Sometimes I broil for a moment to get it really toasty!)
Notes
Other Thoughts:
So - 12 oz of pasta is kinda a weird amount. Boxes are usually 14 oz or 8 oz. If you share my love of super cheesy, estimate the 12 oz. The sauce just doesn't quite cover 14 oz. If you're going to freeze it, you definitely want to stick to the 12 oz or when you reheat it, it's a little dry. 
I have made this with pretty much every variety of pasta out there over the years.... white pasta, whole wheat pasta, Barilla plus protein pasta, banza chickpea pasta, gluten free pasta, tolerant lentil pasta. I highly recommend using a whole grain, higher protein pasta. My favorite is Barilla whole wheat pasta. Second favorite is Banza pasta.
In these photos I used Banza pasta which is made with chickpeas and has added pea protein. From a nutritional standpoint, this pasta is all that and a bag-o-chips. It adds a significant amount of protein and fiber (the magic keep-me-full formula) - which basically means you are getting a complete well rounded meal (ok... maybe add a veggie or two) in mac-n-cheese. Major win!
If you use the Banza pasta (or any other lentil/bean based pastas - there's a ton out now) rinse, rinse, RINSE. Did I mention you need to rinse the pasta after cooking!?! Rinse it until it no longer foams up.
For the love of all things holy, please shred your own cheese. Your cheese sauce will thank you with it's extra creaminess.
How-to-Use Guide
Athletes: This is a go-to post long run meal in our house. Use a higher protein pasta (Barilla whole wheat, Banza, Tolerant) and it's the perfect carb-protein ratio to repair muscles and restore glycogen.
Healthy Eating: To lower saturated fat and overall calories, use 2% evaporated milk, 2% milk, and 75% reduced fat Cabot white cheddar cheese. I dunno what Cabot has up their sleeve with this cheese- but it's the best lower fat cheese I've found.
Kids: Mac-n-cheese on the regular is sure to win you parent of the year status. Make a batch and freeze 1 cup portions (or whatever serving size your kid eats) for crazy weeknight meals in a flash. Way faster and better than the box.