Did the name of these delish little critters catch your attention?! I hope so…. because I knew if I called them Sardine Cakes that you would just keep scrolling. Cat's outta the bag….. but hear me out! You really need to give these a try.
If you follow me on instagram, you already know that I think Wild Planet sardines are the bees knees. (Do I sound like an 85 year old!?) They are the highest Omega 3, lowest mercury fish. The majority of us are not getting enough Omega 3 – which decreases inflammation in our bodies, not to mention the amazing things it does for our heart, brain, eye, and overall health.
In addition to the amazing beneficial effects Omega 3 has on many of our body systems, recent research is looking at the powerful effects of Omega 3 on recovery in the athlete. And let me tell you, they are promising! Studies are suggesting that it helps repair muscles and boost the immune system during the recovery period post endurance training. It has also been proposed that the potent anti-inflammatory properties of Omega 3's help decrease muscle soreness and improves muscle function post exercise. Not to mention, the synergistic effect of the Omega 3's plus the protein has an awesome influence on increasing muscle protein synthesis in the post exercise period. More to come on this concept in the next Performance Enhancing Nutrition Series post.
In the meantime, eat more sardines!!! These fritters are a great way to introduce sardines to yourself (and family) if you're a little hesitant or frightened by them. Believe me, there is NOTHING to fear here. Be sure to use Wild Planet sardines – no tails or heads here, folks. I'm looking out for you! Let me know in the comments how it goes.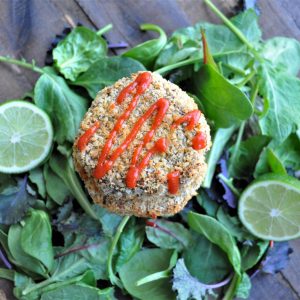 Fab Fish Fritters
Ingredients
2

4.4 oz tins of Wild Planet sardines, drained

1

egg

1 1/2

tsp

dill

dried

juice of 1 lime

~2 Tbsp

1

Tbsp

sesame seeds

1

tsp

sriracha

1/2

cup

brown rice

cooked

salt/pepper

1/2

cup

panko breadcrumbs
Instructions
Preheat oven to 400 degrees. Cover a baking sheet with foil and spray with nonstick cooking spray.

In a medium bowl, smash the sardines with a folk until it's flaked like tuna in a can.

Add egg, dill, lime juice, sesame seeds, sriracha, and brown rice. Season with salt and pepper. Mix well.

Pour panko onto a plate.

Grab 1/5 of the mixture (a small handful) and form into a patty. Note: it will be fairly damp. Don't squeeze too hard.

Continue to form patty in the panko until it is covered. Place on baking sheet.

Repeat for all 5 fritters. Spray tops of fritters with nonstick cooking spray.

Bake for 11 minutes. Remove from oven. Flip the fritters and cook for another 11 minutes. Note: you may want to broil for a minute or two for crispy brown tops.

Serve with additional Srirachi and lime wedges.
Notes
Other Thoughts:
Still scared of sardines? This recipe would be good with canned tuna or canned salmon too. (Although, I have not tried it.)
To make gluten free, omit the panko step.
If you don't have any rice made, you can use panko or breadcrumbs in the fritters instead. I've tried it with panko and it's very good too!
How-to-Use:
Athletes: Perfect meal for post endurance training to help repair muscles, decrease soreness, and improve the immune system. I always eat these or sardine + avocado toast after my weekend long runs. Eat 2-3 cakes, at least. I won't judge if you eat them all!
Healthy Eating: Great way to add more variety to the fish in your eating routine. Put these over a salad and top with olive oil based vinaigrette. You can bake these ahead of time and reheat for easy lunches.
Kids: This is one of the best ways to add more fish to your kids diet who may be fish averted. Let them dip in ketchup, ranch, hummus or whatever condiment gets them excited. Remember: Omega 3 is imperative to brain growth and development in kids.